Sportspower Ridgewood Me and My Toddler Metal Swing Set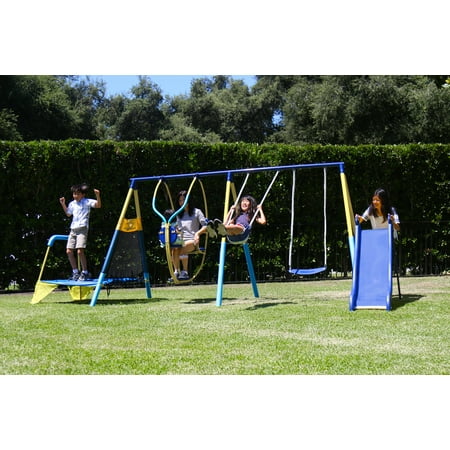 MSRP :

$198.57





Sale :

$178.71

Sold & shipped by Walmart
Product Description

Additional Information

Reviews
Product Description
Now parents can also enjoy swinging with their kids on the Ridgewood Me and My Toddler metal swing set! With two sling swings, a wavy slide, a mini trampoline and patent-pending Me and My Toddler swing set, this swing set is sure to become an outdoor favorite with both kids and parents. Everyone can now have fun and stay active!
Additional Information
Crafted from 2'' heavy-duty, weather-resistant steel tubes and hardware for durability

Powder-coated paint finish

Patent pending Me and My Toddler Swing Set

Patented mini trampoline system

5' two-tone slide

2 sling swings
Reviews
BACCA
ME AND MY TODDLER METAL SWING SET
I TAKE MY TIME WHEN TAKING ON MOST PROJECTS SO I WORKED ON THE NEW SWING SET A LITTLE EACH DAY FOR ABOUT THREE DAYS. AS WITH MANY THINGS THAT HAVE TO BE ASSEMBLED THEY MAY CAUSE YOU TO HAVE TO STEP BACK AND GIVE A LITTLE THOUGHT TO THE PROJECT BEFORE CONTINUING. OF COURSE WHEN YOU READ REVIEWS YOU WILL ALWAYS HAVE THOSE WHO WILL GIVE A LOW RATING REGARDLESS. I CHOSE THIS SWING SET BECAUSE OF THE GLIDER. MY ONLY CONCERN WAS THAT I DIDNT KNOW THE WEIGHT LIMIT FOR THE GLIDER BUT ACCORDING TO THE PICTURE IT SHOWED A LARGER PERSON IN THE SWING.AFTER RECEIVING THE SWING I NOTICED THE SPECIFICATIONS ON THE BOX (SEE PICTURE BELOW). MY ONLY COMPLAINT IS THAT ALL OF THESE SPECIFICATIONS WAS NOT LISTED.
fastnloud87
worth the price!
Setting up is a little hard. The tools it comes with are not the best, recommend using your own. Trampoline is hard to put together but once all assembled great product! My husband and his father were able to have it done in about 2 hours. My 3 yr old daughter loves it! Swings are low but for a younger child like mine it's less worry if they fall off! The mommy and toddler swing is her favorite and mine! If you are having a hard time getting mommy and toddler swing to move you probably over tightened the bolts. Toddler swing is best for a younger, smaller child. My daughter is 30 lbs and fits fine in the swing but if your child is taller or heavier, they most likely won't fit in it.. Great swing set and great investment because kids can play with it for years to come!
Christina
Sent me dented poles
I received my swing set in a timely manner a couple weeks ago but I was hesitate to assemble it due to the hurricanes in FL plus my daughters birthday was in October so I wanted to wait till it was closer to surprise her. I, for the FIRST time, opened the box to start assembling it and before I could even assemble the frame I noticed the pole connector is completely bent!? I am very upset I purchased a $200+ swing that can't even be put together? :( Walmart can you send me a different top bar to my swing set!?
ABArce
Average
So, this swingset was a gift that my husband put together for our children. He had numerous issues with this swingset. 1. The instructions are VERY POOR. The pieces come in each it's own individual bag. The bags are labeled accordingly, not the piece itself. Most of the pieces were not in bags so we had to figure out which piece was which. Lots of wasted time on this issue alone. 2. We were missing hardware causing us to make a trip to a local hardware store to improvise. 3. Some holes didn't line on the trampoline area resulting in my husband having to drill holes to connect the trampoline. 4. The 2 person swing is HORRIBLE. it doesn't swing at all. We have had this set for about a week and will be removing the 2 person swing the moment we get a chance. Its the worst part of the whole set. My children do enjoy the set. It will lift if my 8 year old swings too high. She's about 50lbs. It's incredibly light.
Angelic
It's great!
I will be honest. When reading some of these reviews I almost did purchase this swing set, but I couldn't resist the price or the mental potential memories I would make with my children! So glad I bought it anyways. I put it together by myself yesterday afternoon using the tools provided as well as a couple of my own (drill and socket wrench). The hardest part to put together was the trampoline and believe it or not the slide lol. When I say hard I mean the slide required patients and I had to follow the picture instructions for the trampoline. Definitely do the corners first. Its not impossible to do the trampoline by yourself (I did) but I would definitely recommend a partner and caution. I also had to use a hammer to lightly tap the spring to coaxed it into the hole. LIGHTLY. Lol. Make sure when doing this you are free of disracton if possible. The numerous amount of different pieces can look daunting and make things a little confusing. Just have to pause for a minute. The instructions were fairly clear. I didn't read a single word. I do better following the pictures. If you are naturally good with tools or mechanically inclined then this isn't going to ve a problem for you. I also read a comment on an earlier review that helps a lot in reference to the me and my toddler swing. If it doest swing loosen the bolts at the top a hair.