Innovera Handheld Calculator, 12-Digit LCD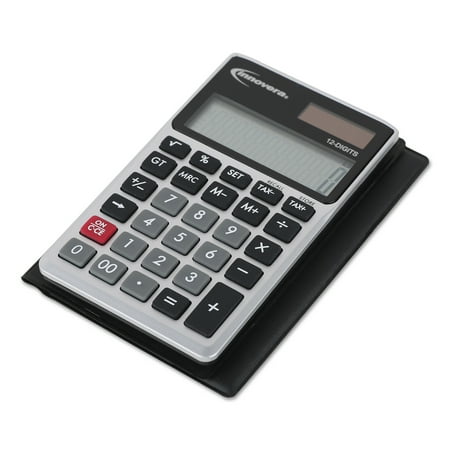 Sale :

$6.93

Sold & shipped by Independence Fulfillment Services
Product Description

Additional Information

Reviews
Product Description
The Innovera 8-Digit Calculator can help you make fast and accurate computations. This handheld, compact device can easily fit in your backpack, pocket or purse. It is ideal for use at work, school or home as a desktop piece. The digital machine has a flat and clear screen that is easy to see as well as wide enough to display up to 8 digits. This Innovera calculator automatically switches from solar to battery power in low-light conditions, which helps to prolong its life. It comes with basic key functions to perform calculations such as addition, subtraction and multiplication. You can also complete problems involving division, square roots and percentages. The keyboard even has three memory buttons, including MC/R, M+ and M-. This dual power calculator comes with a flip case for added protection and can withstand everyday wear and tear. It has rounded edges for comfort to make it easier to grip and hold.
Additional Information
Convenient handheld calculator with protective soft case.
Reviews
fireman67
Product arrived on time and in excellent condition
All functions operated as advertised. Keyboard spacing is positioned so that even large handed customers can operate without a problem. Considering the low price, this unit can't be beat.
Archangel22
Straight to the point and Error Free
One of the main reasons I got this calculator is because of the backspace button that would allow you to delete numbers that you may have accidentally pressed. The other features including programmable tax is very useful and make this valued item an even better buy.
RayLinStephens
it is good - but....
Price? Exceptional Value? Excemptional Meets Expectations? Yes! But I wish I had bought the next one up for the size. While this is a decent size and I have no trouble using it, a slightly larger calculator might have been the wiser choice for only another dollar. However, I was pleasantly surprised to find it has a hard-self-cover! This would make it really handy for a pocket or purse carry.
webrumor
good for price
ordered 8 digit, WM sent 12 digit. battery used is L1131. if you can order 8 digit, that's what i would get. 12 digit lcd makes digit too skinny for my use, but still ok. WM had this on sale so i'm not going to complain. item does not have off switch. instructions state when battery dies, solar will work. there are 6 tabs and a tiny phillips screw to remove to get to battery. use just one battery and simple to replace. the case is a disaster: it's just a thin vinyl cover that is glued to back of item with a glue strip. WM carries a Casio SL-300SV. i have that item also. costs more than innovera. all said, for the price the innovera will figure out your measurements when at the home improvment store.
Feds
good for price
Good product and fast delivery to store