Vitality Max Labs 100% Pure Forskolin 125 mg Weight Loss Pills, 60 Ct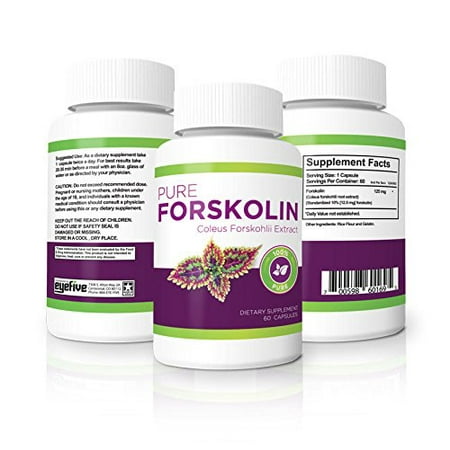 MSRP :

$59.99





Sale :

$14.99

Sold & shipped by Walmart
Product Description

Additional Information

Reviews
Product Description
100% Pure Forskolin is the industry leading fat burning formula boosts your metabolism, while also breaking away stubborn fat cells - giving you the lean and healthy body you want and deserve. Pure Forskolin raises the metabolic level in your body while also burning fat at a more rapid rate, making it the No. 1 Rated Fat Burner. Pure Forskolin (derived from Coleus Forskohlii) activates an enzyme called adenylate cyclase which increases your levels of cAMP. This causes the thyroid hormones to raise your metabolic level to burn fat cells rapidly, targeting stored fat in your stomach, hips and buttocks.
Additional Information
Burn Fat Faster, Build Lean Muscle, Boost Metabolism, Enhance Energy, Suppress Appetite, Minimize Food Cravings, Achieve Your Weight Loss Goals Faster, Proven Formula
Reviews
FirmBeliever2017
Wonderful
This product is amazing. I have a goal weight to reach before my wedding in October and I believe that I will make it using Pure Forskolin!! I have lost 8 pounds within a week and kept the weight off. Now I have exercised before using this product and Every time I stepped on the scale weekly I'd be disappointed. Now I am excited to see what I weigh every week. It does burn fat my inches around my waist have shrunk. I drink a lot of water and eat fish,shrimp,steamed veggies except corn. I take Forskolin before I eat. I do work out twice a day for 30 minutes one workout early morning before work and after work. This product works ! I have energy and I am also a heart valve replacement survivor. This product doesn't make me feel jittery or make me feel weird like other products .I actually have energy . I will post again my final weight loss in few months.
George
Shedding Weight Daily...Amazing!
This Product is truly amazing! I have seen a loss of 37 pounds since starting to take forskolin 2 months ago. With this I feel ready for a full day of calories as it helps burn fat while resting as well as boosting any extra effort in dieting I have been doing. Great product this works as Described.
Carissa
Love it!
I have been taking forskolin for about a month now and have lost 17 pounds. This supplement gives me lots of energy too which is great because I used to be so fatigued after long days, this really helps give me an extra boost. I am very happy I found this, my body is looking more firm :-) I will recommend this to my family and friends. Thank you.
Cody
Works like a charm
I have heard many good things about forskolin, so I decided to give it a try. It has been 14 days to date and I am starting to see weightloss daily. I feel lighter and have started noticing that after a full day of work I still surprisingly have energy. The extra energy and ability to maintain my weight has made this supplement invaluable to me. Will be re-buying.
Jessica
Love this stuff!
Just started taking it a little over a week ago and I already lost 13 pounds!! Very happy!