Vitality Max Labs 100% Pure Forskolin 125 mg Weight Loss Pills, 60 Ct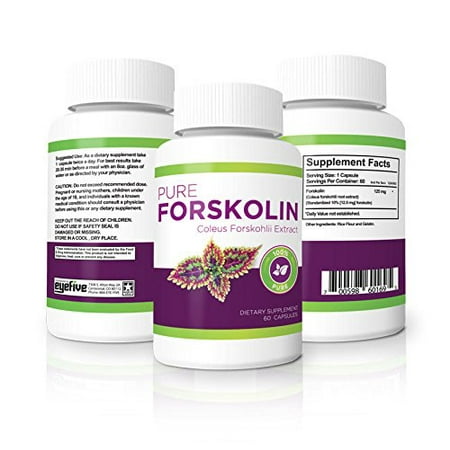 MSRP :

$59.99





Sale :

$13.03

Sold & shipped by Walmart
Product Description

Additional Information

Reviews
Product Description
100% Pure Forskolin is the industry leading fat burning formula boosts your metabolism, while also breaking away stubborn fat cells - giving you the lean and healthy body you want and deserve. Pure Forskolin raises the metabolic level in your body while also burning fat at a more rapid rate, making it the No. 1 Rated Fat Burner. Pure Forskolin (derived from Coleus Forskohlii) activates an enzyme called adenylate cyclase which increases your levels of cAMP. This causes the thyroid hormones to raise your metabolic level to burn fat cells rapidly, targeting stored fat in your stomach, hips and buttocks.
Additional Information
Burn Fat Faster, Build Lean Muscle, Boost Metabolism, Enhance Energy, Suppress Appetite, Minimize Food Cravings, Achieve Your Weight Loss Goals Faster, Proven Formula
Reviews
Hannahmarie
Great for stopping cravings!
Forskolin is a natural dietary supplement. That is one thing that really drew me to this product. It is natural component found in a plant in East Africa and India. I like the fact that with this supplement, it only taken twice a day. Others I have tried suggested taking 3 times a day, they had a tendency to upset my stomach if I took it that many times. I DO NOT have that problem with the product. At night I am a "muncher". I enjoy popcorn. Chips or just something crunchy. I found this to curb that need to crunch. The second night I took it, I looked at the clock and found it to be almost 11pm and I never had that craving. I was pretty surprised. They do not seem to have some of the side effects other dietary supplements have had in the past. Others I have tried gave me a headache. This one didn't. I have not felt any increased energy but just the fact that I don't feel the need/want to snack at night is a plus for me. Weight loss seemed to be just right. I am a huge advocate that if too much weight loss happens all at once it isn't healthy. This seems to be just about right 1-2 pounds a week (this will vary depending how much weight you have to lose).
StacySue
Best Weight Loss Supplement!
I'm a bit lazy and I also don't have the time to exercise as much as I would need, but I have a great help and that's why I love weight loss supplements. It may sound weird to other people, but for me is a great way to maintain my weight with my busy lifestyle. I have a full time job, a part time job and a 2 year old, I don't have the time to spend it at a fitness center. I do work out a little at home, but that alone would never be enough to maintain my weight. That's when this supplement comes in. It boosts my energy, controls my appetite, burns fat and it's all natural :) exactly what I need. I would recommend you consult your physician before taking it. Everybody is different, so better be safe than sorry! The shipping and delivering was really fast. It arrived in a little plastic bubble wrap bag without any damage.
George
Shedding Weight Daily...Amazing!
This Product is truly amazing! I have seen a loss of 37 pounds since starting to take forskolin 2 months ago. With this I feel ready for a full day of calories as it helps burn fat while resting as well as boosting any extra effort in dieting I have been doing. Great product this works as Described.
Ella
Great for starting forskolin, low mg
I'd say this is for starters as I normally take a dose of 400mg twice a day and this only has 125mg. You can see real results with forskolin but it'll take a lot longer with suck low mg of coleus forskohlii. I recommend trying it!
LD
Great for weight loss!
Excellent product. I'm always looking for a way to help me burn fat. I travel a lot for work, and even at work, I sit a lot. I'm up early and home late. I never have time to work out except on weekends, if at all. I'm a reader, and I always read up on all natural products because I want to do my best to live clean, even if I don't always eat that way. This product helps me control my eating and burns fat. This is the perfect things for someone like me who is always sitting and munching because of work and travel. It's motivated me to lose even more weight (down 10lbs in two weeks!). Great product that really can help you change the way you eat and see yourself.