Spring Valley Biotin Softgels, 1000 mcg, 150 Ct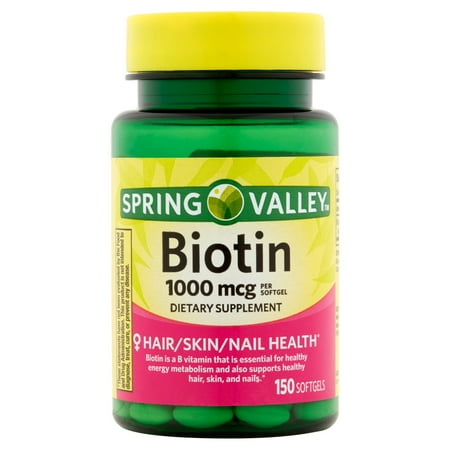 Sale :

$2.74

Sold & shipped by Walmart
Product Description

Additional Information

Reviews
Product Description
Give your hair, skin and nails a boost with the Spring Valley Biotin Softgels, which come in a 150-count bottle of 1000 micrograms per tablet. This B-vitamin is often used to help manage diabetes, brittle nails and other conditions. The Spring Valley biotin supplement can be taken daily.
Additional Information

Spring Valley Biotin Softgels, 1000 mcg, 150 Count:
Spring Valley Biotin supports healthy hair, skin and nails.*
Spring Valley Biotin provides an essential B vitamin for nervous system health.*
Spring Valley Biotin supports energy metabolism.*
Gluten-Free & Dairy-Free.
Serving size: 1 softgel one to five times daily. 30 to 150-day supply.
These statements have not been evaluated by the Food and Drug Administration. This product is not intended to diagnose, treat, cure or prevent any disease.

Reviews
Clothshorse58
Great for Nails
My fingernails are stronger and grow faster. They used to break and chip. Now I trimmed them more often.
TSRichards
Been using 4 pills a day for the last 5 days
Im a 23 yr old black female with mild adult acne and dark spots on my cheeks. I am always stressed and it shows on my face. Also I got a perm years ago that sat on my hairline too long and caused it to thin. Since taking the pills for only 5 days I can see the hairs filling in. My thinning hairline is not noticeable to others like it is to me. Also my hair is thick, dry, and im constantly trimming my ends. I recently cut my hair short on the sides and back and longer in the front for a different look and want to grow my hair back out healthy and split ends free. My bf has told me that my skin looks clearer. I dont wear any makeup in order to help my skin improve and having a 4 yr old takes up all my money and time. I cut my nails down & wear acrylic nails so I cant speak for it growing nails. But my nails grow fast naturally anyway. I have a bad habit of biting my nails as to why I cut them. I take two pills in the morning & two at nite.
NiaPia
Another Shot
To start off a few years ago I took 10,000 mcgs of biotin and I didn't drink a lot of water, which resulted to cystic acne. So I gave it up for a few years and did some research on Hairfinity to Maine Choice Vitamins because I felt like my hair needed an improvement for cheap. So now that I have thin relaxed, color treated, and shoulder length hair I felt like I should try a lower dose and drink water more frequently. I decided a month ago to take Biotin. But this following week I've seen a difference. My hair is now a half an inch longer, thicker and easily manageable when I wash my hair. Also my nails have grown longer and faster. But I'm not worried about my nails, the main reasons I took biotin was to make my hair healthy and clear my skin up. I take two a day with lemon infused water and a meal before I go to sleep. My skin has improved greatly and I am very pleased with the biotin pills.
LivingforLove
Great Deal
I spoke with my dermatologist and she recommened to try this product for my nails. It works great! Within a few weeks my nails were stronger and longer! It's much less expensive than appearax and perscriptions! Well worth it!
Love2OnlineShop4Us
Nails love it!
I bought this for thinning hair, but I was pleasantly surprised by what it did for my nails. I could never grow my nails because they were thin and tore easily. Within days of taking this supplement, my nails were stronger and whiter. I take one pill a day and that seems to be enough for my nails to stay healthy. I saw some hair growth, but I use this mainly for my nails. I use an iron supplement for my hair and it's slowly coming back.