ReliOn BP200 Upper Arm Blood Pressure Monitor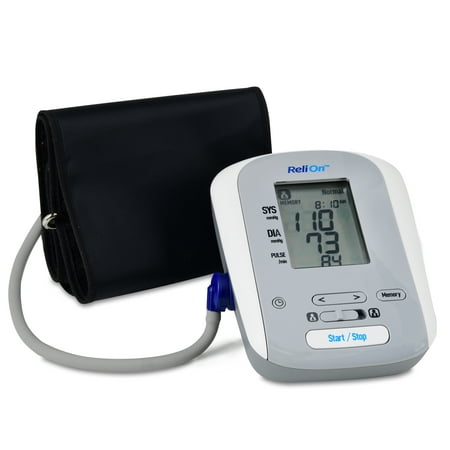 MSRP :

$39.88





Sale :

$29.92

Sold & shipped by Walmart
Product Description

Additional Information

Reviews
Product Description
Additional Information

ReliOn BP200 Upper Arm Blood Pressure Monitor:
For up to 2 users
Ideal for couples with home use
120 memory total (60 memory for each user)
Store up to 2 months worth of data for each user
BP level indicator
Advanced averaging
ReliOn blood pressure monitor with irregular heartbeat detection that alerts you while in use
Date and time memory
Cuff for standard and large arms
Digital blood pressure monitor is clinically validated for accuracy
Comfortable to wear and easy to use
Easy-touch operation makes taking blood pressure simple and efficient to do from home
Reviews
jeiseman
very easy to use and accurate
It's not as portable as the wrist units but it's much more accurate. It's pretty comfortable to use and I like that it has A and B readings so you can easily track the reading for 2 people.
rocktoad
Not accurate readings
I bought my monitor years ago, and I just found out from my doctor that it is not giving me an accurate reading, as they compared it to theirs in the doctors office.
lastTry4Sure
Excellent.
Ordered by doc to check B/P3Xa day for 30 days. Bought this for the job. Totally satisfied, memory for two people for a bunch of readings (100 or something). Easy to use. So Far So Good!! Batteries or A/C. Used only on batteries so far. My computer reverses pics for some reason, you don't have to hold it in front of the mirror to read it! lol
EEJazzman
A very good meter
this meter is made by Omron,and was ranked near the top right next to the Omron hem711 in Consumer Report Magazine. Both meters seem similar, and have easy-to-use soft cuffs. if you have a large arm, order thelarge size cuff for $10.Many compaints on the newer meters that have a stiffcuff that is too large fr many arms, and difficult toget good readings.This unit does the job for me by letting me know if my pressure is in a good region, or I am currenly low. It also has an irregular heart beat indicator, useful for someone like me who has that problem. this meter has no sound, so you can't actually hear the pulse irregularities, as my old Omron could. There seems to be good agreement between measurements made with the new and old meters, giving goog confidence that they are both accurate. Bottom line is it's the best meter available for this price point, and may actually outperform others that are much more expensivel. This is the one to buy! The only negative is there is no carry case provided, but there are other cases around that I am sure this meter and cuff set woud fit nicely into.
hyechica
not so accurate
so i got this blood pressure monitor for my dad my dr would like me to check mine as well on a daily basis but after buying this one for him i am not sure this is the right one him or me.. i have slight hbp and it spikes when i get really sick. other than that its usually on the normal side. i use both arms in the cuff and its large enough to fit my large arms but the readings can be off or way off one day it said my reading was70/60 really no way and then on occasion it sad my heart was skipping but at my last physical my heart was healthy and the last time i saw the dr last week for some antibotics they checked my heart and she found nothing. the monitor is very sensitive one little move or twitch can send non accurate results a few days ago i was checking it on and off most of the day on my left arm i got crazy results like error to low results and some normal ones and 3 irregular heartbeat icons when i did my right arm i had normal results the whole time i would not recommend this one to anyone