Equate Nicotine Lozenges Stop Smoking Aid Mint Flavor, 4 mg, 108 Ct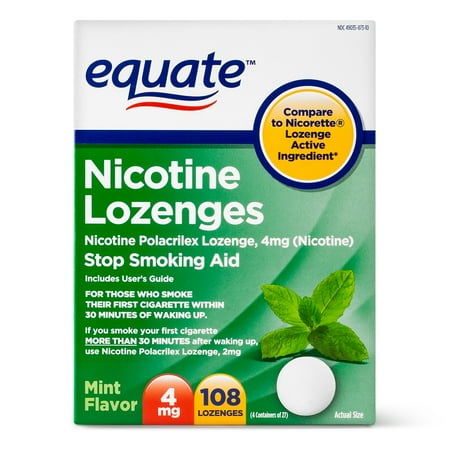 Sale :

$32.98

Sold & shipped by Walmart
Product Description

Additional Information

Reviews
Product Description
Additional Information

Equate Nicotine Lozenges Stop Smoking Aid Mint Flavor, 4 mg, 108-Count:
For those who smoke their first cigarette within 30-minutes of waking up
Includes user's guide
Mint flavor
Stop smoking aid
Part of a Nicotine Replacement Therapy
Designed to wean your body off cigarettes
Helps regulate, control and gradually reduce your body's cravings for nicotine
4 mg each (see instructions for use)
108-count box with user guide
More effective when combined with other methods that help the psychological (emotional and mental) part of smoking
How Nicotine Polacrilex Lozenges Work

Nicotine Polacrilex Lozenges are a form of Nicotine Replacement Therapy. They deliver nicotine to your body, temporarily relieving craving and nicotine withdrawal symptoms when you quit smoking. But unlike cigarettes, Nicotine Polacrilex Lozenges deliver a lower, steady level of nicotine to your blood. When used as directed, Nicotine Polacrilex Lozenges help you regulate, control, and gradually reduce your body's craving for nictoine.
Reviews
Danielle88
If you trying to quit, buy this!!!
I have tried to stop smoking several times, but never been successful. I have been smoking for several years and was smoking almost 2 packs a day. I bought these a few days ago and couldn't believe how effective they was. In the past when I tried stopping nothing would help the craving and I would be so moody and aggravated with everyone. With these I am not moody and I have no cravings..and when I do I just pop in a Lozenge and I'm good to go.The price is also great! I never write a review, I had to make an account just to write this but I had to let people know how well these work.
BBobandi
Product worked way better than I expected
I have tried quitting smoking several times over the last 10 years, have tried everything from cold turkey (I'm still apologizing to people for my attitude during that attempt), Ecigs and patches. I would always quit for a day or 2 then start up again because the cravings were just too much. I was really shocked at how well these work on the cravings, when I feel the need, I take one of these instead and the craving really goes away, I'd say for at least 2 hours if not more. Yes, it is chalky and tastes like a weird mint and I will admit that it burned my throat a little bit and also gave me a heartburn feeling but drinking a little water while it dissolves helps. Once the thing dissolves the discomfort goes away. If these keep me from smoking then I'd say its well worth it, given that the alternative is much much worse for me. Its now been 5 days since I've smoked.
ks3049
Great product
I have tried to quit smoking cold turkey several times. Finally I purchased the book "Easy Way" by Alan Carr from Walmart and a box of these lozenges. The first few days were rough but after that it has been great. I have not smoked in 9 months. I did not care for the gum and these lozenges work great, taste MUCH better, I am very happy with them. I cannot recommend it higher for anyone trying to quit.
KristyRichardson44657
Best way to quit smoking or smokeless tobacco
I highly recommend this product whether you are looking to quit smoking or smokeless tobacco products. The lozenges taste good, mildly sweet. You can't suck on them like you would hard candy - you have to let them slowly dissolve in your mouth or else you will get side effects like hiccups, diarrhea, headache and nausea. There is a bit of a peppery bite to them at first, which is the nicotine doing it's job. These lozenges make it so much easier to quit. I tried the gum but it was harsh on my teeth. I tried the patches but ended up with a sensitivity to the adhesive.
NMSmoker
Best product of all for smokers
82 years old and now on oxygen. I have tried patches, pills, gum, e-cugarettes,snuff, and chewing tobacco, you name it. nothing worked. I even smoked while using oxygen. I was told about these lozenges and started using them 3 1/2 month ago. I have not smoked a cigarette since. Actually I only transferred my habit to another source but will continue using them until them until the grim reaper arrives. The greatest product since cotton candy for smokers..