Equate Nicotine Lozenges Stop Smoking Aid Mint Flavor, 2 mg, 108 Ct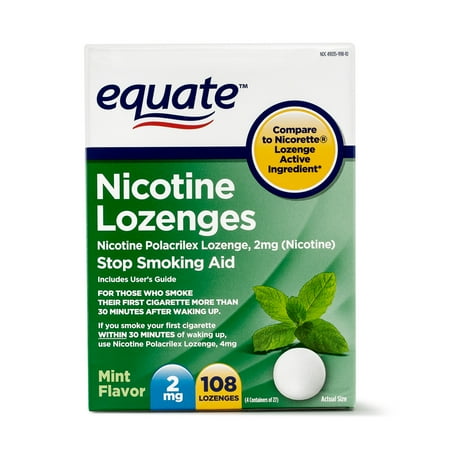 Sale :

$32.98

Sold & shipped by Walmart
Product Description

Additional Information

Reviews
Product Description
Stop smoking with long-term success with help from Equate Nicotine 2mg Lozenges. 108 pieces of mint-flavored candy will help your body gradually adjust to less nicotine — you'll use fewer and fewer lozenges over a 12-week period until you lose the urge to smoke altogether. Nicotine addiction is more powerful than people are aware — each puff of a cigarette sends nicotine to the brain within seconds, which produces feelings of pleasure and reward that aren't easily replaced. If you're tired of your reliance on cigarettes, Equate Stop Smoking Aid Mint Nicotine Lozenges are for you — Equate Mint Lozenges can actually double your chances of quitting even if you've attempted and failed in the past. What's more, Equate Nicotine Lozenges can help ward off weight gain and relieve withdrawal symptoms that are often at the root of a relapse. Compare Equate Stop Smoking Aid Lozenges to Commit Lozenges and save. An exceptional value and a healthy new beginning!
Additional Information
If you smoke your first cigarette more than 30 minutes after waking up, use Nicotine Polacrilex Lozenge 2 mg. If you smoke your first cigarette within 30 minutes of waking up, use Nicotine Polacrilex Lozenge 4 mg.
Mint Flavor
How Nicotine Polacrilex Lozenges Work

Nicotine Polacrilex Lozenges are a form of Nicotine Replacement Therapy. They deliver nicotine to your body, temporarily relieving craving and nicotine withdrawal symptoms when you quit smoking. But unlike cigarettes, Nicotine Polacrilex Lozenges deliver a lower, steady level of nicotine to your blood. When used as directed, Nicotine Polacrilex Lozenges help you regulate, control, and gradually reduce your body's craving for nicotine.
Reviews
DiaSm
Way better than expected!
EX almost a pack a day smoker. I bought these 6 months ago... decided I had more important things to spend my $ on than cigarettes! I'm into my second week without smoking & I have hardly tried to "quit"... it's just not as big of a deal as I thought it would be. I honestly just went half the day without even thinking about a cig. I tend to use these about 20 minutes before I would have normally smoked... so right before work/break/getting off/ etc. I got the 2mg package to start with & wound up cutting the whole bottle in half because they are a tad large for me. Even cut in half they last 30-45 minutes--usually a good thing for me. These are a VERY mellow mint flavor. They are a weird dry texture, but you get used to it by the end of day 1 & it's fine. I think I'm using about 8 half lozenges a day now... My husband smokes too... and oddly I still haven't been tempted much. Ashtray smells horrible though. I'm floored. Blown away. Amazed. and I have suggested it to others. I just gifted a bottle to my mother!
Lee
Way better than expected!
It kinda helps but not much. I cant stand the taste. And it makes my mouth so dry..
surprizeme333
great product
I have tried Chantix medication and was not able to quit smoking because I cut down the amount I smoked but could not totally quit. I have been using the lozenges for 3 days and have had very good luck with these. I would recommend to give this product a try. The other rating that said it tastes like pepto bismal may be true on the cherry flavor, but I have the mint and it tastes like a menthol cigarette. I have not been going crazy wanting a cigarette and believe this will help me become a successful non smoker!
Weezie
Hooked on Nicotine
This is the only way I finally quit smoking. I had tried to quit smoking many times over many years. Only thing is now I'm so addicted to these, that I can't give them up. You still get the nicotine, but not all the deadly chemicals. I've been using these for 12 years. They are very expensive and I wished I could give them up. I wished I would have known that I would be so addicted to the lozenges, just like I was to cigarettes. I started with the 4 mg. and came down, like it said, to the 2 mg, but can't get off of the 2 mg. I blame no one but myself. I just don't have the will power to give them up. My cardiologist says I have to give them up, so I will need to really try. I had open heart surgery and a valve replaced in Oct. 2014.
CaliCutie
Works
So far 15 days and not a single cigarette. Only twice did I have a really bad craving using these. Bought the mint and tastes like mint and sort of creamy when dissolving. Pleasant and for about the cost of 5 and a half packs of cigarettes not smoking or coughing anymore.