Equate Uncoated Nicotine Gum Stop Smoking Aid Mint Flavor, 2 mg, 170 Ct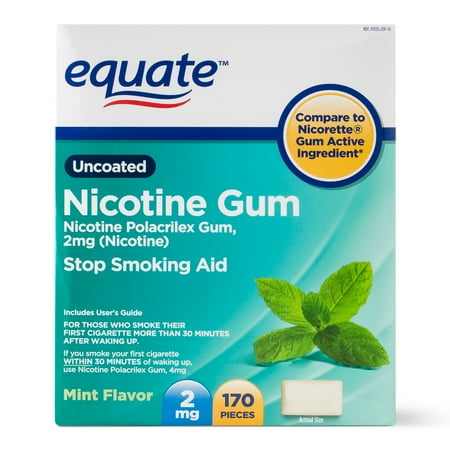 MSRP :

$44.92





Sale :

$32.98

Sold & shipped by Walmart
Product Description

Additional Information

Reviews
Product Description
Additional Information
Reviews
PeteyG
Suggestion for a new non-nicotine gum
I have a suggestion. I have been chewing this gum for 15 years. I have been unable to quit as no other gum on the market satisfies like this gum. It's not the nicotine, but the flavor and consistency. My suggestion is that you produce a non-nicotine gum that tastes and has the consistency of the nicotine gum. I believe people would be willing to pay the same amount for this gum to help them quit. I know I would!
BLUEBIRDHAPPINESS
Thank you
Well, my son is the person who uses this nicotine gum, but I know that it's the best one for the best price. I am thankful it's available to be shipped, saves a very long journey to our local Wal Mart 30 miles sesy! Thank you, Wal Mart.
Mankey
Most bang for your buck
This is the best deal you will find out there for nicotine gum, and trust me, being the bargain hunter I am I looked around a while before I bought. I spent at CVS 26 bucks on only a 40 pack... So this is really the best out there. It's helped me stay cigarette free so far (going on day 4. Smoked for 7 years). The only reason I give this 4 stars and not 5 is because the gum isn't coated and they don't sell this flavor in Equatte brand in a coated form yet they sell other flavors coated. If you aren't use to coated gum this may be weird. Also if you're using nicotine gum for the first time READ. THE. INSTRUCTIONS. You will regret it if you don't, you cannot chew this like normal gum unless you want heartburn, painful hiccups, and nasea. Anyway all in all great deal and does what it's intended to.
drynails
good stuff
This is perfect for me. I've tried coated gums and they really upset my stomach to the point of vomiting. No idea why. This is a great product.
wish2quit
Just Go Cold Turkey
I tried to quit cigarettes so many times using nicotine replacement products. Then my mom was diagnosed with lung cancer (she was a non-smoker) so then I really had to quit. I went cold turkey. After 6 weeks, we were going to a bar with friends and I was afraid once I had a beer or two, I'd be bumming cigarettes. So I bought some nicotine gum. I still have not smoked but now I'm addicted to nicotine gum. This is my experience, maybe you will be able to kick the gum after you kick the cigarettes. Just be aware, you are just substituting one (less healthy) form of nicotine for another. You are not breaking the addiction.