Equate Uncoated Nicotine Gum Stop Smoking Aid Original Flavor, 4 mg, 170 Ct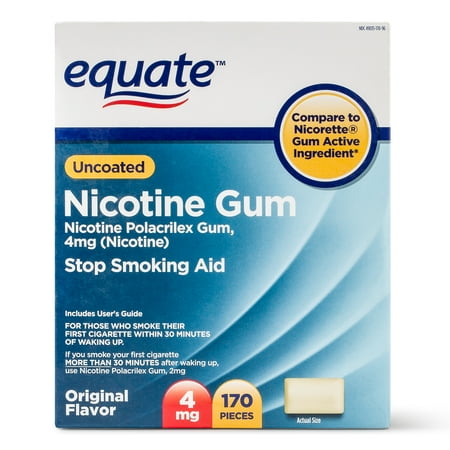 MSRP :

$44.92





Sale :

$32.98

Sold & shipped by Walmart
Product Description

Additional Information

Reviews
Product Description
Additional Information
UNDERSTANDING NICOTINE REPLACEMENT THERAPY

Getting Started The most important step to becoming a nonsmoker is the first one and you can start today! First, purchase the right product dose. If you smoke your first cigarette within 30 minutes of waking up, use Nicotine Polacrilex Gum 4 mg. If you smoke your first cigarette more than 30 minutes after waking up, use Nicotine Polacrilex Gum 2 mg.

How Nicotine Polacrilex Gum Works
Nicotine Polacrilex Gum chewing pieces provide nicotine to your system - they work as a temporary aid to help you quit smoking by reducing nicotine withdrawal symptoms. Nicotine Polacrilex Gum provides a lower level of nicotine to your blood than cigarettes, and allows you to gradually do away with your body's need for nicotine.
Reviews
Carl
Equate nicotine pilocrilex gum 4mg
This gum is highly effective if used in correct manner to quit smoking, or at least temporarily stop. To use correctly it is absolutely necessary to read the directions as stupid as it sounds, it is actually especially true here. The picture below shows the booklet titled "Nicotine Polacrilex Gum," that if filled out and fully used as I did, along with the directions in the book combined with a real want to get all the tar and misery out of your life, you will more than likely quit with this gum. Worried about what will happen when you want to stop chewing it, dont worry, it even tells you how to correctly ween off of the gunlm, which for me was nothing she comparing with cold turkey stopping of cigarettes. I love this product, and absolutely encourage others to use it if they really want to quit smoking.
Klaxion
I quit smoking with this product
I tried to stop smoking for half of my lifetime. I'm 70 as I write this. The last time I tried to quit smoking was with this product. Following the instructions to the best of my ability, I failed. However I found that (and I don't necessarily recommend this to anyone but it's worked for me) if I stayed on the product and didn't worry about tapering off the product I've been completely smoke free for over a year. Now you should of course check with your doctor before you do what I did. When I started "my" system of chewing this product all the time, (that's right instead of just putting it on my gums) I was satisfied with 2 pieces at a time an popping another 2 pieces after a couple of hours. Gradually over the next 3 weeks that increased to 6 pieces at a time. I've been chewing 6 pieces at a time without the urge to increase it's use further for over a year now. I typically buy a couple of boxes every week or so and the cost is still less than if I bought a carton of cigarettes a week (since I live in NY) and since I'm able to be smoke free and can breathe better, (I have emphysema) I don't really care how much it costs. It's worth it for me. I like the original flavor because I can judge when the nicotine is used up better than the mint flavor and can chew longer without replacing it. I realize that this is an incorrect use of this product however I did check with my doctor who said as long as you don't experience any ill effects from it, she has no problem with it. I advise anyone who can follow the instructions provided with the product and quit smoking that way to do so, as it will save you a lot of money to do so, and some people may not be able to use it as I do without experiencing some physical issues. In any case, good luck quitting smoking however you do it. It was a life saver for me.
Seattleboy
Great Value
I first tried nicotine gum on a long trip where I couldn't smoke for 20 hours, I made the mistake of buying the expensive brand, Equate works every bit as well as that brand at a fraction of the cost. Now I'm determined to quit, and Equate offers the best value to assist me, and I think it works better for me than the patches, or the expensive lozenges (my physician has told me that more of his patients have been successful using gum than the other cessation profucts, don't know if this usual, but it is what I was told). Highly reccomend. Wish me luck, and I send you my best wishes in quitting.
jae566
Great!
Fast shipping and great packaging. I like this product and I have used it for years. It is nice to be able to order it on-line.
cataclysm
Not helpful
The last 28 days have been smoke free for me. I used a 21 mg Equate patch for the first three weeks and still had fairly intense cravings, but they were tolerable enough that I didn't give in and smoke. (The second week was easier than the first) Then I ran out of patches during the 3rd week so I started on this gum, 4 mgs. I followed the directions and you're supposed to chew till you feel a "tingle". Well I've never felt any tingle. And the gum has given me little, if any relief. Frustrated, I found myself reaching for them way too often. I've really suffered through this weekend and feel pretty awful right now. My symptoms on the gum have been: restlessness, fatigue, anxiety, irritability, difficulty with concentration and memory, and leg tremors at night which interfere with my sleep. I put an Equate 21 mg patch on just now and I sure hope it kicks in soon. I'm glad for the reviewers who find the gum helpful. It just hasn't worked for me.