Equate Uncoated Nicotine Gum, Original Flavor, 2 mg, 170 Count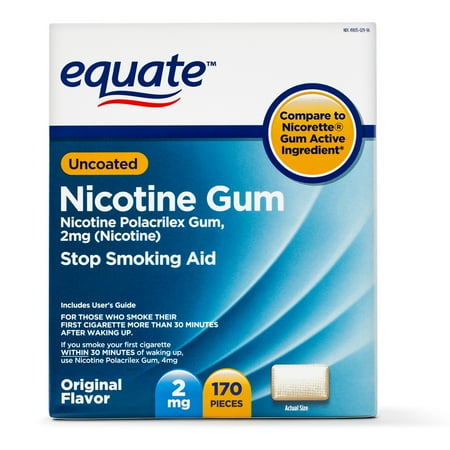 MSRP :

$44.92





Sale :

$32.98

Sold & shipped by Walmart
Product Description

Additional Information

Reviews
Product Description
Stop smoking with long-term success with help from Equate Stop Smoking Aid 2mg Original Flavor Gum. 170 pieces of tasty gum will help your body gradually adjust to less nicotine — you'll chew fewer and fewer pieces of Equate Nicotine Gum over a 12-week period until you lose the urge to smoke altogether. Nicotine addiction is more powerful than people are aware — each puff of a cigarette sends nicotine to the brain within seconds, which produces feelings of pleasure and reward that aren't easily replaced. If you're tired of your reliance on cigarettes, Equate Stop Smoking Aid Original Flavor Gum is for you — Equate Stop Smoking Gum can actually double your chances of quitting even if you've attempted and failed in the past. What's more, Equate Nicotine Gum can help ward off weight gain and relieve withdrawal symptoms that are often at the root of a relapse. An exceptional value and a healthy new beginning for you!
Additional Information
Reviews
ThinkingOfSmoking
Hate the "improved original flavor"
I've been using this product - original flavor - for virtually years. Just had to restock and boy was I shocked. I purchased the "original" flavor and got the "New Improved Flavor" and almost gagged. It's way too sweet and minty tasting. If I wanted "mint" or "sweet" I would have purchased the Equate mint flavor nicotine gum. Not sure what to do now because Equate is so much cheaper than the brand name product and I don't want to start smoking again. Hope I'm not the only one out there who hates the "improved flavor" and also hoping someone at Wal-Mart or Equate Products or both sees this and goes back to the original flavor.
cambridgelaine
my thoughts on why the gum changed
hello fellow gum chewers! I started chewing the gum several years ago and found it a great substitue for smoking. however, i became dependant on the gum; and searched many stores to find the best price. for a long while everything was great; i chewed the 2mg original flavor and bought it from rite aid, target, walgreens; wherever it was on sale. then about a year ago everything changed. My theory? I think that the Nicorette brand forced the other retailers to change their formula. Notice that Nicorette is now the only brand where you can buy the original?? And it costs a fortune. Nicorette used to own the market and could charge whatever they pleased. Just my opinion. I miss the original flavor sooo much, but I refuse to buy Nicorette. Never Never.
ofcval
my thoughts on why the gum changed
I like the texture of the Equate gum, and it doesn't taste bad. Also, it is not difficult to remove a piece from the wrapper. I hate the price of the Nicolette brand - but I especially hate the taste and having to fight getting a piece unwrapped.
Suzanne
Quitting smoking made Easier
Equate brand quit smoking nicotine gum is the very best. High priced products like nicorette don't even come close. At first it takes some getting used to but it is a huge help. My advice: do not decide to quit smoking at midnight. Have the last cigarette before one PM. What smoker wants to wake up in the AM without a cigarette?
Equategum
New and Improved is AWFUL
I too was so surprised when I went to the Walmart store near me to purchase my box of Original Flavor Equate Gum. It was so awful and I have no idea why they changed it. If I wanted a sweeten gum, Equate makes many other flavors so I am very confused why they made this change. I am going to try and order it online so see if it is still the old version. If not, I will be returning it to the store. If they don't change back, I will have to look for other brand. I just cannot stand the horrible, overly sweet taste of the "new and improved".