Equate Acid Reducer Heartburn Relief Cimetidine Tablets, 200 mg, 60 Ct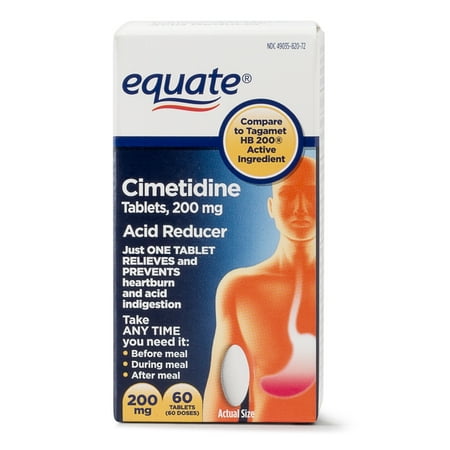 MSRP :

$12.97





Sale :

$4.98

Sold & shipped by Walmart
Product Description

Additional Information

Reviews
Product Description
Relieves and prevents heartburn associated with acid indigestion and sour stomach brought on by eating or drinking certain food and beverages.
Additional Information

Equate Acid Reducer Heartburn Relief Cimetidine Tablets, 200 mg, 60-Count:
Indications: relieves heartburn associated with acid indigestion and sour stomach; also appropriate as a preventive heartburn measure when taken at least an hour before a meal
60-count of Equate Cimetidine Tablets are easy to take
H2 blocker and histamine receptor antagoist
Acid reducer tablets help to reduce acid production by blocking histamine
Relieves heartburn and sour stomach symptoms after eating a meal
Cimetidine works for longer time than antacids, but takes a little time to get started
May help to reduce acid reflux temporarily
Over-the-counter H2 blockers include Ranitidine (brand name: Zantac), Famotidine (brand name: Pepcid) and Cimetidine (brand name: Tagamet)
Prescription H2 blockers may provide short-term treatment of symptomatic gastroesophageal reflux disease (GERD) and, with longer duration and higher daily dosages, relief of erosive esophagitis
Reviews
Socwell
Great Value
Great price for the quantity you receive. Only problem, seems to always be out of stock online and at the stores. This is the only Acid Reducer that works for me without side effects.
Tinfra
Great product but out of stock much to often
The equate works great for me and I use them daily. However Wallmart does a very poor job of keeping them in stock at my store ( Exton ) and nearby Stores. I am forced to find a more expensive alternative
shopforzne
HOW DO I SPELL RELIEF....
These little pills work just fine for mild heartburn which is all I have. I take as needed...and they always do the trick!
lgct
This is the main acid reducer my family uses.
I just wish it was always carried in the store (I can find it sometimes, but usually only 1 container). I looked for 3 weeks before buying it online and paying shipping. And that was going regularly to both the 242 and the N 336 Walmarts in The Woodlands/Conroe area.
Taf2000
NOT JUST FOR HEARTBURN!
My "Go-To" for every stomach issue... including stress related stomach problems! My aunt suggested this to me when I started developing stress ulcers. Her husband was prescribed Cimetidine in a higher dose, but this is the same medicine a dozen times cheaper. I use it at certain dinners as a preventative for heartburn and as a guard against foods that cause gas or any other stomach upset. And when I am under terrible stress from traveling or buying a house, I take one each day and it works WONDERS!