Equate Stool Softener Plus Stimulant Laxative Tablets, 50 mg, 120 Ct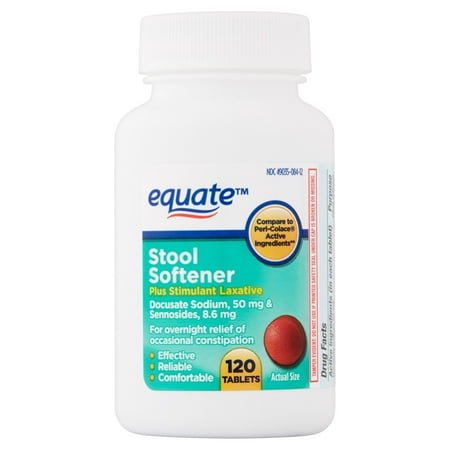 MSRP :

$9.88





Sale :

$4

Sold & shipped by Walmart
Product Description

Additional Information

Reviews
Product Description
Achieve the relief you need with Equate Stool Softener Tablets. They help with bouts of occasional constipation without causing any dehydration. These gentle and effective Equate laxative tablets prevent hard stools, as well as bloating after a meal. They're formulated to have you generally produce a bowel movement within 12 to 72 hours. Take these stimulant laxative tablets as needed for comfortable and effective results. They're suitable for use when your body is adjusting to long travel, coping with stress or reacting to other medications. These laxatives tablets are ideal to take right before you go to bed. Consult with your doctor when adding medicine to an existing regimen.Making the right health decisions can be challenging. With a complete range of products and simple solutions, Equate allows you to take care of your family with confidence.
Additional Information
Equate Stool Softener Plus Stimulant Laxative Tablets, 50 mg, 120-Count:
Equate tablets are comparable to Peri-Colace
50 mg laxative tablets are available in a 120-count size
Get relief quickly and comfortably
Contains a stimulant laxative
Works to prevent a gassy feeling after eating
Equate laxative tablets gives you results in as soon as 6 or 8 hours
Suitable to take right before you go to bed
Helps you to have gentle bowel movements that don't cause strain
Won't cause any dehydration or cause stomach discomfort
Reliable and effective results
Easy to take
Reviews
MrOMR
The Best I Ever Have Used
I have had to use these types of products over the last 20 years due to an injury . This not only works but works like it says it will. I have recommended it to everybody I know who is going in to the hospital, or who are on pain meds and having trouble.
Everthere
Excellent Product for the money
Without being graphic lets say it really does its job. And it costs much less than Colace.
blonde999
Great Value
This works as well as any of the BIG NAME BRAND ONES......and cost a lot less. An absolute must for me on a daily basis.
Kinderkutie
Great Value
Gentle, does what it should without cramping - just helps the natural process.
YNQ1
Stool soft plus lax vg
Just as good as the name brands and one half the price.