SuperTech Full Synthetic 10W30 Motor Oil, 5-Quart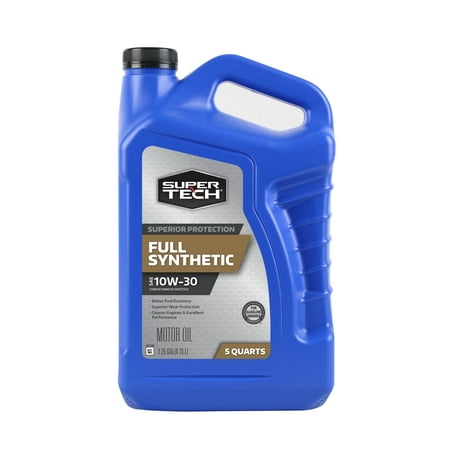 MSRP :

$26.16





Sale :

$15.98

Sold & shipped by Walmart
Product Description

Additional Information

Reviews
Product Description
Full Synthetic SuperTech 10W30 Motor Oil is formulated for improved fuel economy and to provide engine protection and the performance required by modern engines. An easy way to increase your engine's health, this formula is designed to function well at even extremely high temperatures. SuperTech motor oil, 5 quart, needs to be topped off less frequently and protects against harmful deposits and acids. The advanced formula is entirely compatible with conventional engine oils, so you don't need to go through a full drain and replace.
Additional Information
Premium formulation of 100% synthetic base oils and a high-performance additive system
Designed for gasoline engines
Protects against stress and demands
Protects against formation of sludge and varnish
Extends life of engine
Suitable for all temperatures
Enables engine to run cleaner longer
Ideal in tough conditions
Meets or exceeds the latest North American new vehicle warranty requirements where a SAE 10W-30 that meets API SN, ILSAC GF-5 or previous API gasoline engine classifications SM, SL and ILSAC GF-4 is specified; suitable for use where GM 4718M was previously recommended
Check owner's manual for proper SAE grade and API classification
12.5"H x 7.9"W x 4.8"D
9.21 pounds
Reviews
orionsbelt77
Long time user
I have used super tech oils since it was Tech 2000, 20 years ago. I have used it in Fords, Mazda, and now Jeep. Since they came out with a full synthetic, I switched to that, in everything from lawn mowers , snow throwers and autos. I used to change oil every 2,000 miles with conventional, now I go maybe 4,000 miles with synthetic. With the weather here and short trips, oil gets contaminated with richer fuel concentrations rather quickly and no matter how good the oil, it still gets contaminated with acids, moisture and fuel. I may be in overkill mode, but better safe than sorry. As with conventional oil, why pay so much more for synthetic? Super tech is, I have found, a wonderful , low cost alternative to the high priced, high promise lubricants, such as royal purple, amzoil, et.al. I have run 4,000 miles at 75, plus miles per hour, hour after hour after hour, on long trips, with no problems, using this oil. this, is my oil of choice and it has proven itself worthy. I am loyal to products that prove their worth. This one has.
Jcdew
I use this in all my vehicles and more
I have or maintain several vehicles and I use this oil along with a Bosch Distance plus oil filter. I change the oil every 6000 miles. (Vehicle 1,1987 Pontiac Firebird-.247,000 miles) (Vehicle 2,1996 Monte Carlo-228,000) (vehicle 3,1992 Firebird-200,000 miles) (Vehicle 4,2003 Impala-105,000 miles) (Vehicle 5,1972 Chevy C10-195,000) (2006 Chevy HHR-198,000 miles) Not a bit of sludge in any of these motors and they all run like new. I have used ST Full Synthetic for many years with no problems at all. Buying 5 qt jugs and then changing every 6k miles is cheaper than going every 3k miles with regular oil and you get better protection. I have even more vehicles I maintain for family and friends that have as many miles as my cars do. This oil is great and has never posed any problems.
Ben4
A BARGAIN IN A BOTTLE
For more than three (3) years I have used this motor oil in 3 different Chevy Trucks, 2 Toyota Corollas, and one 2010 Camry V-6. At least seven different mechanics have worked with me over the years. You can tell when a mechanic really knows his business. One of these mechanics told me about this engine oil, and I have since used it continuously. At 74 years of age this month, I can honestly say this product is as good as any such product costing twice as much. Try it! Don't listen to the NAY SAYERS, who believe an outrageous price means "quality" when they buy some high priced motor oil and drive away with their engine bearings rattling.
Slickliquid
Equal Specs for Less $$$
I have been using Super Tech engine oils for years with good results. With my new F-150 I have been using Super Tech Full Synthetic. A mechanic I respect and trust with my vehicles has the best response when asked what is the best oil... his response is "Clean oil". All oils meet and most exceed minimum standards required for your engine. The biggest threat to your engine is letting the oil get dirty. Even with synthetics, he doesn't recommend more than 5000 miles between changes. Change it often and keep it clean is better than buying expensive oil and driving 15,000 miles before changing. Super Tech Full Synthetic is a good quality engine oil with a price that makes changing it often affordable.
MamaJosephia
Well worth the money.
Every engine that is in our fleet that is in good condition is running the Wal-Mart full synthetic. That is Toyota's, Subaru's, a Mazda, and a Mitshibishi. We do have a Ford using regular Wal-Mart oil. We use a high quality WIX oil filter each time and run a good 10K miles between changes. I have had some units push as high a 15K miles between changes, which I hate to see. Even at 10K miles, the oil still has a very good slip between fingers. At 14-15K miles, I can detect between my fingers that breakdown has occured which is why I do not like to go past 10K miles in between changes. Fewer oil changes means lower labor and materials costs not to mention less wear on the engines.