Equate Dry Eye Relief Lubricant Eye Drops Liquid, 1 Oz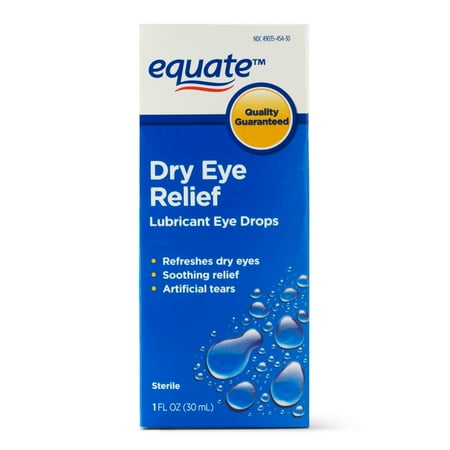 Sale :

$5.94

Sold & shipped by Walmart
Product Description

Additional Information

Reviews
Product Description
Use these Equate Lubricant Eye Drops for temporary relief of burning and irritation due to dryness of the eye. These sterile artificial tears eye drops come in a 1 fl oz container and provides soothing relief by refreshing dry eyes and preventing further irritation. Take these Equate Eye Drops with you on the go for relief when you need it.
Additional Information

Equate Sterile Artificial Tears Lubricant Eye Drops, 1 fl oz:
Uses: temporary relief of burning and irritation due to dryness of the eye, prevents further irritation
Satisfaction guaranteed by refund or exchange
Active ingredients: glycerin (0.3%) and propylene glycol (1.0%)
Refreshes and soothes the eyes
Sterile eye drops are available in 1 fl oz and 0.5 fl oz
Immediate relief from discomfort
Specially formulated
Keeps your vision clear
Act as artificial tears to soothe and refresh
Reviews
culper
As we age
natural tears and eye lubrication decreases. This product does the job just fine. I don't like "redness" reliever drops as I find them irritating, but, this is just artificial tears that provides the dryness relief that is necessary for your comfort.
EquateBrandUser
BEWARE - Not Artificial Tears
For a long time I bought 'Equate Artificial Tears' only in Walmart stores. The stores now only carry "Equate Dry Eye Relief". I had tried them and they didn't work as well because the ingredients were not the same. I was happy to find the "Equate Artificial Tears" selling on Walmart.com and ordered 2 and paid for them. My order was ready immediately but when I picked them up they were the "Dry Eye Relief" that I could have bought that day in the store. After days, gas, wasted time with store managers and Walmart.com telling me I should have been given the 'Artificial Tears" because that is the number that matched their .com order (and not the ones they gave me) I was told by the store manager and .com store coordinator that they do not carry the ones I ordered but only Dry Eye Relief and that's why they gave it to me off the shelf (without checking with me first). I told them then they should not have the "Equate Artificial Tears" box showing on their .com site - that is False Advertising since it is not sold under that name any longer. This was over a week ago and Walmart.com is STILL falsely advertising the Eye Drops that Customers will not receive (even if ingredients were the same).
Barbara
Fantastic Product--Great Price
I've used this product daily for over a year and find it works really well for dry eyes, and it NEVER stings, as some similar products have. I feel it's superior to more expensive products of this kind. Thanks to Equate and Walmart for making it available.
Rejun
Excellent value
An excellent product comparable to much costlier brands. Great for dry irritated eyes after hours on the computer or reading reports. Also an excellent eye wash for windy pollen days. I love that they are available for shipping and come right to my door.
Everthere
Works Well if you have Dry Eye Problem
These drops are effective in keeping dry eye under control. You won't be disappointed.