Equate Sterile Multi-Purpose Contact Solution , 12 Oz, 2 Pk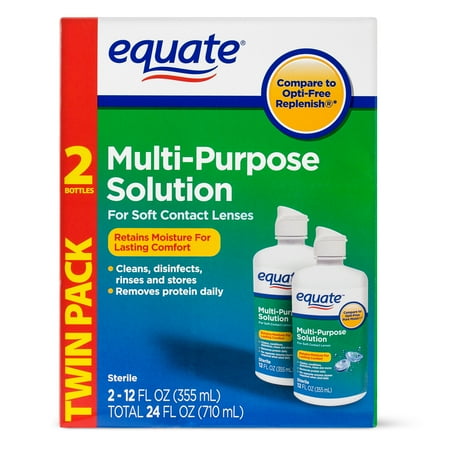 MSRP :

$15.29





Sale :

$5.98

Sold & shipped by Walmart
Product Description

Additional Information

Reviews
Product Description
Multi-Purpose Solution Equate® Multi-Purpose Solution contains hydroxyalkyl phosphonate, polyoxyethylene polyoxypropylene block copolymer with ethylene diamine, and polyaminopropyl biguanide 0.0001% to create a revolutionary soft lens care product that keeps lenses clean and comfortable by removing protein deposits every day. Daily use of Equate® Multi-Purpose Solution eliminates the need for a separate enzymatic cleaner or daily cleaner for many lens wearers - consult your eye care professional.ContentsEquate® Multi-Purpose Solution is a sterile, isotonic solution that contains hydroxyalkyl phosphonate, boric acid, edetate disodium, polyoxyethylene polyoxypropylene block copolymer with ethylene diamine, sodium borate and sodium chloride; preserved with polyaminopropyl biguanide 0.0001%.Equate® Multi-Purpose Solution cleans, rinses, disinfects and removes protein daily.
Additional Information
Product Features
For soft contact lenses
Retains moisture for lasting comfort
Cleans, disinfects, rinses and stores
Removes protein daily
Sterile
Save Money on Contact Lenses at Walmart!
walmartcontacts.com
1-800-741-LENS
Walmart Vision Center
Compare to Opti-Free Replenish®*
*This product is not manufactured or distributed by Alcon®, owner of the registered trademark Opti-Free® Replenish®.
U.S. Patent 5,858,937
© Wal-Mart Stores, Inc.
Reviews
shoptilludrop5
Innefective at removing protein deposits
You don't pay a lot for this product compared to B&L Renu, and after months of comparison I know why. Although this Equate solution does a fine job at disinfecting lenses, it does only a fair job at removing protein deposits. These deposits build up on the lens and your eye feels like they have grit in them. Once my lenses reached this point, I placed them overnight in B&L Renu solution, which completely eradicated all detectable traces of protein deposits the next day. And continued use kept them spotless. I've done this experiment several times over the last year, and each time I allow the protein to build up using Equate, I am able to remove it overnight with B&L Renu. Maybe this isn't a scientific test, but I've repeated it enough times to be confident in the results. I've permanently switched to B&L Renu, even though it costs twice as much, it works much better at removing protein deposits.
PeonieLovr919
Too bad - Can't Use!
11/2018: Unfortunately, my eyes didn't like this formulation; immediate discomfort. You have to try it yourself. Also, their formulation is not equivalent to any other, despite what the packaging says; compare ingredients. (will miss this low price for a lens solution!)
Samson
The Absolute BEST Value-for-Dollar!!!
I have been using this stuff for a bit over a year now... I went back to contact lenses after 10-11 years away about 14 months back. The first two months I bounced around with a few different name brand solutions, I think I liked Bausch & Lomb ReNu the best, I believe I used that Back In The Day so-to-speak. But I was getting killed with $9.99 bottles going so quickly. When I decided to give this stuff a try, because despite some claims otherwise, Walmart spent big money on their Equate scientists to make this stuff *NEARLY CHEMICALLY IDENTICAL* to the solution they've copied, allowing for only a small difference to survive any lawsuits (patents and similarities and stuff...legal beagal schtuff...) But at $5.48 a 2 pack, this is like 1/3 the price of a similar quality solution. IT HAS BEEN AMAZING. Absolutely the best value in a do-it-all soft contact lens multipurpose solution there is on the market! When I changed lenses to a newer version of silicone hydrogels, I noticed I didn't get as good results, so I decided to buy some of the Equate Moisture solution that is nearly exactly the same as Alcon's $$11/bottle, but at $5.50 a bottle. This stuff was amazing and even higher quality for long days wearing silicone hydrogel lenses. What I HAVE LEARNED, is to buy BOTH... I buy two 2-packs of the $5.48 Equate multipurpose solution and one two-pack of the $11.50 Equate Moisture solution... I do the high-volume rinsing morning and night with the less-expensive stuff (this is the best value you could find in such a product) and I use the expensive stuff to soak overnight and when adding to clean the lenses/rubbing before rinses. I have full confidence I am getting the highest quality contact lens cleaning experience for the lowest prices. You might be able to find better products, but definitely not for the price , and this is the best value overall.
DetWings
Buy Equate brand, save money.
Works just like the name brand, but at less than half the price.
Oregonmom75
I don't buy anything else...
As a contact lens wearer for the past 15 or so years, once I discovered this brand of lens solution, I never looked back. The other brands are just way too expensive and you only get one bottle of solution. Even with name brand coupons, this double pack is the way better deal!! It does the same job as the name brands but you can literally buy double the lens solution if you go with this brand!