Equate Multi-Purpose Solution, 12 fl oz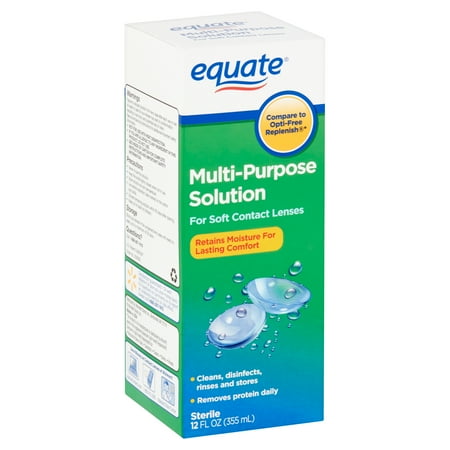 Sale :

$3.98

Sold & shipped by Walmart
Product Description

Additional Information

Reviews
Product Description
Go about your busy day with healthy, clear eyes when you use Equate Multi-Purpose Contact Solution. It's formulated to safely and effectively clean, disinfect, rinse and store soft lenses. This daily-use solution also removes protein deposits and debris to improve wearing comfort. This revolutionary sterile contact solution eliminates the need for a separate enzymatic cleaner or daily cleaner. It's proven safe and effective for soft contact lenses. The solution comes in a 12 oz bottle.Making the right health decisions can be challenging. With a complete range of products and simple solutions, Equate allows you to take care of your family with confidence.
Additional Information
Equate Sterile Multi-Purpose Contact Solution, 12 oz:
Retains moisture for lasting comfort
Cleans, disinfects, rinses and stores
Removes protein daily
Sterile contact solution is 12 oz in size
Revolutionary soft lens care product that keeps lenses clean and comfortable
Daily use eliminates the need for a separate enzymatic cleaner or daily cleaner
Proven safe and effective for soft contact lenses
Contains hydroxyalkyl phosphonate, polyxyethylene polyxypropylene block copolymer with ethylene diamine and polyaminopropyl biguanide 0.0001%
Box is recyclable
Compare Equate contact solution to Opti-Free Replenish*
U.S. Patent 5,858,937
*This product is not manufactured or distributed by Alcon, owner of the registered trademark Opti-Free Replenish.
Reviews
MammaKitty
Holy moist contacts!! Awesome!!
My contacts are moist and my eyes are happy at the end of the day!!! I was skeptical to try this because it was the "cheapo brand". I was using opti free which I thought was pretty good! I ran out and had a just in case bottle of the Equate sterile multipurpose solution! I used it and my soft contacts are softer than when using the expensive brand! My contacts are sliperier, moister and I cant feel my contacts. I wear monthlys, I have 7 days before I need to change them out and they feel like I just put a fresh pair in...... Thats pretty awesome. My eyes are not red at the end of the day and I am much more comfortable. So price comparison, opti free a little more than $9 for a big bottle, equate multi purpose about $3 for big bottle. Hmm you do the math. I hope this helps you at least try equate multipurpose and maybe you will be as pleasantly pleased as I am!!!!!
richardarr
Why buy the name brand?
Walmart's Equate Multipurpose Solution has essentially the same ingredients as Bausch & Lomb's re-nu. It uses the EXACT same preservative and formulation. For the reviewers that found that their eyes started burning after a few days use, I too seemed to experience a bit of that. My solution was to buy Equate Sterile Saline solution also. I follow the recommended procedure to clean and store but prior to insertion, I will rinse with the saline solution instead of the multipurpose solution. This seemed to cure the problem for me. I can't say that it will work for everybody but it worked for me. This entails having to deal with two bottles but the cost is actually less in the long run because the plain saline solution costs a bit less than the multipurpose solution.
Commanderk
It Burns
The price was great. There is a lot of it and i was happy to start with. After about a month like a couple of other reviewers stated it started to burn when I put my contacts in. I thought maybe there was soap on my hands after the shower or something else, but when I switched back to the leftover Biotrue I had the burning stopped. Maybe I have sensitive eyes. I know I won't buy it again.
FRizzo
Horrible...make my eyes burn and doesn't clean!
Just like another reviewer stated, it worked for about a week, then my eyes started burning in the morning for about an hour after I put in my contacts. Plus, my lens are now cloudy all of the time, even after thoroughly rubbing them clean. I was using the old "no rub" formula from Equate for years without any problems. Why Equate would discontinue a good product and replace it with this junk is beyond me. Now I need to find another brand.
AmericanInSweden
Fantastic
I have been using this product for years. It is just as good as any expensive brand and I save a lot of money. I'm thankful that I can order it online as we have moved overseas.