Equate Milk Of Magnesia Saline Laxative Liquid, 1200 mg, 26 Oz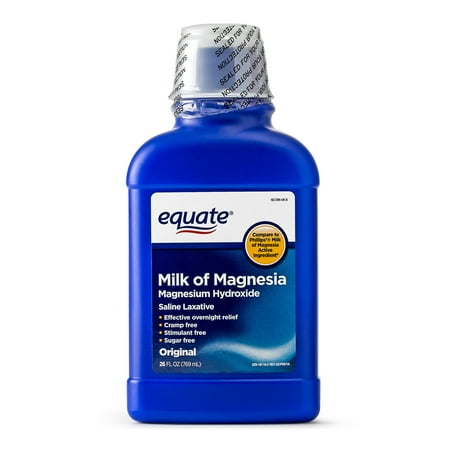 Sale :

$3.57

Sold & shipped by Walmart
Product Description

Additional Information

Reviews
Product Description
When your digestive system isn't working the way that it should, consider picking up a bottle of Equate: Original Flavor Milk Of Magnesia. Providing reliable overnight relief of your symptoms, this Equate Milk comes in a 26-oz bottle. Whether it is heartburn, upset stomach or indigestion, Equate has relief for you. It even works for occasional constipation, usually yielding results anywhere from 1/2 to 6 hours from your first dose. Equate Relief is free of stimulants.
Additional Information

Equate Milk of Magnesia Saline Laxative Liquid, 1200mg, 26 oz:
Dependable overnight relief
Very low sodium
Stimulant free
Dosage cup provided
Magnesium hydroxide laxative relieves occasional constipation (irregularity)
Usually produces a bowel movement in 30 minutes to 6 hours
Reviews
Franklin
Very good product!
Very good product, similar to original phillips. Good taste, big size for little price.
Mahlei
WORKS GREAT
I have been using off brands of Milk of Magnesia for years. They are all the same as they all contain the exact same ingredients. I prefer mint flavor, but Equate seems to have quit making it in that flavor. The cherry is sickening sweet and like taking a dose of syrup, so I have gone back to the chalk that my mother occasionally gave me as a child. Walmart's price...you can't beat it for off brand MOM. In other brands you pay the same price for the small bottle as you do for the large bottle of Equate. I haven't opened the bottle of "original" yet, but I am going to try and flavor it myself with vanilla and artificial sweetener. Remember, "just a spoonful of sugar makes the medicine go down". :) It is a great product and works just as good as the name brand. I take it at bedtime and in the morning I'm ready for the day. It is predictable.
willow
Equate Milk if Magnesia
I use this on my face to dry out pimples and take the oiliness away from my face, been doing this for over 50 years. It was suggested to my mother [by our family doctor] for me to use as a teenager back in the 1960's.
SoupWeather
This stuff works, but . . . . . . .
While this products works as it is intended to, it has to be one of the most VILE tasting liquids ever to cross my lips. If you can drink this without needing something else to wash it down immediately afterwards, you might wanna have your tongue checked because there is definitely something wrong with your taste buds.
BGBG
Tastes like wall paint
Have been using it for several months but I just can't get the stuff down anymore, I almost threw it up the last time I tried. This would have been a good substitute for insect concoctions on Fear Factor. It tastes like wall paint. The cherry flavor tastes like cherry wall paint. Sometimes it works, sometimes it doesn't. I'll stick with citrate of magnesia; while it's no joy in the flavor department, it's nowhere near as offensive as MOM.