Equate Fast Acting Nasal Spray Solution, 1 Oz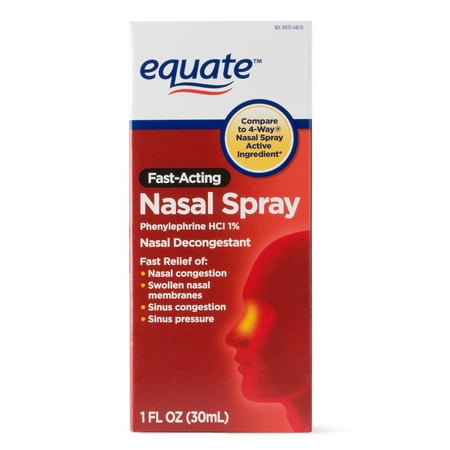 MSRP :

$2.99





Sale :

$2.82

Sold & shipped by Walmart
Product Description

Additional Information

Reviews
Product Description
Breathe more easily with Equate Fast Acting Nasal Spray, 1 fl oz. It is ideal for treating a blocked-up nose to provide quick relief. Equate nasal spray effectively shrinks swollen nasal membranes to improve air flow. For long-lasting relief, it is specially designed to last for up to 12 hours. The fast-acting nasal decongestant spray works to break up sinus congestion and help reduce the experience of feeling stuffed up. It is ideal to use for symptoms due to common cold, hay fever and upper respiratory allergies. It is formulated to break up sinus congestion and pressure. This product is comparable to Afrin Original and comes in a convenient 1 fl oz size.
Additional Information
This compares to the active ingredient found in 4-Way Nasal Spray. So turn to a trusted name in cold and sinus relief and fix your nose with Equate Fast Acting Nasal Spray Solution.

Equate Fast Acting Nasal Spray Solution, 1 oz:
Fast relief of nasal congestion, swollen nasal membranes, sinus congestion, sinus pressure
Active ingredient: phenylephrine hydrochloride 1%
Equate nasal spray temporarily relieves congestion due to common cold, hay fever, upper respiratory allergies
Gluten-free
Compares to 4-Way Nasal Spray active ingredient
Feel immediate relief as sinus passages open upon spraying
Reviews
GreatScott1981
Fantastically Powerful
The active ingredient (Phenylephrine) is what this nasal spray is all about. Just as effective as every other brand with the same active ingredient at a fraction of the price. "Fast-Acting" is an understatement: this product only needs 20 seconds to take me from completely plugged to completely clear. You're not supposed to use it for more than 3 consecutive days due to the rebound effect, but I have a chronic nasal-passage-swelling condition and have been using it nightly for the past 4 years. I can't fall asleep without breathing through my nose and I can't do that without the fantastically powerful Phenylephrine, found inside the great little bottle of Equate Fast-Acting Nasal Spray. I would highly recommend this product for any short-term nasal decongestant needs but please be careful about long-term use. See an ear/nose/throat specialist for possible alternatives.
Cwhitla
Good Quality Spray for Special Times
I have almost year-round allergies and require an Oxymetazoline type of nasal spray in order to sleep comfortably at night. I also need some help relieving congestion during the day occasionally and this product works well for that purpose. I found that using the 12 hour Oxymetazoline more than once a day causes me issues with "rebound" and over use symptoms. This product with Phenylephrine Hydrochloride fills the bill for those times I need short duration relief during the day. I have even taken it twice during particularly bad days without experiencing severe rebound or sinus irritation effects. It works very quickly but only lasts between 2-4 hours for me. However, it's such a blessing to be able to eat or lie down comfortably when needed just by using a couple quick squirts of this spray. I don't use this one every day but it's an essential part of my anti-allergy arsenal.
doesntliketoshop
Good Quality Spray for Special Times
My husband uses this spray on a regular basis and says it helps.
upset
Good Quality Spray for Special Times
The squeee container is much preferred over the glass bottled trigger delivery system.
dshades71
Good Quality Spray for Special Times
I have an ongoing sinus congestion condition, and this stuff works great. It completely clears my nasal passages to that I can breathe. I probably use way too much of it(my doctor would kill me), but I HAVE to be able to breathe! And this Equate brand is considerably cheaper than brand name nasal sprays.