Equate Fast-Acting Nasal Spray Solution, 1 Fluid Ounce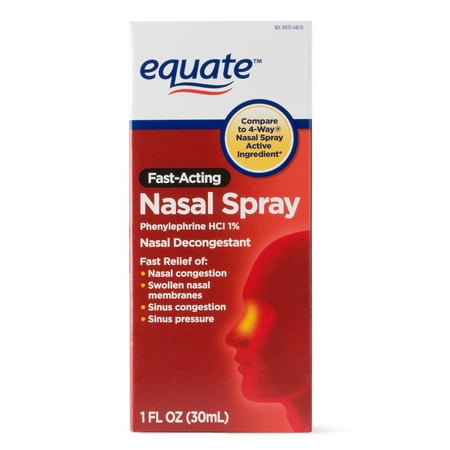 MSRP :

$2.99





Sale :

$2.82

Sold & shipped by Walmart
Product Description

Additional Information

Reviews
Product Description
If you're having breathing problems due to being sick with the flu or a cold, turn to the power of Equate Fast Acting Nasal Spray Solution. This health accessory provides fast and effective relief from the discomforts of blocked sinuses. Equate nasal spray contains phenylephrine hydrochloride as its active ingredient. Its fast-acting nasal power provides immediate relief from sinus congestion, sinus pressure and swollen nasal membranes due to hay fever, the common cold and upper respiratory allergies. It's also gluten-free. Making the right health decisions can be challenging. With a complete range of products and simple solutions like this 1-oz package of nasal decongestant spray, Equate allows you to take care of your family with confidence. When you feel the symptoms coming on, simply put one spray or spritz up your nose and feel immediate relief as those sinus passages open.
Additional Information
This compares to the active ingredient found in 4-Way Nasal Spray. So turn to a trusted name in cold and sinus relief and fix your nose with Equate Fast Acting Nasal Spray Solution.Equate Fast Acting Nasal Spray Solution, 1 oz:Fast relief of nasal congestion, swollen nasal membranes, sinus congestion, sinus pressureActive ingredient: phenylephrine hydrochloride 1%Equate nasal spray temporarily relieves congestion due to common cold, hay fever, upper respiratory allergiesGluten-freeCompares to 4-Way Nasal Spray active ingredientFeel immediate relief as sinus passages open upon sprayingABOUT FAST-ACTING NASAL SPRAYCompare to 4-Way® Nasal Spray active ingredientFast-Acting Nasal Spray, Phenylephrine HCl 1%, is used for the temporary relief of congestion or stuffiness in the nose caused by hay fever or other upper respiratory allergies or colds.
Reviews
GreatScott1981
Fantastically Powerful
The active ingredient (Phenylephrine) is what this nasal spray is all about. Just as effective as every other brand with the same active ingredient at a fraction of the price. "Fast-Acting" is an understatement: this product only needs 20 seconds to take me from completely plugged to completely clear. You're not supposed to use it for more than 3 consecutive days due to the rebound effect, but I have a chronic nasal-passage-swelling condition and have been using it nightly for the past 4 years. I can't fall asleep without breathing through my nose and I can't do that without the fantastically powerful Phenylephrine, found inside the great little bottle of Equate Fast-Acting Nasal Spray. I would highly recommend this product for any short-term nasal decongestant needs but please be careful about long-term use. See an ear/nose/throat specialist for possible alternatives.
pastaman
The real Deal!
Been having real bad sinus headaches and nothing has worked, not even antibiotics. One quirt in each nostril and I began feeling relief within one minute. Thanks so much for this product as it really brings down the awful pressure.
Cwhitla
Good Quality Spray for Special Times
I have almost year-round allergies and require an Oxymetazoline type of nasal spray in order to sleep comfortably at night. I also need some help relieving congestion during the day occasionally and this product works well for that purpose. I found that using the 12 hour Oxymetazoline more than once a day causes me issues with "rebound" and over use symptoms. This product with Phenylephrine Hydrochloride fills the bill for those times I need short duration relief during the day. I have even taken it twice during particularly bad days without experiencing severe rebound or sinus irritation effects. It works very quickly but only lasts between 2-4 hours for me. However, it's such a blessing to be able to eat or lie down comfortably when needed just by using a couple quick squirts of this spray. I don't use this one every day but it's an essential part of my anti-allergy arsenal.
seekHISheart
excellent, very afforadable relief!
this is a fast acting spray, perfect for those of us who need relief fast and often. so cheap which is really important for me. with so many nasal issues this stuff keeps me going. my local store sometimes stops carrying it and i freak. but then i saw it's a best seller online and i was relieved. however i warn others: do not use this for long periods of time or more than a couple times a day because you'll need it always. your nose gets used to it, and will require more frequent use. for me, i'd need something constantly anyway since i am forced to live with a cat and have chronic symptoms and allergies. but for a bout of stuffiness and swelling this is your best relief. thank you walmart for such a great price and don;t stop selling it!!!! people need afforadable relief. and also, 4way, the expensive name brand is no longer in stores so this is my only hope!
KirbyLW
The only spray that actually works for me.
This is the only nasal spray that actually works for me. And it's name brand version, as well as the other pharmacy generics (CVS, Walgreen, etc) all cost $8 or so. Even this Wal-Mart Equate brand used to cost more, and I think there's been a big price drop lately. It will open your sinuses like a cork-screw! Wide open! Sometimes, a heavy spray will leave you with a burning sensation that can take a while to pass, but overall, this is the stuff to use.