Ol' Roy Jerky Sticks With Real Beef Dog Treats, 25 oz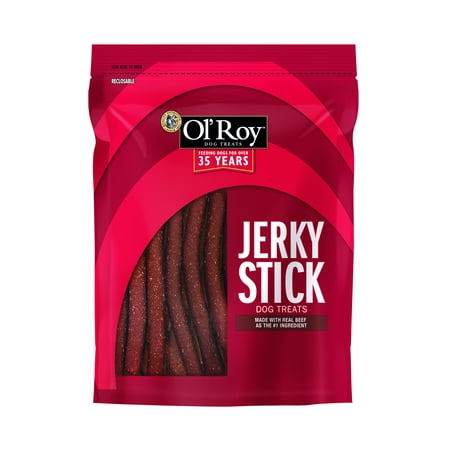 Sale :

$5.2

Sold & shipped by Walmart
Product Description

Additional Information

Reviews
Product Description
Ol' Roy Jerky Sticks With Real Beef Dog Treats, 25 Oz
Additional Information
Reviews
LilyMack
Easier to Chew
My pups love them ... and less expensive than Pupperoni. They are easier for the old pup to chew.
Abby
10/10 would recommend
My dog is absolutely obsessed with these treats and I have no idea why. She has never cared that much for any treat and I usually buy the much more expensive brands.
hppygrl16
Dog Snacks
My two Chihuahuas cannot get enough of these they love them!! They are very picky eaters & wont eat anything w/o real meat so these are deff a keeper! I'm surprised how many are in the bag they seem to last pretty long.
halftall
My puppies don`t like it.
I have been giving my puppies, (I call all my DOG`S puppies even though they are 3, 3, 4, 7, 11 years old, & small puppies,) Pup-peroni Beef for several years now, they can`t wait till it`s snack time, morning & night. I decided $10.98 wasn't so bad after all, for the Pup-peroni cause they love it, they hate the Ol Roy snack sticks beef dog snacks, even if they are half the cost of Pep-peroni , They really don`t care, & I guess I don`t either cause after all they are my spoiled little kids. I just ordered 2 more 25oz bags today, online, only way to buy it, a few day`s & it will be sitting at my front door, left by FED-X, how can you beat that. It would cost me more than the difference in price to burn the gas driving to town to pick it up at my favorite Wal-Mart store, which is about 15 miles away.
1937girl
My dogs like it very much and get one every day.
Ol Roy Snack Beef Stix is reasonable in price and my dogs like it. They get one of these every day along with other treats. Ol Roy products are a life saver for people on a small budget that have pets. All their products are fairly priced and my dogs enjoy all of them.