SuperTech High Mileage SAE 5W-30 Motor Oil 5 qt. Plastic Jug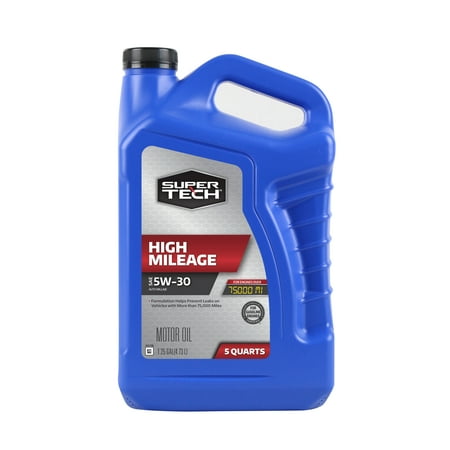 Sale :

$14.72

Sold & shipped by Walmart
Product Description

Additional Information

Reviews
Product Description
The Super Tech 5W30 High Mileage Motor Oil is formulated to extend the life of high-mileage engines. The formula is blended with a combination of a premium base and contains special additives designed to fight the problems of higher mileage engines. Switch to Super Tech motor oil to give your older car or truck the extra protection it needs to keep running for a long time. The 5 quart version of the engine motor oil means fewer bottles cluttering up your garage. It is generally is the right size for one oil change for most standard vehicles.
Additional Information
1.25 gal (4.73L) synthetic motor oil
Specifically formulated for engines over 75,000 miles
Protects engines from high temperature deposits and wear
Helps to restore seals and restore oil use to normal levels
Meets or exceeds US and passenger car warranty requirements for API SN, SM or SL, ILSAC GF-5 and GF-4
For gasoline motors
Reviews
RM260
So far so good.
I have been using Supertech oils in everything for years. never had an issue. I bought an sweet old Chevy Suburban that had a blown engine. The same junk yard that had the burb had an engine that would bolt in. The seller said that the engine had between 40 - 50,000 miles but, I seriously doubt it. It does run good though. I did have the 5.3 V8 lifter tick at startup when cold. It would tick for about 15 seconds and then quiet down. Always at the first start of the morning. Nevertheless, I went to WM to buy oil and all they had in stock was this high mileage stuff. I bought it and changed my oil. On the first start the tick was louder and worried me. The whole engine seemed to make more noise. But, now everything is quieter and even the every morning lifter tick is quieter and last less time. I think this oil is thicker and sticks to parts better. So far things are sounding good.
RidgeRunR
Super Tech Oil Good Value
I am currently using the Super Tech HM 5w30 in my 05 Chevy Silverado 4x4 with great results. The truck has around 275,000 miles and runs happy on this oil, no valve noise, no leaks. Change the oil every 3k to 4k. Good value, good oil.
bebop71
GREAT OIL!!!!!!
I run it in a 1992 Nissan Stanza with 185,000 miles.,holds up really well and for the money you cant beat it!!!!
rezrocket
Great Product
Used this oil on my dodge durango for years. My durango runs great with 230000 miles on it. I highly recommend this product....great value
VaPeninsulaRick
Great Oil at a Good Price
I have used super tech oil for years with no problems or disappointments.