Equate Nicotine Lozenges Stop Smoking Aid Cherry Flavor, 2 mg, 108 Ct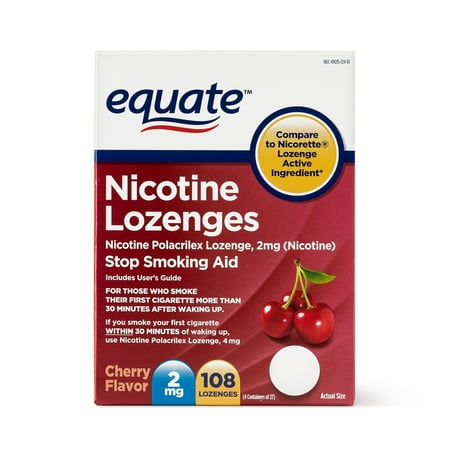 MSRP :

$39.12





Sale :

$32.98

Sold & shipped by Walmart
Product Description

Additional Information

Reviews
Product Description
Additional Information
If you smoke your first cigarette more than 30 minutes after waking up, use Nicotine Polacrilex Lozenge 2 mg. If you smoke your first cigarette within 30 minutes of waking up, use Nicotine Polacrilex Lozenge 4 mg.
Cherry Flavor
How Nicotine Polacrilex Lozenges Work
Nicotine Polacrilex Lozenges are a form of Nicotine Replacement Therapy. They deliver nicotine to your body, temporarily relieving craving and nicotine withdrawal symptoms when you quit smoking. But unlike cigarettes, Nicotine Polacrilex Lozenges deliver a lower, steady level of nicotine to your blood. When used as directed, Nicotine Polacrilex Lozenges help you regulate, control, and gradually reduce your body's craving for nicotine.
Reviews
eddiemike
UPC : 681131298001 - Equate Nicotine Lozenges Stop Smoking Aid Cherry Flavor, 2 mg, 108 Ct - PickPanda.com
The Equate Stop Smoking Aid Lozenges are an excellent way to stop smoking. I would recommend them to anyone trying to quit. However, it can be addictive if directions are not followed. There are quite a few non smokers who are now addicted to the lozenges. One method to continue breaking the lozenge habit would be to produce a lozenge without the nicotine completly. A smoker would go from the 4mg to the 2mg and then the third and finale step would be to a 0mg. The lozenges help break the habit initially but the nicotine addiction needs the third 0mg step.
vagirl333
UPC : 681131298001 - Equate Nicotine Lozenges Stop Smoking Aid Cherry Flavor, 2 mg, 108 Ct - PickPanda.com
Although I've been on these for 4 1/2 years I have not smoked a cigarette.
britton1981
Great Product
Curbs cravings totally. I had been using the gum, but I find the lozenges to be more effective. That's just my personal opinion. This brand is actually better than name brand as far as taste and just as good as far as effectiveness. Would recommend.
DiaSm
Cherry is better!
Okay, I was throuroghly impressed with the 2mg mint version of this... but really wanted to try the Cherry! WOW, I like them much better than mint! It's a very mild cherry flavor. It's not even sweet, really. I'm on week 3 of my quit and having the easiest quit of my life. (I have quit cold turkey twice for about 2yrs each time... I have tried patch/gum/and even chantix since) I recently made it to the mid afternoon before I even thought about a cigarette! I'm not even using the full nine a day... I cut them in half because they are a little big for my mouth-- I think I'm using less than 7 lozenges a day. I was a pack a day smoker. I did try the 4mg version, they gave me an upset stomach. Good Luck to you!
shanblue
Equate Nicotine Lozenges--Great Value and Product
If you are ready to quit smoking, the Equate lozenges are a good way to start. They helped me through the worst cravings. I tried the Nicorette/Commit lozenges and went right back to these--the Nicorette lozenges were tiny, only came in mint flavor, had fewer lozenges at a higher price, and I just like the Equate lozenges better. I've tried the patch, cold turkey, and other methods. So far I'm doing great on these--4 weeks and counting. I highly recommend this product.