Equate Nicotine Lozenges Stop Smoking Aid Cherry Flavor, 2 mg, 108 Ct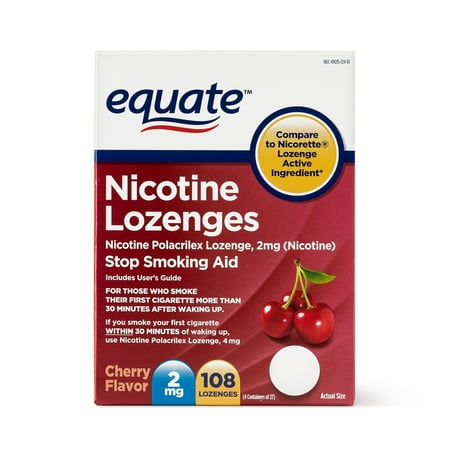 MSRP :

$39.12





Sale :

$32.98

Sold & shipped by Walmart
Product Description

Additional Information

Reviews
Product Description
Additional Information
Equate Nicotine Lozenges, Cherry Flavor, 2 mg, is part of a Nicotine Replacement Therapy. Nicotine Replacement Therapy (NRT) is designed to wean your body off cigarettes. It helps regulate, control and gradually reduce your body's cravings for nicotine.

Smoking is addictive in two ways. Your need for nicotine is both physical and mental. You must overcome both addictions to stop smoking. Nicotine replacement therapy (NRT) only deals with the physical dependence. It is not meant to be the only thing you use to help you quit smoking. You will need other methods that help the psychological (emotional and mental) part of smoking, such as a stop smoking program.

Equate offers a free, personalized plan at smokefreehabits.com in order to assist on your journey to Quit Smoking!
Reviews
beachik
Good Price for a Good product
The product was intact, no breakage, and was the expected quality. Walmart's been doing a great job of next-day delivery on a 2-day delivery schedule. This time it took a whole 2 days :)
eddiemike
Good Price for a Good product
The Equate Stop Smoking Aid Lozenges are an excellent way to stop smoking. I would recommend them to anyone trying to quit. However, it can be addictive if directions are not followed. There are quite a few non smokers who are now addicted to the lozenges. One method to continue breaking the lozenge habit would be to produce a lozenge without the nicotine completly. A smoker would go from the 4mg to the 2mg and then the third and finale step would be to a 0mg. The lozenges help break the habit initially but the nicotine addiction needs the third 0mg step.
vagirl333
Good Price for a Good product
Although I've been on these for 4 1/2 years I have not smoked a cigarette.
britton1981
Great Product
Curbs cravings totally. I had been using the gum, but I find the lozenges to be more effective. That's just my personal opinion. This brand is actually better than name brand as far as taste and just as good as far as effectiveness. Would recommend.
PColt
Great Product
It tastes great. Better than some taste. Good cherry taste.