Equate Acid Reducer Omeprazole Capsules, 20.6 mg, 42 Ct, 3 Pk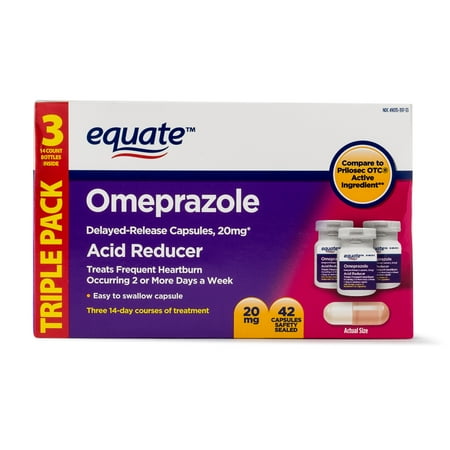 MSRP :

$16.97





Sale :

$14.97

Sold & shipped by Walmart
Product Description

Additional Information

Reviews
Product Description
Equate Omeprazole Magnesium Capsules treat frequent heartburn occurring two or more days a week.
Additional Information
Treats frequent heartburn!
Occurring 2 or more days a week
Easy to swallow capsule
Three 14-day courses of treatment
Gluten-free
Reviews
laterlaw
Has nearly eliminated my acid reflux!
I have been using this product for three weeks. Before that I used Ranitidine for years. I took 2 or 3 Ranis a day and still had to be careful by not overeating (late dinner, night worker) even a couple of hours before bed and also not eating anything with sauce like Italian food. I started using this product once a day for the last 3 weeks and I have rarely felt any heartburn and I have had no acid reflux episodes while sleeping (even though I have eaten some spicy and saucy foods before bed). I cannot believe how well this product has worked for me. I hope it helps you because acid reflux that wakes you up is the most pain and discomfort I have ever experienced.
elvira2468
Great price on this item
Comes in bottles of capsules, no peeling open foils to get to tablets, yay. And at a great price for 42. What's not to love?
OldMK
Works better than the name-brand!
This stuff is great! When I ran out and had to use some leftover Prilosec, I had more problems with acid. I don't know if it's the addition of the magnesium (which is really in there mainly because this medication lowers your magnesium levels) but since I started using the omep/magnesium combo, I've had fewer problems than ever. I definitely recommend this product! And the Equate price is excellent, too!
Angie
Changed my life
I have always had trouble with upset stomach, heartburn, etc. My (adult) son told me about this - explaining that I had to GET THE ONE WITH MAGNESIUM (since the other does nothing - and he was so right. Every night, and no more problems. It really changed our life. No more problems!
magnoliasouth
Not blister packs, but 3 bottles.
The packaging is still bizarre. No, this particular box is not difficult to use because there are bottles inside them. That's right. Bottles, with a S. There are at least 3 bottles, maybe 4. I can't imagine what brilliant person decided to put them into so many bottles because it's less convenient than having to only open one bottle. That's the reason it loses a "meets expectations" point. There is no reason, whatsoever, to put it in so many bottles. None at all. I'm not a green person but when they found out about this, Walmart will feel their pain. In any case, the packaging is fairly easy to open, nothing at all like the painful blister packs that actually cut me sometimes. The price is okay, but check your store prices first. I don't think this was as expensive in my store, as it is here. On the other hand, my store is usually out, which is why I have to buy it online. Not only that, but shopping in my local Walmart is as much fun as swimming with sharks sometimes. LOL! The entire city is in that place.