Equate Nicotine Transdermal System Step 2 Clear Patches, 14 mg, 14 Ct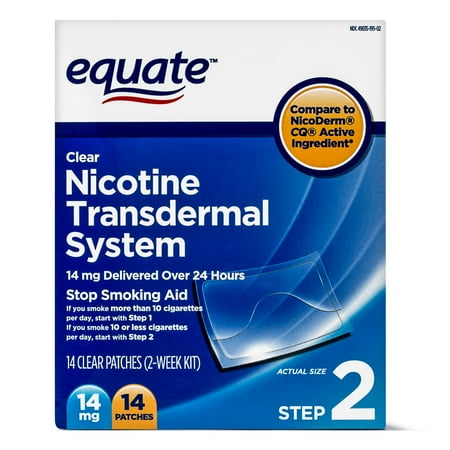 MSRP :

$31.46





Sale :

$25.98

Sold & shipped by Walmart
Product Description

Additional Information

Reviews
Product Description
Additional Information
Compare to NicoDerm® CQ® Active Ingredients*
Clear Patches
Stop Smoking Aid
Reviews
DEValueBuyer
This product works just as well as the name-brand
This product works just as well as the nationally-known name brand. The big plus is that is costs at lot less (about 1/3 less).
kickthehabit
Great start!
I just started on my 2nd box of Step 2, so 2 weeks into using this product. I wasn't a heavy smoker (10 or less per day, so I started with Step 2).These have helped with cravings tremendously. I still get cravings at times wearing this, but probably nothing compared to quitting cold turkey I would assume. I put one on within an hour after getting up in the mornings and remove it before I go to bed. I tried to wear it while sleeping and had crazy dreams. So, I have found it best for me to remove before going to bed. I have been wearing the patch on my arm every day, changing the area of placement to make sure it is not in the same spot from one day to the next. I also clean the area thoroughly with soap and water on a washcloth and this removes all the adhesive off. I have worn this patch working outside in the garden while it has been warm and sweating did not make the adhesive wear off, the patch remained in place without issue. I haven't tried wearing it in the shower, so not sure how that works out. I have removed it before showering in the evenings and go without the patch for the remainder of the night or I shower in the mornings before applying the patch. This has been such a huge success so far in my endeavor to quit smoking. 4 more weeks on Step 2, then I will be moving to Step 3 and then finally will no longer be nicotine dependent. I can already feel the change in my breathing and the way I feel overall. I am so excited to be an ex-smoker!
theresap32
Great start!
I found the patches worked very well. Some lifting issues on corners after long wear. Not sure if medicine lasted 24 hours or not I found myself forgetting to reapply after 24 hours. Mine did not come off in the shower.
Mom2Girlz2
Works well but doesn't last 24 hours...
Overall this product works well when first put on, but the patch doesn't stick for 24 hours like Nicoderm CQ. I like that it's clear & thin and not flesh colored and thick like other generics. I just wish it would stay on after a bath or shower or just in general for a whole 24 hours. If it did, then I would say it's really worth the $24-26.
MrSmokeyJoe
Great! Just as good as the name brand!
I would tell anyone wanting to use a patch to purchase Walmart's brand. They are just as good if not better than the name brand and they stay where you put them, they don't fall off. I tried another store brand, the large drug store chains, and they would not stick, I had to use band-aid's to hold them on. Walmart's stay put! If you are serious about quitting I would highly recommend Walmart's Equate brand patch.