Equate Nicotine Transdermal System Step 1 Clear Patches, 21 mg, 14 Ct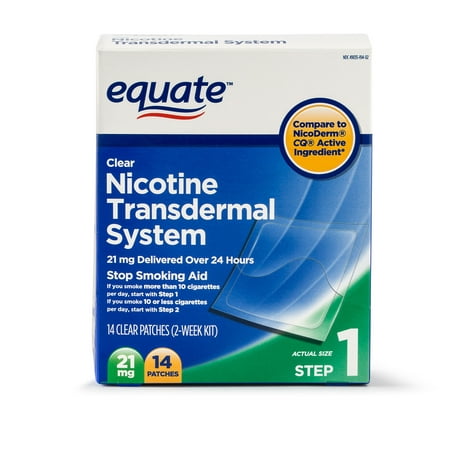 MSRP :

$31.46





Sale :

$25.98

Sold & shipped by Walmart
Product Description

Additional Information

Reviews
Product Description
Additional Information
Compare to NicoDerm® CQ® Active Ingredient*
Clear Patches
Reviews
MRSB
They are a waste of time
I bought these patches a week ago.I keep my arms free of oils and lotions so my patch will stick.They do not stay on long enough for the patch to even relieve the smoking urge.You cannot compare these to nicoDerm CQ at least they stay on your arm.Maybe I bought a bad batch either way I'm soooo not happy about this purchase.
Buscheralla
These patches work if you want them to.
I quit smoking about three weeks ago and have been wearing the 21mg. I find they work for me. My husband not as good but they do help. He will still smoke like 1 cigarette a day (your not really supposed to). At first, I was still having cravings but I made myself go and do something. I have not been completely innocent but I can still stay I quit smoking on these. It gets easier, take it day by day and you can too be smoke free. Just remember, after quitting smoking, it takes your body a while to recover. I was sick for about the first two weeks (coughing, sneezing, short of breath and just pretty blah) but I am now, after three weeks feeling better. Quitting smoking can also cause constipation. Eat lots of fiber and drink plenty of water. Now, after these three weeks, I am just able to definitely smell how bad people smell around me. Its disgusting!! This is coming from a person who smoked 15+ years. I'm only 33 and I just want to live a healthier life. Good Luck to you all.
madjack
Four stars because they do work, eventually
They do work, but the beginning steps are like going cold turkey. I've used tobacco since I was well, 12 years old ( and I don't say that with pride). But I used the Equate Brand to "kick the habit". In the start I still had to use tobacco for a couple weeks along with the patch to curb the head aches and cravings. I followed the program and was 6 months nicotine free. But slipped up and got addicted again. Now a few years later I'm giving it another try. But this time I'm using the "Name Brand". And it's a different experience. I've had it on for 24 hrs and no head aches or cravings. So I recommend paying the extra for the name brand over these. Your going to spend it anyway with your habit. And if I your'e looking for words of advice. First, when you start the program think of yourself as a non-smoker or non-chewer. Just remind yourself I don't do that anymore. (because I do miss the taste). And second, when you are finally nicotine free don't think you can have just one. When the urge hits don't do it.
Marimon77
Really Helps!!
I was skeptical to use these at first. I'm on the 21mg and I'm on day 4. These patches truly have taken away the physical addiction for me. I'm battling the mental addiction now, but I just focus on how I can already breathe better and I have more energy. I was nervous reading about weird dreams as a side effect. Sure enough you have some weird dreams. I wear mine 24 hours and I have had no problems with it coming off at all. Everyone is right in regards that this patch is only helpful for the physical urges. But I'm so glad I bought them. They truly are helping me climb this mountain. I strongly recommend if you are mentally prepared to quit that you make it a little easier and try these patches. As a side note sucking on cinnamon sticks as you would a cigarette helps tackle the mental habit. If you have to take it one minute at a time, one hour, one day....whatever it takes. Good luck to all who are in this battle with me.
monahltx
The Patch Does Work
I have used the patch off and on over a couple years trying to quit. My son has been using an ecig and gradually decreasing the nicotine in the fluid that is inhaled through the ecig. He has been smoke free for two months. I tried the ecig as well but found that the nicotine was too harsh regardless of what "flavor" I picked and everything tasted horrible so I kept going down on the nicotine level. Finally I got a flavor with no nicotine and suddenly I could smoke the ecig, I liked it, the flavor left no nasty aftertaste and I could get a nice throat hit. So I went and bought a box of patches. I'm about to go and buy another box. This has been the easiest quit I have ever done. With no nicotine in the ecig I can puff away to my hearts desire and have a controlled amount of nicotine in the patch. I am 56, started smoking when I was 15, and had been smoking two packs a day. For me the ecig made the process easier than it ever has before.