Vibrant Life Reflective Vinyl Covered Tie-Out for Dogs, Large, 25 ft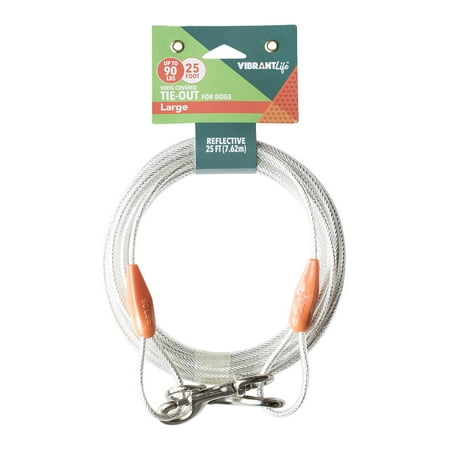 Sale :

$10.67

Sold & shipped by Walmart
Product Description

Additional Information

Reviews
Product Description
Keep warm in style! This classic turtleneck from White Stag is one of the most practical yet fashionable items you can own.
Additional Information
Reviews
Awful
Buy Another Brand
We have a Puggle who weighs less than 20lbs so we originally got the small"size for dogs up to 25lbs. That one lasted about a week before our tiny little dog snapped it. We moved up to the medium size for dogs up to 60lbs and that one lasted maybe a month before it also snapped. Most recently we bought this large chain for dogs up to 90lbs which lasted about six weeks before our 15lb dog snapped this one as well. I guess for any long term tethering needs (as we do not have a fenced in yard) we need the XL strength for 250lb dogs??? That's just ridiculous. I'm so sick of buying these tethers just for them to snap and our dog to get free to roam the neighborhood and chase cars, risking not only his life but drivers' and pedestrians' safety as well. These tethers are crap, spend your money on another brand if you don't want your dog getting loose!
Chelsea
Buy Another Brand
absolutely horrible. I think in one day the vinyl stuff was worn off, cutting, and eventually snapped totally a week later. I also got one made for a dog way heavier than mine trash.
missfrilly
Works well
I love that I can trust this cable.BUT of course it ages.It kinks terribly so wishing they would put some swivels at intervals.Would contact the company but cannot find their name.You can only use this until you see spots in the line indicating rust.if so get a new one as ours broke and he took off.he does weigh 56 pounds but has the strenghth of a bull I swear for a beagle. A chain is no good because it is cumbersum and heavy.
Kerrie
Not 100% Weather Proof - Snaps in 6-8 Months
This is a nice cable to tie your dogs out for some outside time. However, we have to purchase a new one every 6-8 months due to weather destroying the cable. First it makes the coating crack and break, then the cable will rust, and then after rust, the cable will snap if you have a larger dog under 90 pounds. To lengthen the life of it, I suggest only putting it outside when it is being used. When not in use, store out of weather. We will be finding an alternate cable made of stainless steel.