Great Value LED Light Bulbs, 8.5W (60W Equivalent), Soft White, 4-count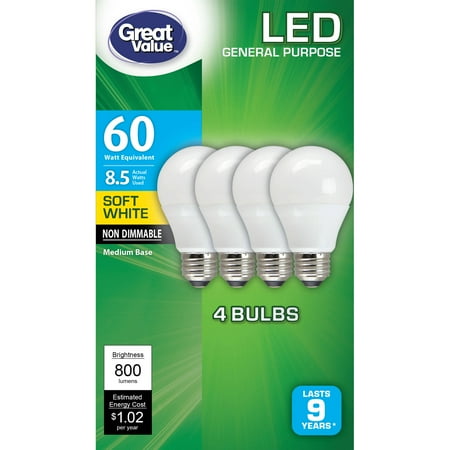 Sale :

$4.97

Sold & shipped by Walmart
Product Description

Additional Information

Reviews
Product Description
These Great Value LED Light Bulbs take the place of 60W incandescent bulbs, only using 8.5W. That means saving up to 80% of your energy bills over the bulb's lifetime. With an average lifespan of 9 years and a medium base, these bulbs are perfect for any room in your home.
Additional Information
Great Value LED Light Bulbs 8.5W, 60W Equivalent, Soft White, 10K, 4-Pack:


60W equivalent
Energy efficient
4-pack
Soft white
LED lightbulb
Save up to 80 percent on energy costs
Medium base
Light output: 800 lumens
Lasts 9 Years
Reviews
Jwalker
Stoped working in one day and very loud
So much for lasting 9 years. Replaced all of my bathroom lights and within a day one stopped working. The buzzing is annoying but you get what you pay for. However, if you're looking a lightbulb to do it's job and provide light... I'd buy another brand. It's possible I have a defective bulb, but it worked when I screwed it in and now it's not working and I'm annoyed that I have to go back to the store.
dtgolds
Great Product
We decided to start replacing the lights in our house with LED lights and we decided to try the Great Value brand because of the great price. These lights give off a color very close to a traditional bulb, maybe just a hair more yellow but it is really hard to tell the difference, you really have to look at them to see a difference. They are a little smaller than a standard bulb. My biggest complaint is they have a constant buzz. If the light is in an enclosed globe, like a bathroom light, then you don't notice it. But if the globe exposes the light like above a bathroom mirror or a table lamp, then you can hear the buzzing. With today's technology you would think they could build a bulb that did not buzz. If it wasn't for the noise I would have gave it 5 stars. I went back to Wall-Mart and bought the same bulbs but made by Sylvania and they did not buzz. The Sylvania bulbs are $2 more for the 4 bulb package. So if you don't want to hear the constant buzzing the $2 more for the Sylvania bulbs is well worth the money.
Youcandobetter
Waste Of Money!
They don't last 9 years!!! Bought these last year and already they are going out all over my house. Should have stayed with the fluorescent bulbs - never had any problems with those! These LEDs didn't last a year with regular normal use!!! Buyer Beware!
cartpauj
Good color output but slight buzzing
If you're really quiet you can hear a slight buzzing from these bulbs. Probably from the switching power supply in them. It's not a big deal for me, cuz with my kids it's never quiet enough in the house to hear them :) The color is a nice warm light. We'll see how they do for longevity. Not expecting anywhere near the full 9 years they promise though. I haven't tested them for RF interference yet, but if I find anything major I'll update this review.
Mooseinacanoe
Very "Illuminating"
This product is very good. I was worried with it being LED it may have an off looking color to it or it may not be 360 degrees of light but I was wrong not only does it look like the standard 60 watt incandescent bulb in terms of warmth but it is much brighter at only 8 watts. I also had a concern that they would flicker given most the led flashlights I have owned flicker but they do not. I bought several packs and put them in everything in my home. Such a great replacement to CFL which were slow to heat up and were very fragile and burned out much sooner than stated.