Equate Non-Drowsy Allergy Relief Nasal Spray, 50 mcg, 0.54 Oz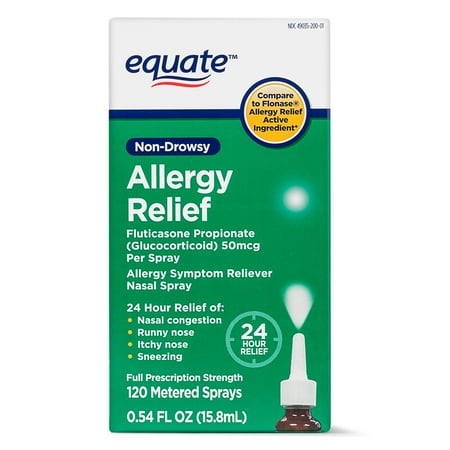 MSRP :

$15.97





Sale :

$13.58

Sold & shipped by Walmart
Product Description

Additional Information

Reviews
Product Description
Equate Non-Drowsy Allergy Relief, 50 mcg helps relieve a broad range of uncomfortable symptoms for up to 24 hours. It has a full prescription strength formula to alleviate nasal congestion, runny nose, itchy nose and sneezing. This Equate allergy relief spray is non-drowsy when taken as directed. It's effective against indoor, outdoor and animal allergens, so you can go about your day no matter what has been affecting you. This 0.54 fl oz bottle contains 120 metered sprays.Making the right health decisions can be challenging. With a complete range of products and simple solutions, Equate allows you to take care of your family with confidence.
Additional Information
Equate Non-Drowsy Allergy Relief Nasal Spray:24-hour relief from nasal congestion, runny nose, itchy nose, and sneezingFull prescription strengthNon-drowsy nasal spray, 0.54 fl oz120 metered spraysFluticasone propionate (glucocorticoid) 50mcg per sprayHelps relieve a broad range of uncomfortable symptoms Helps alleviate symptoms triggered by allergens like pollen, mold, dust or pet danderEffective against outdoor allergens, animal allergens and indoor allergensTemporarily relieves symptoms of hay fever and other upper respiratory allergiesCompare to Flonase allergy relief active ingredient Avoiding AllergensIf you are allergic to a certain food or to a pet, total avoidance is the best strategy. Unfortunately, many allergens are not easy to eliminate. Dust mites, cockroaches, and mold are some common indoor allergens, and even if you keep your house immaculately clean, tiny particles of these substances are likely to remain. They can get into furniture, bedding, and soft toys.
Reviews
DonnaInOregon
UPC : 681131129794 - Equate Non-Drowsy Allergy Relief Nasal Spray, 50 mcg, 0.54 Oz - PickPanda.com
So very pleased with this allergy medication. It is so effective with no side effects. This product has improved my life immensely; no more sneezing and constant nasal drip. Thank you very much Walmart.
Kmawm
Works as good as Flonase
The same size bottle is half the price of Flonase, the bottle is easier to hold and the sprayer works better than Flonase. I highly recommend this over Flonase.
Fruitcake
Love! Just as good as Flonase
I have always believed the saying "you get what you pay for" and I let that influence my purchases. This actually isn't always the case with medications. It is my opinion I basically was paying extra for the exact same product and prettier packaging. I used name brand Flonase for about a year which has helped my congestion tremendously. It also helped me defeat a nasty addiction I had to Afrin. I was completely out one morning and to my horror discovered Wal-Mart was out of the name brand. In desperation I bought the Equate brand with a lot of hesitation. I have to say I am pleasantly surprised and very pleased with this Equate product!!!! I feel it's better than name brand. It seems to be the exact same product or at least to me it seems that way. Equate still has that faint floral taste/smell like Flonase does and most importantly it works at keeps my congestion at bay. I literally would have panic attacks almost ER-worthy before Flonase came into my life from my entire head feeling like it's plugged up and I can't breathe. I had such a nasty addiction to Afrin that my nose would literally slam shut any time I'd lay my head down. Getting off Afrin was truly a nightmare. There's a reason they tell you to not use Afrin more than 3 days!!!! In case anyone's struggling with that nightmare like I did, I actually googled suggestions how to get off Afrin but I actually misread it and did it wrong!! But it ended up working great with minimal discomfort. It said to use Afrin in one nostril each day and alternate but what I did was just use one nostril. The tricky part with this of course is remembering which nostril to dedicate to but man I can't believe how well it worked!!!!! I then began to start using Flonase to keep the stuffy nose away. But I think I'll keep saving a few dollars in my pocket by buying this Equate brand from now on, I love it!!! I also feel like you get more of this product up in your nose instead of in the air constantly needing primed like Flonase's spray bottle did. I felt like I couldn't get a good dose up in there but with Equate each spray was a good, strong one until it was gone!!! At least this was the case with me. The Equate bottle is a much better design and a much better value. I love it, I'll never waste my money on name brand again!!!!
PirateTheMorgan
Makes sharp squirt not mist
The dispenser makes a sharp squirt instead of a mist. I had to go back and buy an actual bottle of flonase.
KDMcK
Allergy Relief Nasal Spray
I find this to deliver a fine mist, that is very effective. I do wish it came with a replaceable cap.