Tilting TV Wall Mount for 24"-84" TVs with HDMI Cable, UL Certified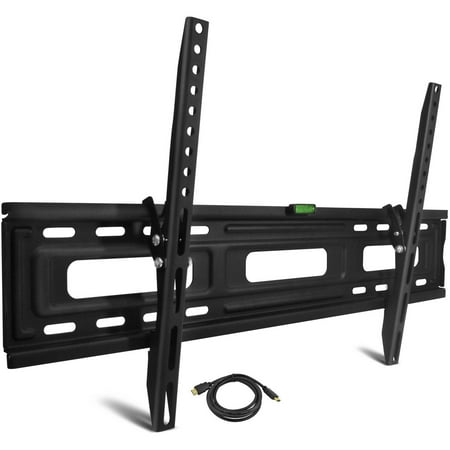 MSRP :

$19.96





Sale :

$17.99

Sold & shipped by Walmart
Product Description

Additional Information

Reviews
Product Description
The Tilting TV Wall Mount saves valuable floor space. Designed to offer optimal viewing from any angle, it has the ability to tilt up 3 degrees and down 10 degrees while supporting a 24" to 84" flat panel TV. Its mobility enables you to move it as needed to accommodate your seating area, reducing glare and distractions. The tilting TV mount with an HDMI cable sits just 1.53" away from the wall, offering a sleek appearance. It is made of heavy-gauge steel with a protective coating and safely accommodates up to a 132-lb TV. This tilting TV wall mount also offers a max VESA of 700mm x 400mm. It is ideal for smaller rooms or apartments where space is limited. The easy-to-follow instructions take you from box to wall mount effortlessly. This kit includes all necessary hardware for quick assembly and a bonus 4K Ultra HD cable. It is tested for safety and UL certified.
Additional Information
@.com Tilting Wall Mount for 24"-84" TVs with HDMI Cable: Fits 24" - 84" flat panel TVsSolid, heavy-gauge steel construction with durable coated finishSupport up to 132 lbsFlat panel TV wall mount for 24"-84" TVs tilts up 3 degrees and down 10 degreesSlim design mounts your TV just 1.53" from the wallVESA Mounting Standard: 100mm x 100mm, 200mm x 100mm, 200mm x 200mm, 300mm x 300mm, 400mm x 200mm, 400mm x 400mm, 600mm x 400mm, 700mm x 400mmInstallation is fast and easyColor: blackOur mounts are tested for safety and UL certifiedBonus 6' 4K Ultra HD HDMI cable included
Reviews
Angie
Great Mounting Bracket
I bough this mounting kit to go with a new 50" TV I bought. It was so easy to assemble and install. The TV was easily attached and hung up. I would buy this brand from this company if I need one again in the future.
Alpha3ss
Excellent mount - Unbelievable bargain for > 40"
I had never wall-mounted any TV's b4 so I did some research and ended up taking a chance on this mount due to price and the fact that I could buy 2 and install my 55" as well as my 32" using the same style mount for simplicity. The 55" was on the wall in 20 minutes. All I needed was a stud finder, Socket set and good common sense. It installs and tilts very easily. It is also easy to take the Television back down to fish my wiring thru the walls after I had everything in place. Unfortunately, I found that this mount is good for larger TV's. Although it says 30-60", my 32" TV does not totally cover the mounting bracket side to side and I cannot totally hide the arms top to bottom. That being said, I would recommend this mount to anyone using a TV 39"-60" only to make it totally cosmetically appealing. Construction, installation, durability, and price are all a home run!!
HuskyBigDog
Great Value, Sturdy, Extra Tilt ....
This is a great mount -- especially concerning the economical price. Only complaint I have is that there wasn't enough downward tilt for our installation. One trick I used was to install one of the included "spacers" between the TV and the mount where the top two screws go into the TV. In other words, I used two of the four provided spacers to "push" the top of the TV a little further away from the mount bracket. This provided a little extra tilt, which is just right for us. I have included a photo which shows the use of a spacer between the TV and the mounting bracket, at the top of the bracket only.
BrianofRaleigh
Great product
This was an excellent product. Heavy duty. I had though to make a slight modification. The spacers and bolts provided were too short by a few millimeters and I had to run out a purchase 4 longer bolts.
Marine2065
Great bang for your buck!
The Ematic Tilting TV Wall Mount was easy to install and able to hold my 50" Samsung with easy. The hardware and bracket are all strong metal so I had no worries once I hung the television. Comes with a leveler and the bracket has many holes to finding a stud to match the holes was not a problem. You can't beat the- price for this type of tv mount. I looked around and most averaged $60-100. Plus, it comes with a HDMI cable. I recommend the Ematic Tilting TV Wall Mount Kit with HDMI Cable for 30" - 60" Displays