Low-Profile TV Wall Mount for 19"-60" TVs with HDMI Cable, UL Certified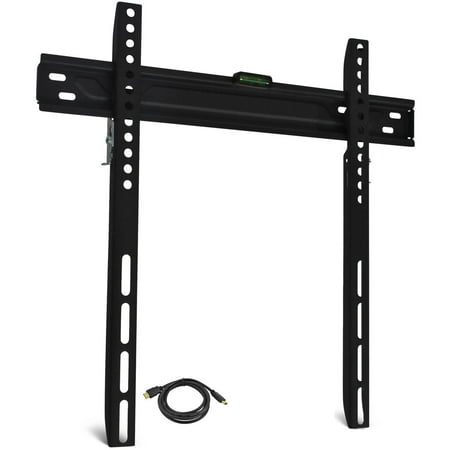 Sale :

$9.99

Sold & shipped by Walmart
Product Description

Additional Information

Reviews
Product Description
Streamline your entertainment center and conserve available space with the Low-Profile TV Wall Mount. This sturdy mount can support flat panel television sets anywhere from 19" to 60", for incredible versatility. The low profile design doesn't add bulk, allowing for the flushest possible mount between your set and wall space. The 60" TV wall mount is made from solid, heavy-gauge steel construction. Its understated, black finish blends seamlessly into the back of your set. The low profile TV mount with HDMI cable allows for easy, built-in input from your cable, DVR or other digital devices. It also makes it easy to connect your television directly up to your computer or video camera. The wall mount can withstand a weight of up to 77 lbs. The unit is tested for safety and is UL certified, for added convenience.
Additional Information
Low-Profile Wall Mount for 19"-60" TVs with HDMI Cable:
Fits 19" to 60" flat panel TVs
Solid, heavy-gauge steel construction with durable coated finish
Supports up to 77 lbs
Low-profile design mounts your TV just 0.79" from the wall
VESA Mounting Standard: 100mm x 100mm, 200mm x 100mm, 200mm x 200mm, 300mm x 300mm, 400mm x 200mm, 400mm x 300mm, 400mm x 400mm
Installation is fast and easy
Color: black
Low profile TV mount with HDMI cable is tested for safety and is UL certified
Bonus 6' 4K Ultra HD HDMI cable included
Reviews
Kunchie
Neat, Sleek and Stylish
This is a modern design black shelf that will fit with any decorum. It was not easy to keep the bolt straight while drilling it in the stud. I did drill a pilot hole but I guess I did not drill it deep enough. So I would advices you make sure your bolt will go in straight. This is very important. Oh yes make sure you have all the parts together before you begin. Please read, follow all instructions and keep them in a safe place for future reference. It is also very important that your mount be placed on the wall level. So you will in a level. You will also need a drill, pencil, and a stud finder if you are mounting on wood stud. You will not need the stud finder if you are mounting on brick. After the mount was on the wall everything else was a breeze. I put together the glass holder and attached it to the mount. Then I fastened the glass shelf to glass holder. My wall mount @.com Adjustable Shelf is ready for my receiver. Now I have to rework my cable cords in order for the area to look homogeneous.
Michael
It's a cheap piece of trash, don't buy.
Under no circumstances should you buy this product! It looks neat, seems like it would be a perfect addition to your wall mounted television, but it's not. The screws don't fit the way they are supposed to because the holes aren't drilled straight, the screw used to hold the piece of glass to the wall mounted bracket is barely larger than the oversized hole in the glass, the glass doesn't even sit properly onto the stand and, to top it all off, the plastic caps that go on the top and bottom are NOT USABLE because if you mounted it properly to your wall, there is not enough space to put them on. If you go ahead and ram them on there, which is possible if you don't mind possibly scratching up your wall, you then cannot use the cable routing sides of the device properly. The only thing I didn't have any issues with is the HDMI cable it came with, but that's simply because I haven't used it. It's probably as much a piece of garbage as the rest of what came in the box.
dj
unaware it was refurbish
It comes used and dinged up other than that it serves its purpose
Dagui
Nice shelf
When I received this @.com Adjustable Shelf for DVD Player, Cable Box/Receiver and Gaming Consoles with HDMI Cable, I couldn't wait to put it up. When I first opened the box, I thought the black glass shelf was a little small to be able to hold 17.6 pounds of equipment. I love the fact that it comes with all the supplies needed to install it. After installing it on the wall with little effort and ease, I thought it looked great in the sunroom. I placed it right underneath my thirty-two inch flat screen television to hold up the digital versatile disc player and the cable box. Well, it is really strong and sturdy for a little shelf. My doubts of it being too small to hold multiple equipments went away. This shelf would go with any home decor you have set up. It would look great in any room you set it up in. From the kitchen, living room, sunroom, deck, bedroom, basement, office, to the bathroom. I would recommend this @.com Adjustable Shelf for DVD Player, Cable Box/Receiver and Gaming Consoles with HDMI Cable to anyone looking for a strong, sturdy, fashionable shelf to go in their home or office.
yetiwifey
Great!
This shelf is slick. I was unaware that the shelf was a thick piece of black glass, it's very cool. I took photos from start to finish and since every dvd, blue ray player, gaming console etc are different sizes it seemed that the unboxing of the parts photos show the size of the shelf best. We own a large blue ray player and a tiny DVD player and they both looked great on the shelf. All the parts seem to be well made I have no worries about the shelf coming out of the wall because of flimsy hardware. I am kind of impressed the shelf comes with a HDMI cable and looking it over, it looks to be a fairly good quality cable. Not too long to where you have to hide a bunch of extra cable, but not too short to were it can't get the job done. The HDMI cable isn't the focus here but I thought the packaging and quality of it needed to be stated. The cable comes with both ends capped as well for keeping things clean. @.com's slick looking shelf is pretty good quality all around from the glass to the hardware. May have to get a second one for another room in the house. I would definitely recommend this to anyone. It would be great in any room of your house, school, dorm, or business. It is so sleek and nice looking I think it would look great anywhere and with any decor. Great product @.com!