Parent's Choice Fresh Scent Baby Wipes (Choose Your Count)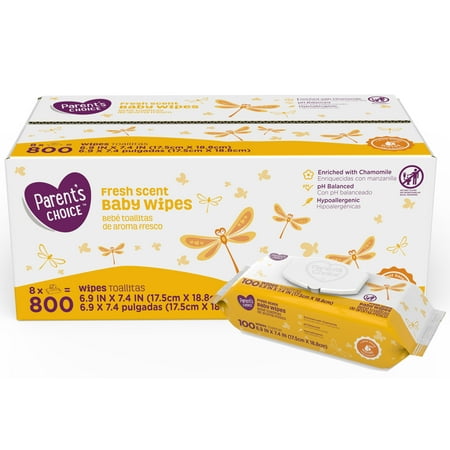 Sale :

$13.47

Sold & shipped by Walmart
Product Description

Additional Information

Reviews
Product Description
These Parent's Choice Fragrance Free Baby Wipes offer the safety and gentleness that all parents want for their children. Mothers and fathers alike will appreciate the hypoallergenic material, which cleanses their infant's skin carefully. The Parent's Choice baby wipes are quilted to add plush comfort. Each sheet is moisturized with a mild cleansing solution and contains soothing aloe to protect your baby against skin irritations and soreness. The fragrance free wipes come in an 8-count box with 100 sheets per package. With the flip-top lid, each sheet is ready to use at a moment's notice for those unpredictable messes requiring immediate attention.
Additional Information
Parent's Choice Fresh Scent Baby Wipes, 8 pack, 800 wipes:
Enriched with chamomile
pH balanced
Hypoallergenic
Naturally derived
99% water ingredients
Reviews
DocuQueen
Multiple uses for these extraordinary baby wipes!
Parent's Choice Fragrance Free baby wipes work for my baby and my budget! These wipes are a great size and durable for cleaning up those explosive poopy messes. I am satisfied with how damp enough each wipe is in order for it clean and cleanse my baby in between diaper changes. I have found that the box of Parent's Choice Fragrance Free 1200 count wipes was the cheapest in unit price out of all the baby wipes selection at my local Walmart and this is the big reason why they are my go-to brand of baby wipes. These baby wipes are for more than just cleaning up during a diaper change. I use them as cleansing wipes for my daughter's hands, face, and feet throughout the day in between her meals and her general exploration while we are home. While we are eating out together, they make great hand and face wipes even for me and my husband! At church, I bring out one of these wipes to clean off my baby's toys if they fall on the floor. If a small mess happens in my car or my living room carpet, these wipes can aid in the clean up process. As you can see, I like capitalizing on all possibles uses for these extraordinary baby wipes!
SanAntonioSpurs
One wipe to rule all wipes.
Probable the best wipes out there. When you only have one hand to clean up, the dispensing of the wipe is perfect! Not like others that you pull one and seven of them come out. The wipe itself is strong durable and ready to take on any mess that may come your way. I have 2 baby girls that were raise using these wipes and we still carry them in out house, car and tool shed. Take my advise they are the best.
BusyLadyWorkingTwinMoM
These baby wipes are simply awesome
We received lots of different types of baby wipes as gifts when we were expecting our twin boys. We tried out everything. Parent's Choice quickly became our favorite wipe due to the best packaging. Easy to get each wipe out, even when your pack gets down to the bottom (unlike the hard box packaging of some competitors). The plastic lid keeps all the wipes moist down to the last wipe (unlike the flimsy tape that closes the packaging of some competitors). We have tried both scented and unscented and are happy with both types. Can't beat the value. We have went through thousands of these wipes and will never use anything else. My sister who is a mother of 4 also agrees. These wipes simply kick butt! And now I can order them on-line and they come right to my house (and free shipping if over 45 dollars) so now I have extra room in my shopping cart. Great product and very convenient! Thank you Wal-mart! Sincerely, Twin Mom
Truthinwords
Product is CONSTANTLY changing!
I don't want to leave a bad review here. It's the only home place I could find online that would reach people who are looking for info on these. I have used these for over 10 years. Both personally and on my daughter. The value is incredible and they have stood up. The one IRRITATING thing I have to say about them is that EVERY TIME I buy them, something has changed. The material of the wipe or the amount of moisture in the package. Even the packaging itself. I don't really care about the packaging, but the moisture within and the material are BIG things that make the wipes what they are. The last batch threw me over the edge. Down right the worst material they have came out with yet. They don't even move or glide over your parts and the material is awful thin causing you to use more than you normally would. This changes the value of the product. I know Parents Choice has put out better quality wipes. Why is it necessary to change the product so frequently?? Leave well enough alone when you've got something good. Consumers look for and value consistency.
Perfect
Great for the price!
No rash on my daughter who has sensitive skin . Good for a long time dont dry out quick like some other baby wipes!