Parent's Choice Fragrance Free Baby Wipes (Choose Your Count)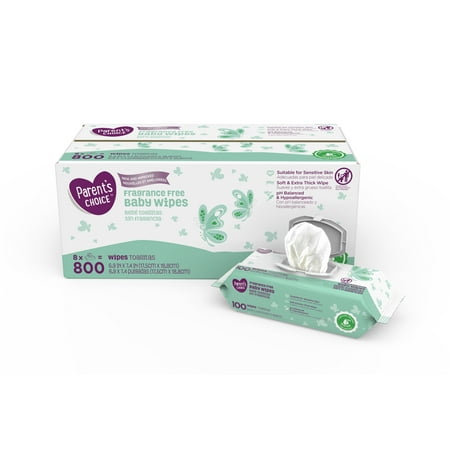 Sale :

$14.47

Sold & shipped by Walmart
Product Description

Additional Information

Reviews
Product Description
Parent's Choice Unscented Baby Wipes come in an 800-count package. They are ideal for those looking for a clean and smooth product for their little one's bottom. Designed with a pure water base and a light scent, the disposable cloths take care of the messes without leaving anything behind. You can depend on the cleaning power of these quilted baby fresh wipes as they are strong and very soft. Each one is moistened with a mild cleansing solution. They are even gentle enough for use on your baby's face and hands. These Parent's Choice baby wipes come in an 8-count pack of 100 sheets each. The unique container design helps ensure that each cloth comes out open and is ready to use on any part of the infant's delicate skin. They have aloe in them, which soothes diaper rash and chafing. They are also hypoallergenic, making them a good choice for babies with sensitive skin. These quilted hypoallergenic baby wipes meet all national brand standards and hold up against use.
Additional Information
Parent's Choice Fragrance Free Baby Wipes
8 packs of 100 wipes
Ultra soft, gentle on skin
Made with 100% plant-based material
Hypoallergenic and pH balanced
Dermatologist tested

Reviews
1902ROYALT
Their grrrreeeeaaaat!
Great wipes,you can compare t to Huggies wipes,its just the same even better because of the price. Its best to get the 700ct box for the $10-, because you are getting so much for the price. its one of the ultimate best prices out there, other sites want close to $20 or over$20 for that many wipes.I tell you. parents choice and walmart are my good friends
iLuvMyFamily67
GREAT & AFFORDABLE WIPES!
I've been using Parents Choice wipes for about 8 months now and I'm completely satisfied! They're not flimsy nor dry as you would a expect a "cheap" wipe to be, they get the job done and on top of being a great quality wipe they now come in a better closable package and are linked which makes them a lot easier & convinent during diaper changing.
mandmatthews
THEY POP UP NOW!!!!
I always said these wipes would be the perfect cheap wipe if they popped up when you pulled one out, before I had to scrape to get each individual wipe but I was SOOO pleasantly surprised today when I went to buy wipes and they redesigned the wipes! Now they are the same great wipe (They're thick and they stay nice and moist and they never hurt my baby's skin) and THEY POP UP!!! I feel like a nerd being so excited about this but I was getting sick of them because of that and thinking about paying extra to get Huggies but now I don't have to and I'm elated! I hope everyone at least tries them, I don't think you'll be disappointed.
JKT1832
cheaper and just as good.
These are just as good as the name brand wipe, but they cost a lot less. The individual wipe packets are plastic bag-like with a reclosable top. I had some old sturdier wipe boxes from a more expensive brand, and I just resuse those containers rather than the packaging walmrt provides for their wipes.
Mobile24
Recommends because of good value and does the job
Received as a gift at my baby shower and started using in Dec. 2010 and was skeptical but its good for the price they do the job for much cheaper than other brands... They aren't soft as huggies or pampers but my baby doesn't seem to know the difference and it cleans him just as good...