Parent's Choice Fragrance Free Baby Wipes (Choose Your Count)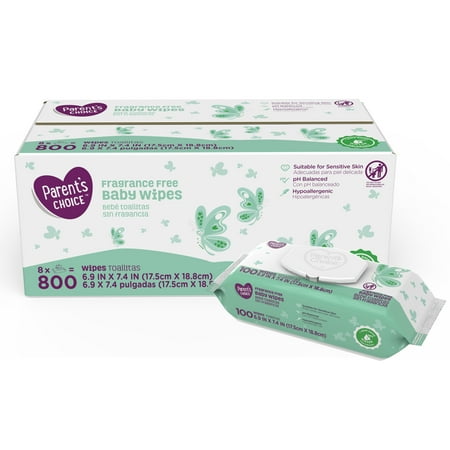 Sale :

$14.47

Sold & shipped by Walmart
Product Description

Additional Information

Reviews
Product Description
Parent's Choice Unscented Baby Wipes come in an 800-count package. They are ideal for those looking for a clean and smooth product for their little one's bottom. Designed with a pure water base and a light scent, the disposable cloths take care of the messes without leaving anything behind. You can depend on the cleaning power of these quilted baby fresh wipes as they are strong and very soft. Each one is moistened with a mild cleansing solution. They are even gentle enough for use on your baby's face and hands. These Parent's Choice baby wipes come in an 8-count pack of 100 sheets each. The unique container design helps ensure that each cloth comes out open and is ready to use on any part of the infant's delicate skin. They have aloe in them, which soothes diaper rash and chafing. They are also hypoallergenic, making them a good choice for babies with sensitive skin. These quilted hypoallergenic baby wipes meet all national brand standards and hold up against use.
Additional Information
Parent's Choice Fragrance Free Baby Wipes
Suitable for sensitive skin
Soft and extra thick wipe
pH balanced and hypoallergenic
Fragrance free baby wipes
Made with naturally derived ingredients
Reviews
Raquel
Box of 800
I have 3 kids so wipes are a must! I buy the fragrance free because my oldest had problems with scented ones and no one has had a problem with these. My favorite thing about these are that they are thick enough so that while wiping my babies I don't feel as if grossness is going through onto my hand. They are easy to rip if you only need half a wipe and are conservative. The only downside is that they aren't moist enough and the bulk package of 800 is not much of a price difference what so ever than buying the smaller amounts. Also it comes with a plastic opening that latches which is much much much nicer than the ones that use a sticker type film that eventually stops sticking and dries out wipes. Last but not least 1 of the packages in every box I buy the plastic latch that closes it completely comes off and I end up having to put them in a plastic Ziploc bag and the wipes are very hard to get out if they don't pull up in sync.
CSelph
If something works don't changes it!
I've used this brand regularly since my first son was born 8 years ago. I buy them because of price and because the way they used to be made. I guess the best example of them was like a sturdy wet "paper towel". I used them to cleanup messes as well. But now, they are fabric like cotton balls. They feel like gauze. And of course I bought the big box. Now, I'm stuck with over 700 wipes that I don't like. They don't clean up baby bottoms as well as the old ones. Very disatisfied with the new wipes.
HappyMommy
Fragrance Free
My wipes have no smell to them and are definitely fragrance free. They work great and are very strong and durable. The price is great and comes in a nice box that contains 8 packs of 100 piece wipes. The packages of wipes are completely resealable. It is great that they are hypoallergenic and alcohol free and they have aloe and vitamin E. They are also made in the USA.
MitaLovesjose
They Work Great
I love then they work great and does is.purposes and definitely great price love buying te 700 wipes cause last me a few months well more then a few months lol def rec to buy works has gud has leading brands
Kalynne
Amazing
I have used these wipes since 2010. They are great for those with sensitive skin. My children are age five and one. I use these wipes on both. Strong, durable, and long lasting. The strength of these wipes are amazing. When your child has a blown out diaper (we parents all have experience with) these are perfect for the clean up! No ripping or poked holes and keeps my hands away from the disaster in the diaper! These are fragrance free which are again great for sensitive skin! I also use these for cleaning the kids up after art projects, eating, as well as those other non planned messes. The design has the resealable design so you don't have to transfer to another container. Easy access when using just pop open the top and start pulling out. Some brands when you try to get them out more then one comes out at a time but not this brand!! Which is great so.you don't waste them! The price is great for the amount you get, the cheapest i've found so far and it's quality is better then the others!