Great Value LED Light Bulb, 9W (60W Equivalent), Soft White, 1-count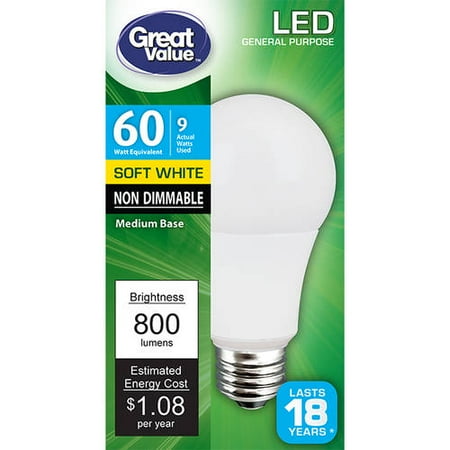 MSRP :

$2.44





Sale :

$2.17

Sold & shipped by Walmart
Product Description

Additional Information

Reviews
Product Description
This Great Value LED Light Bulb replaces your traditional incandescent bulbs with a long-lasting, economical alternative. They last up to 20,000 hours to save you time from replacements. The Great Value LED bulb is eco-friendly, since it draws only 8.5 watts of power, compared to the 60 watts of older bulbs. They feature a three-year limited warranty for your protection.
Additional Information
Saves up to 80% on energy costs
Lasts up to 20,000 hours
3-year limited warranty
Light output = 800 lumens
Medium base (E26)
A19 shape
Reviews
Doctorwizz
Best Value in LED Bulbs!
These bulbs are amazing! They are as bright, or brighter as a 60 watt incandescent bulb. The brightness of 2 of these in the bathroom is brighter than 2 incandescent that these replaced. The color temp of this is very similar to a GE soft white which is perfect. They turn on at full brightness. Unlike CFL bulbs that can start dim. They do run cool. I will measure the temps with an infrared gun and update this post. At $2.47/bulb, it is a great value. Time will tell whether they last as long as the 20,000 hours claimed. They are backed by a three year warranty, so keep your receipt JIC.
Grannyat
Pleasantly surprised by these LED bulbs!
I did NOT want to give up my incandescent light bulbs and refused to do so for years. I did not like the fact that most of the energy saving bulbs were loaded with mercury and were very expensive. But the incandescent bulbs I had purchased last year were not lasting more than 6 to 8 weeks. So it was time to start looking for something that as both safe and inexpensive. When I found these LED bulbs at such a good price I was skeptical so I only purchased two of them. I was astounded. They put out as much, if not a little more, light than my 60 watt incandescent bulbs! I purchased the soft white bulbs. They also come in a "daylight" 60 watt, which is probably even brighter than the soft white. So I've now replaced almost every light bulb in my home and am very pleased. I'm not expecting them to last the 10 years as advertised, but if they last 5 years I'll be happy. For those of you who don't want to give up those incandescent bulbs, I highly recommend buying one of these and giving it a try. I think you'll be very happy that you did.
hootandannies
Pleasantly surprised
I originally purchased these bulbs to replace three 60W incandescent bulbs in my ceiling fan, but the light was just too bright for a bedroom. So I bought GV 40W LED soft white bulbs, and they were a perfect match! These 60W equivalent bulbs went into the living room. A much more natural and less harsh lighting than CFL bulbs (that I had to replace every 6 to 8 weeks). I'm so glad Great Value offers this more affordable LED bulb option. I purchased ONE bulb at a big name hardware store for over $15! Now I feel like I'm helping my wallet as well as the environment!
Matt
Decent Bulb
Bought four of these a couple months ago and have had no big issue. They made a popping noise for the first few weeks but it stopped. Guess the heat sink was adjusting.
Arrowcatcher
Much better than expected
If these bulbs last as long as predicted, they're really outstanding. Most notably, they are actually "100 watt" equivalent, not 60. I'm using them where brighter is better, but you might keep this in mind if it could be an issue. I noticed they seemed very bright so I made some careful measurements (if you're into these techie things) using the light metering in my Sony A77 DSLR. Here's the raw data: Walmart LED F9 aperture (higher means brighter) 60 CFL F8 100 CFL F9 40 Incandescent F5.6 60 " F7.1 100 " F9.0 Walmart LED 8 Watts (Kill-A-Watt meter) 60 CFL 13 W 100 CFL 21 W LED PF .55 60 CFL .57 100 CFL .55 In terms of bang per watt, these bulbs are obviously champs. If they fail early, that will be disappointing, but we're off to a good start at least. Walmart rocks!