Great Value LED Light Bulb, 9W (60W Equivalent), Soft White, 1-count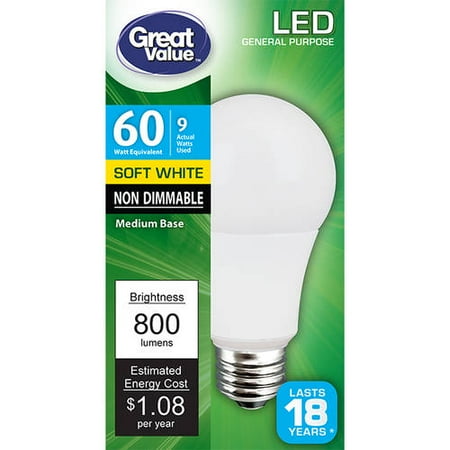 MSRP :

$2.44





Sale :

$2.17

Sold & shipped by Walmart
Product Description

Additional Information

Reviews
Product Description
This Great Value LED Light Bulb replaces your traditional incandescent bulbs with a long-lasting, economical alternative. They last up to 20,000 hours to save you time from replacements. The Great Value LED bulb is eco-friendly, since it draws only 8.5 watts of power, compared to the 60 watts of older bulbs. They feature a three-year limited warranty for your protection.
Additional Information
Saves up to 80% on energy costs
Lasts up to 20,000 hours
3-year limited warranty
Light output = 800 lumens
Medium base (E26)
A19 shape
Reviews
TinRadio
Not bad
I've bought a pair of these for our bathroom to replace the incandescents. They're noticeably much cooler and so far for the past two days; light up reliably and make no audible buzz or hum. The package lists the color as 2700k but upon first impressions this is not entirely true. The light emitted was a brighter white with a subtle yellow and pink tint. Nothing too harsh but definitely noticeable compared to warm traditional lighting we all know. The cutoff at the middle of the bulb also doesn't allow the light to fall as evenly it does with a regular bulb or CFL. I believe these wold probably work best in downward facing lamps or fixtures with frosted glass to better diffuse the light. Besides the great energy savings and low consumption, the price point is fantastic for an LED bulb. Because they're not Energy Star rated only time will tell if the quality will hold up. Ultimately, If you're trying to save energy or maybe switching from Mercury-filled CFL's, give these a try.
Grannyat
Pleasantly surprised by these LED bulbs!
I did NOT want to give up my incandescent light bulbs and refused to do so for years. I did not like the fact that most of the energy saving bulbs were loaded with mercury and were very expensive. But the incandescent bulbs I had purchased last year were not lasting more than 6 to 8 weeks. So it was time to start looking for something that as both safe and inexpensive. When I found these LED bulbs at such a good price I was skeptical so I only purchased two of them. I was astounded. They put out as much, if not a little more, light than my 60 watt incandescent bulbs! I purchased the soft white bulbs. They also come in a "daylight" 60 watt, which is probably even brighter than the soft white. So I've now replaced almost every light bulb in my home and am very pleased. I'm not expecting them to last the 10 years as advertised, but if they last 5 years I'll be happy. For those of you who don't want to give up those incandescent bulbs, I highly recommend buying one of these and giving it a try. I think you'll be very happy that you did.
islander
good value but has issues
These bulbs are quite bright, that's good ! But they have a few things to consider: 1) they are noticeably lighter than GE LED bulbs, may indicate nothing but why ? 2) the aren't dimmable which even if a dimmer isn't being used, may pose a problem, an example: my garage door opener light does NOT work with one of these installed, probably due to a triac based control circuit ? 3) the LEDs are apparently mounted on a flat plate, while the bulb is quite bright at the top of the bulb, at the sides or behind the bulb it's dimmer than a CFL or incandescent. Lean in to a bath mirror using these bulbs above and it'll be harder to see shaving details :) 4) they put out more electrical noise than a GE LED bulb, not horrible but noticeable on my shortwave radio. Other than those items, the bulbs seem to be working well, much better outside in the cold or when a light outside gets left on by mistake !
ejdutgwgq
Congratuations Walmart for Affordable LED Bulbs
I've priced 60W equivalent bulbs with many of Walmart's competitors. The competitors prices were sky high. It would take years to recover your cost to be greener if you bought those bulbs. Few people would be able to make the investment in light bulbs at such a high price. Walmart's 8.5w LED bulbs are very economical and cost less than the 60w florescent equivalents. I purchased 10 8.5w LED bulbs from Walmart and then forgot about it. Then I got my electric bill and the bill was for a very hot month when I ran my A/C a lot. Nevertheless my bill was $18 less than the same month for the previous year and also that much less than the previous month of the same year (which was about the same average temperature). Walmart's economical LED 8.5 bulbs are a great contribution to going green because more people will buy them and use much less electricity. This will help reduce global warming. Walmart should be recognized for this contribution to the planet's wellbeing. I recommend everybody buy these economical LED bulbs and help save the planet.
CT327
9 yrs --- maybe 3 months
Bought a new house and meant to take all my old LED lights out of my house that I had bought at IKEA a year or two before. Of course moving day forgot to change them out. Was so excited when i found CHEAP LEDs at walmart and started putting them in my new house as soon as the regular bulbs or spiral bulbs pervious owners used burnt out. When I moved in there was not a single LED bulb in the house. I have been in my new house less than 9 months and I have already had 4 of these LED bulbs burn out and I only put about 10 in so far. No wonder they are so cheap. They are not the same quality as other LED bulbs. I know several of the bulbs that burnt out I only put in 3 months ago. I have 10 foot ceilings so replacing these is a pain which is why I looked for something that had a long life span. I doubt any of these bulbs make it 9 years at this rate. I had used my IKEA bulbs which were the cheapest I could find 2 years ago without a single one failing. I know it says there is a warranty on these bulbs but who keeps receipts for light bulbs? guess I will learn too now. Then again I will NEVER be buying these again.