Equate Vitamins A & D Diaper Rash Ointment & Skin Protectant, 4 Oz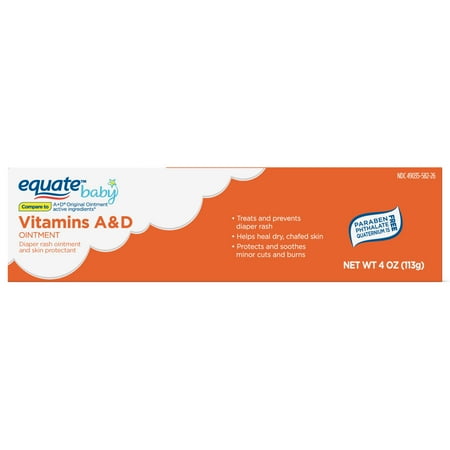 MSRP :

$6





Sale :

$2.34

Sold & shipped by Walmart
Product Description

Additional Information

Reviews
Product Description
Additional Information
Equate Vitamin A & D Ointment, 4 Oz:
Helps prevent and treat diaper rash
Provides a barrier against wetness
Soothes minor cuts and burns
ABOUT VITAMINS A & D DIAPER RASH OINTMENT & SKIN PROTECTANT
Compare & Save
The active ingredients in Vitamins A & D Diaper Rash Ointment & Skin Protectant are lanolin 15.5% and petrolatum 53.4%, which form a protective barrier to help seal out irritating wetness. This ointment treats and prevents diaper rash, helps heal dry, chafed skin, and soothes minor cuts and burns. Helps temporarily protect, relieve and prevent chapped, chafed, or cracked dry skin. Hypoallergenic; use at every diaper change. This product is free of paraben, dye, phthalate, and quaternium-15.
Reviews
GeeGee21
Diaper Rash Ointment
This diaper ointment has prevented my daughter from having diaper rashes. I apply each and every time I change her and she has never had a diaper rash with this product. I also use the ointment on burns and minor cuts and it does a good job at healing them. It does have that strong ointment smell, but after using it for a period of time it no longer seems as strong as it did when I first started using it.
turtlelovingduck
Contains magic ingredient to soothe burning
After experiencing burning from Preparation H and complaining about it, my friend told me to look for a product that contains Cod Liver Oil. She said it may not smell like roses but worked like magic. After looking I found Equate Vitamin A and D ointment and it has Cod LIver Oil. I used it and found relief without any burning! The smell and relief is preferable to a rose smelling product that burns !!!! Cod Liver Oil is the magic ingredient that soothes and cools to provide awesome relief.
girlygreenz
Good product
switched from the regular a & d brand ointment to equate and I have no regrets. works well on baby's skin and smells good too.
QueenBargains
Will you try it on a rash, Burn or Cut.
Great price & better than A&D. Ointment Great to prevent rashes, good for cuts & burns. I always buy 2-3 tubes at a time.
Lady
great product
I love the product and the price, which is why I'm a repeat customer!