Parent's Choice Diapers (Choose Size and Count)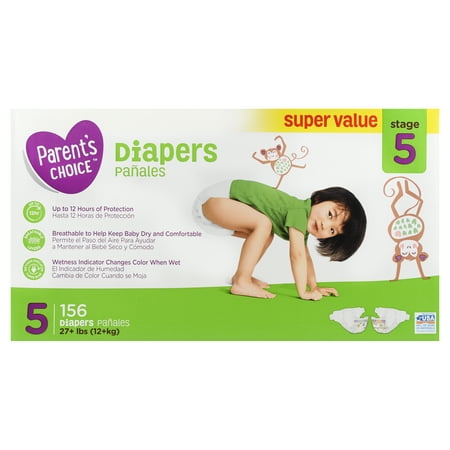 MSRP :

$27.94





Sale :

$23.32

Sold & shipped by Walmart
Product Description

Additional Information

Reviews
Product Description
Parent's Choice Diapers provide you with the absorbent performance that you need at the price you deserve.

Parent's Choice Baby Diapers are ultra-absorbent providing up to 12 hours of day or night leakage protection. Our exclusive accordion stretch fasteners hug your baby, creating an all-around snug and comfy fit. All Parent's Choice Diapers have a soft inner liner that is hypoallergenic, latex free, and perfume free.
Additional Information
Parent's Choice Diapers, Stage 5, 156 Diapers:
Up to 12 hours of protection
Breathable to help keep baby dry and comfortable
Wetness indicator changes colors when wet
Hypoallergenic
Stage 5: 27+ lbs
Reviews
Momm4ever
Please, bring back the old version
We need the old version back again. I usually used Parents Choice with my previous kids. Now with the #4 and # 5 they are not super absorbent as the last version.
momof2boys
Good diaper, Great price
I was worried to buy these as some of the reviews seemed very disappointing, but I figured $17 for 124 diapers was a win, even if they weren't my favorite brand. The size 4 diapers are a great fit for my almost 2 year old son. The fit was my main concern since he has chunky thighs. Also, someone wrote a review that the sizes run small, so they have to order a size larger. I almost bought size 5 since I was concerned that the sizes weren't true to fit, but I'm so glad I just decided to go with size 4 (the size he fits). They are very true to size. They haven't leaked once, even through some major tummy issues if you know what I mean! They haven't leaked over night either. The backs are high, so nothing is going to leak out to his pants (or down his legs) if there were a nasty poop. (He's had a few, and no leaks. Talk about putting a diaper to the test!) The design is cute enough with zoo crew animals. As far as softness is concerned, they're ok. Not as soft as Pampers or even some less expensive brands, but they're still reasonably soft. They do have a wet indicator strip down the front, and the straps are sturdy and I have yet to have one break. They aren't as thick or as soft and luxurious as Huggies or Pampers. They are definitely cheaper! But! They're soft enough and strong enough to do a good job for my extremely busy little boy, with a great fit and no leaks or rashes.
Hayleynoel
Comparable to up & up
I'm confused about all of the poor reviews. The new design is nearly identical to the newest up&up diapers. Features that are identical: Same tabs Same adherent strip in front Same elastic in the back Same wetness indicator Same size For the most part feel the same except that the up&up are very slightly softer on the outside. I have experienced pee leaks in up & up but not in Parents choice, and no blowouts in either. My baby drinks an 8 ounce bottle before bed and sleeps 12 hours and these hold up!
ComputerFailure
New, but NOT better
If you had asked me a month or two ago, I would have said they were great. Unfortunately, the new design is extra leaky.
chrisandsherry
Big Mistake!
I have no problem using cheaper stuff on our children. I thought with the line that tells you they are wet that maybe these will be like the pampers he has used since birth. We tried luvs and they do not hold the wetness. These are worse than luvs. When we change his diaper his skin is soaking wet. The diaper leaks from the top in the front and back. No, we do not leave our baby in wet diapers for hours. After he potties, we change him. The pampers kept the wetness off of his skin. They also did not leak. These wet his clothes every time he peed. We gave the rest of them away to someone about to have a baby. Your little person deserves a diaper that will not give them a rash by keeping them wet. Don't waste your money! Our son is 3 months old.