ReliOn Prime Blood Glucose Test Strips, 100 Ct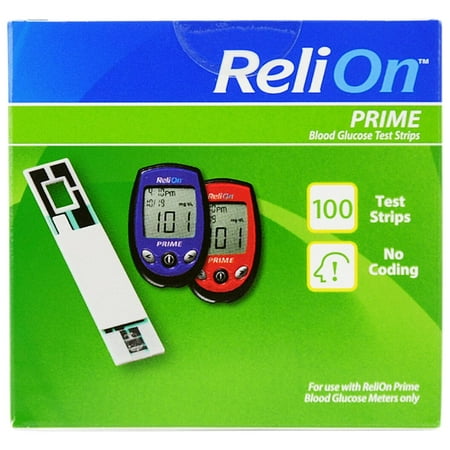 Sale :

$17.88

Sold & shipped by Walmart
Product Description

Additional Information

Reviews
Product Description
ReliOn Prime Blood Glucose Test Strips are designed to give reliable results. They're easy to use on the fingertip or palm and require no coding. These blood test strips are compatible with ReliOn Prime glucose meters only. ReliOn understands all the ways diabetes touches your life. With affordable, reliable products and total lifestyle support, ReliOn helps you be your best you.
Additional Information

ReliOn Prime Blood Glucose Test Strips:
100-count ReliOn test strips are easy to handle
Test on fingertip and/or palm
No coding required
Small sample size
Proven accuracy
Designed to work with ReliOn Prime glucose meters only
Check your blood glucose levels daily with ease
Reviews
Kathy
Perfect!
I have a hard time finding these in the store. Ordering them online has been a Godsend. Fast shipping too!
abearwhocares
i have two different RELI-ON brand blood glucose
testers and find both of them quite accurate and cost effective to use over the costlier highly advertised major company brands THIS ''prime'' brand seems to currently have the lowest cost i have found and i can get more use than the higher price brands expected [even with insurance]. no lancet is provided and the storage case is VERY basic and the meter falls out easily...BUT i still prefer it over 4 choices i have tried.. this is a cost effective winner and allows more frequent testing due to the lower cost. i keep one at home and one for travel [ you have a red or blue purchase choice-- if you shop carefully the colors are offered separately-- to help remember!.] the higher initial meter cost is offset by test strip savings for the frequent user. strips are always available and fresh in online shopping but frequently sold out in stores due to many consumers now choosing this ''prime'' label. i get 100 strips for $17.88 currently or 50 strips for $9.00. decent quality replacement meter batteries can cost $4-$5.00 per year.for frequent users...
LABR
ReliOn Prime Test Strips
This item works as well as any other product I've used. Initially, I used an AccuChek meter with its exclusive strips, and then a One-Touch Ultra with its exclusive strips. This product is equal in performance to the others, but the price is staggeringly lest expensive than either -- it is 6 times less than One-Touch Ultra ($9.00 for 50 test strips versus $53.01 for One-Touch Ultra; and 3 times less than the AccuChek test strips, which are no longer being made at $27.00 for 50 strips). I need to test 5 times per day, so the ReliOn Prime is my product of choice, especially since my supplies are no longer covered by insurance. I talked to my physician about my find and she has no preference about what meter her patients use, but that they acquire one and use it. She made a note to pass the information about ReliOn Prime and its open availability at Wal-Mart stores and on one to her patients, many of whom are similarly situated to me in that their insurance does not cover their diagnostics. She was grateful. Affiliated with University Hospitals of Cleveland, Ohio.
NicholasNom
Essential tools for diabetics
One of the most essential aspects of managing diabetes is regular monitoring of blood sugar levels. The biggest barricade to doing that is the high cost of test equipment - especially test strips. Many brands of test strips cost well over a dollar apiece, making frequent testing a costly proposition. Compound that with a lack of sufficient insurance coverage and many diabetics are left trying to manage their condition through guess work. The Relion Prime Blood Glucose Testing system addresses that problem: the meter itself is only $10 and the test strips, when purchased in 100 packs, are only 17¢ each, making it affordable to test, not only at mealtimes, but multiple times throughout the day - allowing the user to get a much better picture of how their blood sugar fluctuates and how their management techniques affect it. Not only is the price of the Relion Prime system a boon to those without insurance, it's actually often cheaper outright than than the patient co-pay on other systems. Relion and Walmart have made it much easier for diabetics to effectively manage their health.
JoeR
Best Deal
I can't vouch for the accuracy, one way or the other. What I can say is that I have found nothing more affordable. These are more affordable than me getting strips through my insurance. Because they are so affordable and purchasable without a prescription, I can take a reading whenever I want without worrying about having enough or the cost. I can run experiments seeing how certain things affect my blood sugar. In fact, I have run tests and discovered that the meter for these strips can actually measure drinks and detect if they are diet or not. In an age where Walmart is constantly under attack, I very much appreciate that they make medical supplies so affordable, especially for those that can't afford it.