Equate Makeup Remover Cleansing Towelettes, 40 Ct, 2 Pk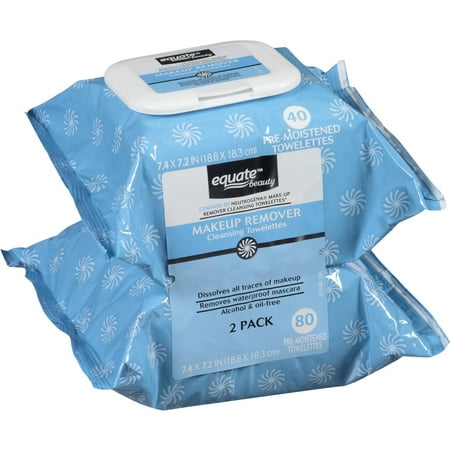 Sale :

$5.97

Sold & shipped by Walmart
Product Description

Additional Information

Reviews
Product Description
Additional Information

Equate Makeup Remover Cleansing Towelettes, 40-Count, 2-Pack:

Equate towelettes, 40-count package
Alcohol- and oil-free
Removes waterproof mascara
Dissolves all traces of makeup
Resealable package
2-pack
Reviews
Pink
Wonderful! I will always come back to these.
I was so surprised with these. They remove my makeup easily without having to scrub my skin harshly with the wipe. They are moist with makeup remover (if yours get a little dry, turn the packaging upside down until you need another one and then they will be moist again). I also bought the nighttime soothing ones, but I do not recommend those due to the strong fragrance but these have little to no smell at all. I really like these!
BecauseMomSaysSo
Excellent product - Excellent price.
As some other reviewers have noted, these towlettes can cause the eyes to sting. HOWEVER, regardless of what the packaging says about "no rinsing needed", I *do* splash cool water on my face after cleansing and then apply moisturizer. No sting! I use these towelettes as my everyday facial cleanser even when not wearing makeup. I love them. They remove dirt, oil and dry skin and leave a nice smooth surface for moisturizer and really leaves my face feeling nice and soft. The smell is very pleasant, as well. I will continue to choose these over pricier brands (which always seemed to make my face tight and dry).
Bella
not moist enough
I've used this with satisfaction for a while but disappointed with my last purchase. Towelettes are dry
Teri
Horrible!
I will never use these again! They remove make up well, but burn my eyes like crazy! I have tried the blue and the purple package and they both do the same thing! I don't know why Walmart got rid of the old make up wipes that were in a longer package!? I'm so disappointed that they switched products because the previous ones were awesome and were my go to make up wipes for the quality, quantity, and price. Now I'll have to find something different.
Caroshina
They do the job!
Equate Makeup Remover Cleansing Towelettes do what they say they do. They clean your face of your makeup and a days worth of surface dirt and oils. I use them every night; the price is great. They smell nice too.