Special Kitty Outdoor Formula Dry Cat Food, 44 Lb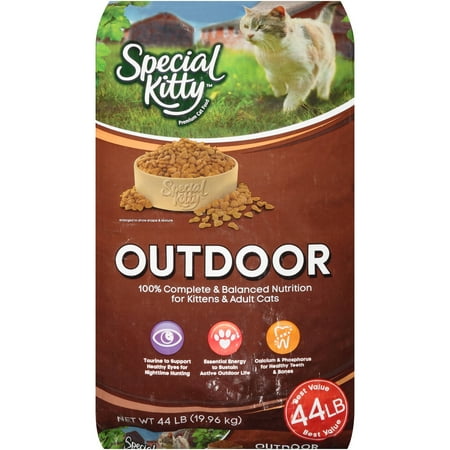 Sale :

$25.47

Sold & shipped by Walmart
Product Description

Additional Information

Reviews
Product Description
100% complete & balanced nutrition for kittens & adult cats. Taurine to support healthy eyes for nighttime hunting. Essential energy to sustain active outdoor life. Calcium & phosphorus for healthy teeth & bones.
The Special Kitty Promise: At Special Kitty we know that cats rule, and your cat is confident you would only serve her the very best food. That's why each one of our high-quality varieties not only uses wholesome ingredients that support your cat's health, but taste so delicious your cat may actually reward you with a smile. You can always trust Special Kitty to provide nutritious premium products that your cat will crave. It's the Special Kitty promise to your and your cat.
Nutritional Statement: Special Kitty Outdoor Premium Cat Food has been formulated to meet the nutritional levels established by the AAFCO Cat Food Nutrient Profiles for All Life Stages.
Additional Information
Special Kitty Outdoor Formula Dry Cat Food 44 Lb Bag:
Best Value
100% complete & balanced nutrition for kittens & adult cats
Simply moisten food for kittens for easier consumption
Supports eye care, bone health, and provides the energy for cats to play outdoors
Reviews
VickiHHH
barn cats
this is the best value for multiple outside (barn) cats
CrazyCatsLadiesLV
Life saver.
On top of our cat and his friend we are fostering, my wife and I feed at least 17 cats daily. Providing food to so many feral cats isn't cheap but this has definitely made all the difference in their world as well as ours, not to mention our finances. Every single kitty we feed this product to absolutely love it and they have all developed a muffin top gobbling it right up. We even have to sprinkle some into the food we feed the cats we have indoors because they love it too. This food is one of the few reasons we even tolerate going to Walmart. Even though going through 3 to 4 bags a month gets costly, knowing we make a small difference in the lives of several homeless and unfortunate kitties makes every cent well spent and worth it. Especially when a product that costs so much less than others we've tried can please every kitty..even the picky eaters. Will buy this for as long as we have the pleasure of helping those less fortunate.
Curious090
Thank you Walmart!
I have a colony that I inherited when I purchased a home. I saw the area had about 30 cats and many were skinny and not healthy and unneutered/unspayed. I went to the Trap Neuter and Release program at Feral Cat Colition of Oregon and I was able to neuter and spay them so now I have 25 cats to feed but no more multiplying. I was able to place about 5 cats in a sanctuary and in barns but of course, looking for barns and sanctuaries isn't easy and there is a waiting list so while I am waiting to get them adopt out by responsible and loving barn owners, this food can keep them happy with a full stomach. Thank you Walmart cause I wouldn't know what to do if this food were not available. My cats thank you too. I built them winter shelters as well and this food made the difference seriously. Thank you again!
feederofcats
Mixed Review
I brought 5 bags of this as the price is SO GOOD. Use it to feed outdoor cats. Gave all but one bag to 2 other folks. ALl 3 of us had the same opinion. The cat food is nice sized small pieces in different shapes and contrary to lots of opinions that had been given to me on facebook, I could not find that it was made in China. But it is not a hit with cats unless they are REAL hungry. The other 2 folks feed their outdoor stray cats this food mixed with canned or added to regular brand dry. I put it out plain but have noted that even the raccoons were not eating it! But the birds and the squirrels do love it. Not sure how it will fare in the summer humidity, being such a large bag to finish. The other 2 folks feed about 30 cats each daily so the poundage is fine with them. The other consideration is the 40 pounds. I found it very difficult to pick up and carry.
kyfrenchy
Special Kitty Outdoor Dry Cat Food - GREAT!
I love this food! Not only is it a great price, but it doesn't have any dyes in the food, either. The food is plain brown - as it should be in my opinion. No 3 or 4 different colors to make it look like different things. I do not own any house cats, but I do have 3 stray cats that come around that I feed. I ran out of this once and grabbed a bag at a local small general store to tide me over until I received the bag of Special Kitty I had ordered. All they had was a brand that had the multiple colors. Two of the 3 cats would not eat the multi-colored food. But all 3 will eat this food that has no dyes in it. So now I make certain that I order the next bag when I'm 2/3 of the way through the one that I have so that I don't run out. I also give them Special Kitty can food, but they like this dry food the best.