Equate Maximum Strength Sennosides USP Laxative Tablets, 20 mg, 90 Ct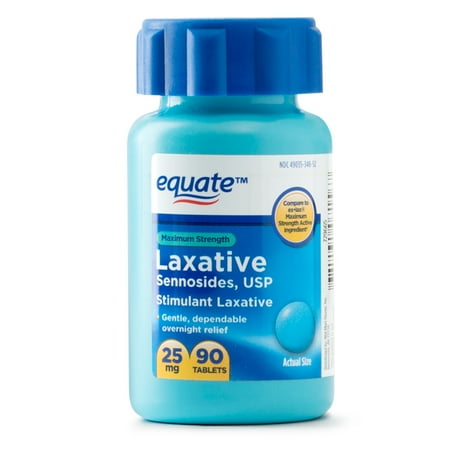 Sale :

$6.98

Sold & shipped by Walmart
Product Description

Additional Information

Reviews
Product Description
Additional Information
Equate Maximum Strength Sennosides USP Laxative Tablets, 20mg, 90-Count:
Relieves occasional constipation (irregularity)
Sennosides laxative generally produces bowel movement in 6 to 12 hours
For gentle, dependable, overnight relief
Maximum strength
Compare these natural laxative tablets to Ex-Lax
Reviews
Pixie
Tummy problems?
Mild for women and works without the cramping like ex lax!
Barbie
It's the only thing that truly works for me
I have spent hundreds of dollars trying to use only 'natural' products for constipation. Unfortunately, not one of them works like this. I must say I am loathe to have to use this because of all the 'non-natural' ingredients, but it's practically the ONLY un-natural product in put into my body. So I wil continue to use what works for me.
barbarosa
Great product but terribly expensive
Being on pain management I am left with two choices, a prescription for people that constantly take opiate type pain relief products, in my case a Fentanyl Patch or to use a laxative that actually works such as sennosides in the strength available by the Equate product that Walmart offers. I do think that Walmart could lower its price a bit however by simply returning to less expensive packaging as they used in the past.......the lightweight cardboard type box.......surely Walmart can come up with some way to lower the price of this product. Some of Walmarts indirect competitors often beat them price wise such as Dollar General but they, unlike Walmart are not always in stock. So Walmart if you are interested in helping some of us that use such products as this laxative on a regular basis you could simply find a way to lower its cost.
Jibby
25 mg Equate Laxative pill
Very dependable and priced to compete with expensive brands that do the same thing. Thank You, Walmart
Bellagirl105
Only thing that works for me
I have severe gastroparesis and this is the only medicine that works for me although my doctor had triede on several prescription drugs with no relief at all. I take this plus equate stool softener and it is the only thing that moves my system.