Equate Eczema Soothing Moisturizing Cream with Colloidal Oatmeal Skin Protectant, 7.3 Oz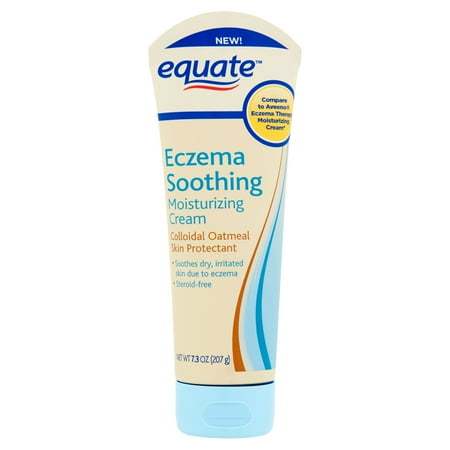 Sale :

$6.57

Sold & shipped by Walmart
Product Description

Additional Information

Reviews
Product Description
Equate Eczema Soothing Moisturizing Cream with Colloidal Oatmeal Skin Protectant helps provide care to your skin from eczema using the natural ingredient oatmeal. Irritated skin finds relief and is deeply moisturized to help skin's natural barrier plus help prevent extra-dry skin from reoccurring. Equate Eczema Soothing Moisturizing Cream is enriched with ceramides which help enhance the skin's protective function.
Additional Information

Equate Eczema Soothing Moisturizing Cream with Colloidal Oatmeal Skin Protectant:
Soothes dry, itchy and irritated skin resulting from eczema
Steroid-free
Fragrance-free
Dermatologist tested moisturizing cream for eczema
Colloidal Oatmeal Skin Protectant contains natural oatmeal
Deeply moisturizes
Helps skin's natural barrier
Help prevent extra dry skin
Enriched with ceramides that help enhance the skin's protective function
Treats dermatitis ailments
Offers quick relief
Tube contains 7.3 oz of Equate eczema soothing cream
Same active ingredient found in Aveeno Eczema Therapy Moisturizing Cream*
*This product is not manufactured or distributed by Johnson & Johnson Consumer Products Company, distributor of Aveeno Active Naturals Eczema Therapy Moisturizing Cream
Reviews
Joeself
Works at least as well as the Aveeno Eczema cream
I tried both of these creams and this works at least as well as Aveeno for less than half the price. A good alternative for people who don't have a lot of money.
jlcmwtc
Really good and much cheap than Aveeno
My grandson (12 months) has eczema so needless to say we go through a lot of lotion. We started out using Aveeno but decided to try this product because of the price. We were extremely surprised to find it works just as well as Aveeno. So don't be afraid to try this product!! It works.
Minibear82
Works almost as well as Aveeno
Recently, I broke out in eczema all over my feet and legs. Hoping to save some money, I decided to try this lotion instead of Aveeno. It relieved the itching on contact, and after a week of use, my skin is much softer. I've also discovered that it's an excellent hand cream; my hands are smoother than they've been in years. With that said, I don't think it works quite as well as Aveeno, because some of the rashes still haven't cleared up. With Aveeno, they're usually gone within 5 days. I think I'll continue to use this as a daily body lotion, and purchase something stronger next time I have another breakout.
Lacems
Gentle, moisturizing and effective!
I will not go back to any other lotion after using this wonderful lotion. I have sensitivity to perfumed stuff so this was literally grabbed on a whim while out shopping... I am so pleased with it! It is a thicker cream, very moisturizing and definitely curbs the itch on my wrists. It absorbs very easily without much effort at all. I would recommend this for any season, it isn't sticky and it doesn't need reapplication.
AntsMom30
Yes! Great product! Affordable!
I recently purchased this product and compared it to Aveeno Eczema Therapy Cream, which I also have currently have in my household. Equate performs wonderfully: quality just as good as Aveeno. It is HALF the price of Aveeno!!! HUGE savings!!! I feel comfortable using this on my infant son. I don't use store brand health and beauty products often, but this one is a winner!!!!!! I don't plan on spending $13 on Aveeno anymore.