Pet All Star Puppy Pads, 100 count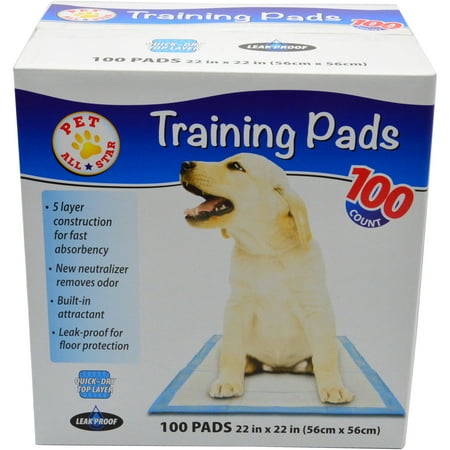 Sale :

$18.72

Sold & shipped by Walmart
Product Description

Additional Information

Reviews
Product Description
Keep your floors clean while training your puppy with Pet All Star Puppy Pads. These training pads feature five-layer construction for fast absorbency. They also include a scent that attracts puppies.
Additional Information
Reviews
MadFurchildMom
They Have Changed for the WORSE!
I have bought these for years and years for my 13 year-old dog and they have changed the way they make these pads. They are not as thick, the backing is not as thick, the color is light-blue instead of medium blue because they are using different materials. The edges are shorter and she needs every millimeter of those edges to catch pee with her aim. I could tell right out of the box they felt different without even looking. The first time I bought a smaller box than the 100 count, so thought maybe that was why. I then bought a 100 count and they were normal. I just bought another 100 count and they are the thin, worthless ones, so I must have gotten a good batch the last time that was still on the shelf before the quality changed. They didn't even fit in the box the same when I opened it. Something is very, very wrong and I am not happy at all. I spend a heck of a lot of money on pee pads because Cookie is old, pees a lot, and doesn't go outside because I live in the woods where it is dangerous for a little dog. I depend on good pee pads and do NOT like what you have done to them. My toilet paper might be thicker.
mmmeh
great for small dogs! cheap, big, has attractant
I have three small dogs, and these are great for having down on the floor where they are inclined to go in the middle of the night, as small dogs are prone to do. It makes cleanup very easy, and having the attractant built in is essential for my elderly dogs who navigate by smell at night. They're not the top of the line, but the quantity you get for the price is much more affordable than the Arm
LesP
They work great
I have a cat that had decided that carpet was more appealing than a litter box. To preserve my carpet I used these pads over the spot on the carpet she wants to use . They keep the urine contained. She has been dedicated to use the pads now. It has saved my new carpet, and solved a potential bad problem. When you love your pets, sometimes you go to great lengths.
SisterMomGranny
Disappointed
Pricing is great for the amount you get. Love the size of each pad. However, they don't absorb very well. One use and the urine has soaked through. Because of this, I think the quality isn't that good at all.
Missimin
Pet All Star Puppy Pads
My dog is 5 lbs. and they work fine. I do pick up the pad right after she goes so I don't know if the pad would leak if it was left down for a long period. For me, these work perfectly and they're a great price.