Assurance Underwear, Women's, Size S/M, 20 Count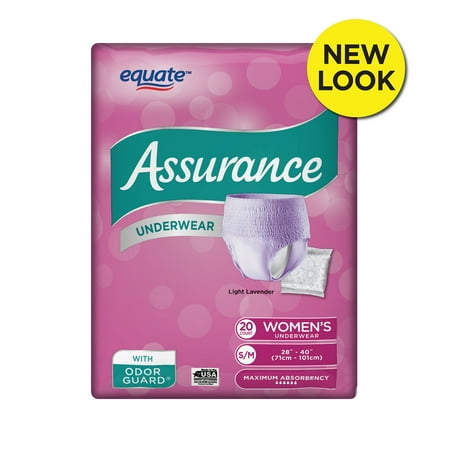 Sale :

$7.88

Sold & shipped by Walmart
Product Description

Additional Information

Reviews
Product Description
Assurance Underwear offers you discreet and comfortable protection. This women's disposable underwear offers maximum absorbency that locks away moisture keep you dry. It is specifically designed and fitted for women; the Comfort Shape Protection offers a soft and discreet fit. The Contour Core allows better fit for between the legs. The breathable material allows you to stay cool and happy. The Odor Guard helps to keep odor from forming. They come individually wrapped for convenient and discreet access in your purse, gym bag, or glove compartment in your car. This underwear can be worn day or night. The size S/M are made to fit a waist of 28" to 40" in diameter.The Assurance Underwear provides you with the comfort and protection you need.With a full range of product, Assurance lets you feel comfortable and dry while living your active, on-the-go lifestyle.
Additional Information
Assurance Underwear, Women's, Size S/M, 20 Count:Fits a waist of 28" to 40" in diameter Comfort Shape Protection offers a discreet and soft fitOffers maximum absorbencyBreathable material allows you to stay cool and comfortable Odor Guard helps to keep odor from formingPut in your purse, gym bag or glove compartment for easy access
Reviews
Dreams008
Terrible, Cheap Product. You get what you pay for.
I am completely baffled by the amount of positive reviews for this item. I have MS and I have tried other incontinence underwear, however, I was looking for something a little bit more dependable. I read the reviews of this product and really thought I was going to receive a product that works. The minute I put these on, I knew that not only wear these cheaply made, there was no way it was going to hold the way other products do. The leg openings are very large. There is not enough absorbable product in the back of the underwear. Also, the cotton that absorbs, bunches all up into lumpy areas. I am so glad I only paid$7 for these, because they are immediately going in the trash. You really do get what you pay for. Do not trust the positive reviews. I know it is hard to believe the few negative, but you will regret purchasing this product if you do so. I weigh 127 lb and this is supposed to go up to 190. So you can imagine why the leg openings are so wide and loose.
Marjorie E
Great service
I regularly purchase this item. Better than having to go to the store! Love the quick delivery.
MommyLicious3
Awesome Idea!
I can't barely walk and was starting to have accidents and I was using regular pads and they work for a while but when I found these I was super excited because of the price. It had occurred to me to buy depends but because of the price I continued using regular pads but shopping on Walmart online I found these and decided to give them a try. I found they were cute and absorbent but you need to get the right size because if they are big on you they will leak. I had lost a lot of weight but since I barely go out I didn't noticed. Now I buy the big box and the package with the pouch for when I go out, that way if anyone would look in my purse they won't see diapers. I also have a cosmetic pouch were I store them so they are not out in the open in my purse. If you are not sure about trying them you can always buy the smaller packages and give them a try. The good thing is that Walmart delivers pretty fast, they give you and estimated day of delivery but you always get your packages 1 to 2 days later unless whatever you buy is from another company thru Walmart.
REV147
KEEPS ME DRY AS TENA AND DEPEND BRANDS
I was on a tighter budget this month, so bought these, since they were a few dollars cheaper. They seem to be made of slightly thinner padding, but still did the job, of keeping me dry :-) Many thankus again Wal-Mart, for helping me save money, and may God bless you always! :-)
Marmi55
great deal
great deal,just as good as depends for almost 1/2 the cost. i used to only buy depends until I saw this brand and I switched for the great price!