Assurance Incontinence Underwear for Women, Maximum, L, 18 Ct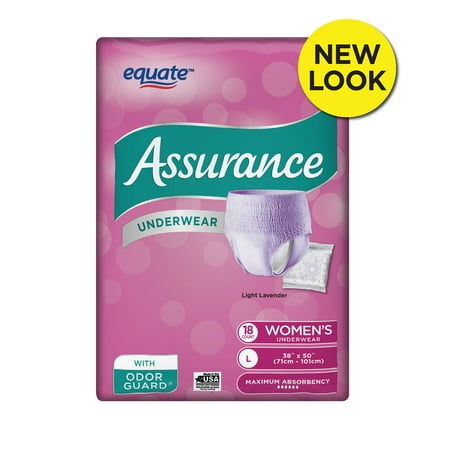 Sale :

$7.88

Sold & shipped by Walmart
Product Description

Additional Information

Reviews
Product Description
Assurance for Women Maximum Absorbency Protective Underwear is designed and fitted specifically for women. It offers features that are designed to help the wearer feel cool and confident. This women's underwear offers reliable protection. It is now also conveniently folded and wrapped. It is placed in a PurseReady Pack for extra convenience. It also offers Comfort Shape protection for a soft and discreet fit. With its slim feel, the wearer can walk around freely. This protective large underwear features a form-fitting shape and stretchable, breathable waist panels for containment that safeguards with a comfortable fit. It contains a specialized Omni-Odor Guard for high absorbency. This helps to quickly hide odor and lock away wetness. Its comfort and functionality fosters a happier, more productive mood.
Additional Information
The extra security that it provides adds to self-confidence and self-esteem. Try it today and see for yourself how you feel. Assurance for Women Maximum Absorbency Protective Underwear is an optimal choice for increased comfort and safety.
Assurance for Women Maximum Absorbency Protective Underwear, Large, 18-Count:
Large fits waists size 38"-50"
PurseReady Pack: Protection you expect and now conveniently folded and wrapped
Disposable underwear designed and fitted for women
Comfort-shape protection for a soft and discreet fit
Maximum absorbency to quickly lock away wetness
Omni-Odor Guard helps control odor
Daytime and nighttime use, now in soft lavender with soft-stretch waistband
Large underwear with soft, breathable material that stays cool and comfortable on the skin
Reviews
Oldilocks
A Lifesaver Since I Twisted My Knee!
I twisted my knee a few weeks ago and it's been very hard to get around. (I'm even having to use a walker!) I'm at the age that when I have to "go," I have to GO, but I wasn't able to get to the bathroom in time -- no matter how much I swore as I hobbled. But even before that I'd wet the bed just trying to maneuver to get up out of it. (Even though I was wearing a pad, it would move around and leak). My sister suggested these, and they're a lifesaver! I can't believe how much they hold (all of it) and there are no leaks! I'm 5'9, weigh 230 pounds, and this size fits me perfectly. I "discovered" these particularly because of my bad knee but I'm going to continue wearing them at night, rather than a pad, because they're comfortable, don't leak - and they're actually pretty.
DebbieL
Strong absorbancy
This product has good daytime and overnight absorbancy. The only issue I would like to see addressed is the fact that frequently the elderly have issues with arthritis, and there is a wrapping around the product that requires a good, strong pull to remove. Obviously, pulling can be painful for arthritics, so I would recommend removing the wrapping, and for all the cost that might include (and to transition that cost to serve those who like the wrapping) you might perhaps include one complimentary, reusable and recyclable plastic privacy pouch for those who need to have a concealed spare in their purses, etc. Having the underware "unfettered" --as it were--in the original packaging is really ideal for those who need to use it daily and without any extra painful steps in doing so. Thank you for any consideration. D.L., Phoenix, AZ
June
Fit great
They fit great and they not bulky and when have pants or skirt on can't tell wearing them. Really liked them. Also can get the pkg that has them folded in a wrap that can go in your purse that makes them really great.
Mama
size Large
Fits pants size 10-12, nice fit- great absorbancy and like the purple color
BARBEEJEEN
You get what you pay for
These briefs are very thin and do not hold up to any maximum protection. I will not buy them again. I only used two out of this package and went back to Attends. Major leakage and over flow. Overnight protection is absolutely out of the question.