Assurance Incontinence Underwear for Women, Maximum, L, 18 Ct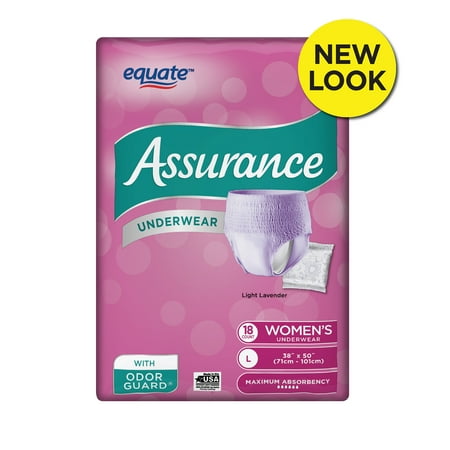 Sale :

$7.88

Sold & shipped by Walmart
Product Description

Additional Information

Reviews
Product Description
Assurance Underwear offers you discreet and comfortable protection. This women's disposable underwear offers maximum absorbency that locks away moisture keeping you dry. It is specifically designed and fitted for women; the Comfort Shape Protection offers a soft and discreet fit. The Contour Core allows a better fit for between the legs. The breathable material allows you to stay cool and happy. The Odor Guard helps to keep odor from forming. They come individually wrapped for convenient and discreet access in your purse, gym bag, or glove compartment in your car. This underwear can be worn day or night. The size L is made to fit a waist of 38" to 50" in diameter. The Assurance Underwear provides you with the comfort and protection you need. With a full range of products, Assurance lets you feel comfortable and dry while living your active, on-the-go lifestyle.
Additional Information
Assurance Underwear, Women's, Size L, 18 Count:Fits a waist of 38" to 50" in diameter Comfort Shape Protection offers a discreet and soft fitOffers maximum absorbencyBreathable material allows you to stay cool and comfortable Odor Guard helps to keep odor from forming
Reviews
Oldilocks
A Lifesaver Since I Twisted My Knee!
I twisted my knee a few weeks ago and it's been very hard to get around. (I'm even having to use a walker!) I'm at the age that when I have to "go," I have to GO, but I wasn't able to get to the bathroom in time -- no matter how much I swore as I hobbled. But even before that I'd wet the bed just trying to maneuver to get up out of it. (Even though I was wearing a pad, it would move around and leak). My sister suggested these, and they're a lifesaver! I can't believe how much they hold (all of it) and there are no leaks! I'm 5'9, weigh 230 pounds, and this size fits me perfectly. I "discovered" these particularly because of my bad knee but I'm going to continue wearing them at night, rather than a pad, because they're comfortable, don't leak - and they're actually pretty.
NotYourAverageGranny
Don't Risk It
These are not the thing for an active working woman. I "gush". First "gush" in these and I felt something warm running down my let. Fortunately, I was at home 'cause that would have been Super Professional in the office.
DebbieL
Strong absorbancy
This product has good daytime and overnight absorbancy. The only issue I would like to see addressed is the fact that frequently the elderly have issues with arthritis, and there is a wrapping around the product that requires a good, strong pull to remove. Obviously, pulling can be painful for arthritics, so I would recommend removing the wrapping, and for all the cost that might include (and to transition that cost to serve those who like the wrapping) you might perhaps include one complimentary, reusable and recyclable plastic privacy pouch for those who need to have a concealed spare in their purses, etc. Having the underware "unfettered" --as it were--in the original packaging is really ideal for those who need to use it daily and without any extra painful steps in doing so. Thank you for any consideration. D.L., Phoenix, AZ
June
Fit great
They fit great and they not bulky and when have pants or skirt on can't tell wearing them. Really liked them. Also can get the pkg that has them folded in a wrap that can go in your purse that makes them really great.
H
Questions
Are these for periods? Is there in it a pad already? I got confused...