Assurance Incontinence Underwear for Men, Maximum, L/XL, 18 Ct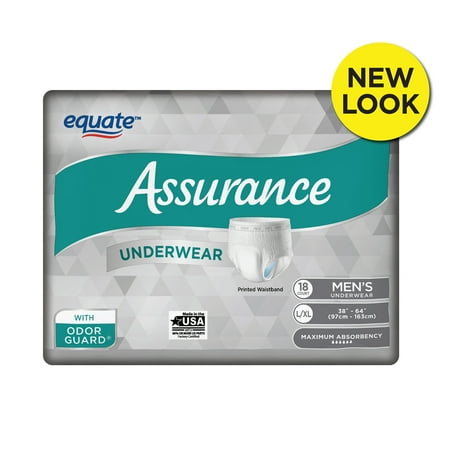 Sale :

$7.88

Sold & shipped by Walmart
Product Description

Additional Information

Reviews
Product Description
Assurance for Men Maximum Absorbency Protective Underwear is designed and fitted specifically for men. It comes with Comfort Shape protection for a soft and discreet fit. This absorbent underwear features stretchable, breathable waist panels for containment and protection along with a comfortable design. Assurance underwear, Large/Extra Large, 18 count quickly locks away wetness and helps control odor and can be used during the day or at night. The stretch printed waistband and soft material helps you to stay cool and comfortable. They provide you with the comfort and protection you need to continue on with your active lifestyle. Start your day without worrying about a sensitive bladder with the discreet and maximum protection that this underwear offers.

Additional Information
They help you to continue to do what you love everyday and they fit and feel more like underwear and not diapers and they make changing very convenient. The label on the back helps to you to identify front from back. Assurance for Men Maximum Absorbency Protective Underwear provide for daily comfort, are reliable and easy to use.
Assurance for Men Maximum Absorbency Protective Underwear:
Locks away wetness
Soft and discreet fit
Assurance underwear, large/extra large, 18 count
Provide comfort and protection for active lifestyle
Reviews
whytegold
Just as good as any other
This is just as good as any other pull on. It will take a full two wettings no problem. A third and you might leak. Was able to get though a 2 1/2 hour theater movie with no leaks. I would buy a size bigger than you normally wear with any brand of pull on. Why pay more when these do just the same. All of the brands leak if you try to sleep in them. Especially if you are a side sleeper. Good price and they are no better and no worse than the name brands. Rubber or plastic pants along with a pull on MIGHT get your through a night if you absolutely have to do that.
RVperson
Had high hopes, but...................
My husband fell and had to be admitted to a rehab facility. Bed ridden until he can get his mobility back, he needed men's absorbency underwear. He is a large man in the waist, so I got these that were supposed to fit up to a 64" waist. They don't. They are tight and don't stretch out easily to maximum size. He is terribly disappointed
StargateMD
They fit my needs perfectly
I find that the Assurance briefs are perfect for my needs. I have needed a product of this type after having a colostomy reversed and having a few problems. They fit well, are comfortable and do the job for a much lower price than the big name brands. I have had no problems with leakage or odor.
MisterB
Protective Underwear
Great solution for Men who have this type of problem. Works well, and is at a good price.
123easyshopping
Too thin ....
I decided to give these a try for my 89 year old husband. We have used Depends the past five years or so. Like the saying goes, you get what you pay for ..... These did not work out, too thin, not good in catching accidents ......