Equate Cotton Swabs, 1000 count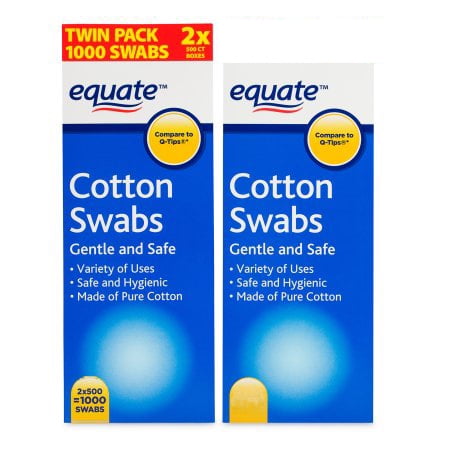 Sale :

$3.68

Sold & shipped by Walmart
Product Description

Additional Information

Reviews
Product Description
Additional Information

Equate Cotton Swabs:
Safe and hygienic cotton sticks
Made from pure cotton
Equate swabs are suitable for personal hygiene, make up application and more
Reviews
Lala
95 out of 100 That's excellent in my book.
Tightness of cotton tip weave and it's adherence to the medium strength paper stick is good. Strength and Thickness of cotton strands used in the weave is good when compared to other top selling cotton swab brands. The packaging is fine, for oft times people place their cotton swabs in another container for convenience. There Are two things to be mindful of: the paper stick and the tightness of the swab tip weave. First, the strength of the swab's paper stick is adequate for the proper minimal pressure that one is supposed to use in hygiene routine and is fine for basic first-aid needs. But, if a swab stick must remain straight when exerting more pressure, like in using with crafts/detailing the car dash etc, this stick will bend. Second, the tightness of the cotton swab tip weave is good for the hygiene routine, but will not be consistent enough when one requires exact and unwavering support like with painting/on-point gluing etc. So, when you need a decently made, paper stick, good cotton swab, the Equate brand Cotton Swab two-pack of 500 each, is THE best value for the money. I have tried more than fifteen brands, and now make sure to always have a stock of Equate swabs in my restroom cupboard!!
John
Decent offering for the price
These equate cotton swabs will get the job done. There is plenty of cotton at the tip for my needs. I did take away two stars because unlike real Q-tips brand swabs the paper stick is NOT comparable in strength. The Equate brand stick frequently bends under pressure when cleaning my ears. I'll be trying to swab my ears after getting out of the shower and the stick will practically collapse under the pressure where as Q-tips brand offers a much better and stronger product. I reduced the stars for this Equate offering because it is not -- contrary to what the package says -- equivalent to name brand q-tips.
S8492
You get what you pay for
I went with the Walmart, cheaper brand, figuring, hey, they are just q-tips. I was wrong. The part that you hold is flimsy and bends easily and the cotton part doesn't seem to "grab" like a q-tip brand does. My husband hates them and was just going to throw them out. I was going to take them back, but figured we could deal with it. I'm not sure I can "deal" with it for 1000 swabs.
Aimee
Honestly the best deal you can get out there.
This Equate cotton swabs pack is enough for the whole family for the year. It's a great value for what you're getting. This pack is one of those packs where you can buy it once and not have to worry about buying cotton swabs again for a really really long time. Even if I'm not supposed to, I use the cotton swabs every day for my ears after I shower, and there is no worse feeling than running out of cotton swabs. Straight up, will not have to worry about that again for a really really long time. These cotton swabs are soft and comfortable, they're also great for removing nailpolish around your nail beds. There are tons of uses for cotton swabs, and it's silly to pay more for other premium brand cotton swabs when you only use each for a few seconds anyways before disposing. I received this product at a discount in exchange for my unbiased review.
crystalclear
Same quality as the dollar store
The cotton wasn't spun on tightly so it was pretty much useless unless you don't mind the stick poking you. It's not worth the gas to return this. Maybe my kids can use it for an art project.