Pure Balance Grain Free Salmon & Pea Recipe Food for Dogs 24lbs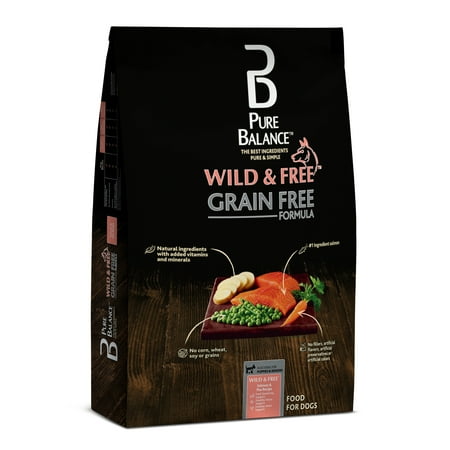 Sale :

$32.88

Sold & shipped by Walmart
Product Description

Additional Information

Reviews
Product Description
Pure Balance provides the best ingredients for pure and simple nutrition. It contains only natural ingredients with added vitamins and minerals.
Additional Information
Real Salmon is the first ingredient
Grain Free
No Corn, Wheat or Soy Recipe
Natural ingredients with added vitamins & minerals
No artificial flavors, artificial preservatives or artificial colors
Reviews
Gerry
Wish I had found this earlier.
I recently switched my two medium size dogs to Pure Balance grain free Salmon & Pea dry dog food. I wish I had found this much earlier! Both of my girls love this stuff! I had been reluctant to switch to a grain free formula because they were so expensive. WalMart was able to deliver this grain free product at a price that was reasonable, so I tried it. I'm impressed. They love it and it loves them. Their coats are shinier and they shed less. Their poop has tightened up and is less runny. Their allergies have improved. They are more active, even at 9 years old. They have slimmed down and look really great. I have always tried to feed them according to package directions, but even at less than suggested amounts the non-grain free foods seemed to make them fatter. Thank you WalMart for supplying a good grain free dog food at a sane price.
GrainfreeDogs
Beautiful coats and happy dogs!
My two dogs have been on this grain-free dog food for about 3 years. My golden retriever used to have thin hair with very few feathers on her legs. After about 6 months she had has lots of feathering! I noticed that they require a little more food to make up for less fillers. They have less itching and dry skin also. Think about it- it makes sense- dogs in the wild wouldn't eat the tops off of a wheat stalk! But they do eat fish, meat and and greens. Reasonably priced for comparable grain- free products.
LovethisFood
My dogs love it
My dogs love this food, and I love giving them something that is better for them. Grain free. High protein. My dogs are in better digestive health.
Ron
Opened bag of dog food.
Bag was shipped with a big rip in it that was taped up haphazardly. Due to potential infestation we immediately threw it out. Contacted customer service. Never heard back weeks later .
Jami
Great dog food
I have three dogs ranging from a 2 year old weighing 10 pounds to a 9 year old weighing 90 lbs. Pure Balance is the only food I give them, any of the grain free flavors. I have seen a huge difference since I switched 2 years ago and it's all my baby has ever eaten.