Assurance Premium Extra-Large Disposable Washcloths, XL, 144 Ct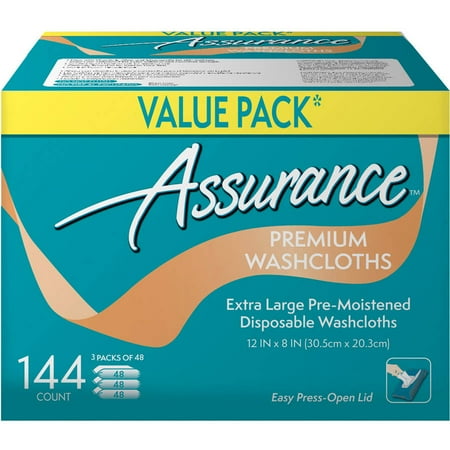 MSRP :

$8.22





Sale :

$6.97

Sold & shipped by Walmart
Product Description

Additional Information

Reviews
Product Description
Stay fresh and clean whether at home or on the go with Assurance Premium Washcloths. Cotton enhanced for softness, strength and a washcloth-like texture, these pre-moistened wipes are a great buy for promoting convenient personal hygiene. Assurance washcloths provide all the cleaning power of traditional soaped hand towels with the disposability of face tissue. Strong and treated with lotion for a gentle cleansing experience, Assurance washcloths are generously sized for full personal cleaning. The best part is that they can be tossed out immediately afterward. With a convenient press-open lid and single-hand dispensing for uncomplicated use, Assurance Premium Washcloths are a good option for on-the-go sanitary wipes or outdoor adventures when bathing is not feasible. Be assured of freshness with these Assurance washcloths.
Additional Information
Assurance Premium Washcloths:
Stay fresh and clean whether at home or on the go
Enhanced for softness, strength and a washcloth-like texture
Provides all the cleaning power of traditional soaped hand towels with the disposability of face tissue
Generously sized for full personal cleaning
Value pack
Reviews
Fran
Good product
Recently a friend was having a tough day going w/out water in the bathrooms and she was NOT too happy about it... So I think I may of come to the rescue by dropping off some of the Assurance wash cloths for her to to use and "try".... I surprised her by doing this and perked up her day a little... it's always nice = an act of kindness...and I hope all & all it helped her to get thru this ordeal. I know these cloths are GREAT !! I told her she will feel much better after using a few of these cloths - to cool off & clean up ....and perhaps feel more "refreshed" - - - - -hey, it's like she has gotten a shower with the help of these quality wash cloths.....!! Yippie !! We the customer peeps that use this GREAT product are super grateful that you, the "Wally" (!!) = WALMART , carries them all the time. KEEP THEM IN STOCK, PLEASE !!!!!.....So, thank you, thank you, thank you !!! A devoted Assurance user. Great items to keep "on hand"....no matter where.....especially if a person is handicapped. So, THANK YOU VERY MUCH, again !
Sara
Perfect for post-surgical patients & more
I've just had knee surgery and in my pre–surgical planning, I bought these Assurance Premium Wash Cloths, extra large, 144 count. I was surprised at how large they were. Not only that but they are also much, much thicker than the average baby wipe type thing. I have been able to stay fresh as possible thanks to these cloths. Of course, nothing beats a nice shower or bath but in the meantime, these cloths are very effective and useful. I like to warm them before use for that extra little bit of comfort. These will be perfect for anyone that needs a quick freshen up... from an active person that exercises during their lunch break to the less fortunate folks that are unable, for whatever reason to jump in the shower. These disposable washcloths put regular wipes to shame! The price is absolutely amazing for such a useful and effective product. I highly recommend them for anyone.
pyrette
Yes Premium
These are the only cloths I will purchase for my disabled grandsons needs. After 18 years of cleanings I've tried them all and these are the best quality, the best value. If i remright, I think we go through two boxes a month. I use two sheets at a time. You can clean in water too, they hold up great.
InterredFerguson
Elusive as Sasquatch
Great value on a pretty good product....but ratings don't mean much on a item that's never in stock. I used to get these in my local WM, but they've been yanked from nearly every WM within a 100 mile radius. Even the individual 48ct packages are getting scarce. Sure, I'd recommend them to a friend, but would wish him or her luck in actually being able to purchase the item
xyzreview
these do not rip
Love these wipes because they do not rip apart even with vigorous use. The smell is not the greatest. They smell sort of like baby powder. Would prefer a cleaner or fresher scent but the fact that these disposable cloths are very large and do not fall apart when you use them more than makes up for the way they smell.