Equate Tear-Free Baby Wash & Shampoo, 28 Fl Oz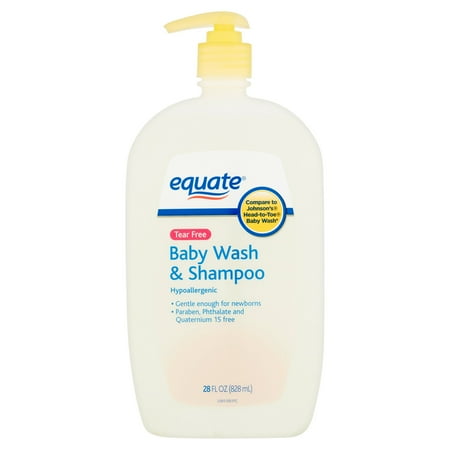 MSRP :

$3.42





Sale :

$2.98

Sold & shipped by Walmart
Product Description

Additional Information

Reviews
Product Description
Equate Tear-Free Baby Wash & Shampoo is an ultra-mild cleanser designed especially for a baby's delicate skin. Created for use over the baby's entire body, the rich lather effectively cleanses his hair and skin and rinses easily and completely without irritating eyes or skin. With no harsh chemicals to cause irritation, you can use this 28-fl oz bottle of baby cleanser as often as you like to keep your little one clean and smelling fresh.
Additional Information
Equate Tear-Free Baby Wash & Shampoo, 28 Fl Oz:
Hypoallergenic
Gentle enough for newborns
Paraben-, phthalate- and quaternium-15 free
Dermatologist- and allergy-tested
Reviews
gentleman
They ruined it
This product used to be very good but now the Equate baby products are made in Canada and they changed the formula. The formula now resembles the horrible stuff in the new and improved Johnson's head to toe baby wash. The old ingredients just of lately were just fine the baby wash used to smell nice and was not irritating to sensitive skin. Now I got a bottle of this and they updated the packaging and the pump was wrapped in plastic and when you see the back of the bottle you can clearly see how they changed the ingredients. Walgreens and CVS also changed to this version and it is not as good anymore. This new wash smells bad and it makes my face feel very hot and red. My advice to anyone who suffers from skin conditions and was using this as there face wash is to stock up on the old bottles and use them sparingly. I feel like nothing makes sense anymore.
GroovyUnicorn
New Soap Smell and Pump Design are Lacking
I buy this to use as hand soap at all our sinks just because it's in a big (28 oz.) bottle and with 3 kids I was refilling those little soaps all the time. They have changed the formula/smell, and the bottle. I don't care for the new smell, the old scent was very pleasant/light. The old bottle designs would leak fairly often, like the lid would come unscrewed enough to leak on the way home from the store if you didn't keep it upright. So I suspect that is why the lids are different now, and wrapped in sturdy plastic. Like it's adult-proof plastic because I have to use scissors or a steak knife and it's still not easy. And then if you can get that plastic off, good luck getting the pump to unscrew/pop up where you can easily use it. There is no arrow showing which way to turn to open it, but assuming it's like most soaps and shampoos, I turn and turn and nothing happens. I've had 4 do this. So I just saved the old pump that works and switch out pumps when I get a new bottle. IT'S A BIG PAIN and a mess. And it'd be nice to use the nice new CLEAN pump that comes with the new bottle. This is a serious design flaw that they need to fix. Selling a PUMP action soap dispenser where the PUMP only works half the time. So I've been buying Baby Magic instead. No problem with the pumps on the Baby Magic, and it smells nicer, to me anyway.
sunshinemalikah
Good amount for price
Just as good as Johnson's and Johnson and cheaper. To me its the same quality.
Sandyb
Former formula (pictured) is great.
Well, my fears have come true! They have changed the formula and I hate it. The former formula was perfect the way it was, but unfortunately they've very recently changed it and I will be returning the new formula I bought from the Wallmart store. I used to use Johnsons Baby Wash and loved it, but their "new and improved" formula had glycerin added and it made me feel clammy, kind of like I had film over my skin that wouldn't let my skin breathe. I tried to like it, but I couldn't get used to it and was SO happy to have found that the Equate baby wash didn't have glycerin. I was SO OO hoping that Wallmart wouldn't change the ingredients and especially add glycerin. Today I gleefully traveled 45 min. to nearest Wallmart to get my favorite soap that made me feel so refreshed before going to bed and saw that they had changed the packaging and added glycerin. I tried it and hated it. It gave me that clammy yuck feeling just like the new Johnsons baby wash, and worse, I noticed my eyes started to burn some and skin started to itch some. I didn't have the fresh feeling I had before and like one of the other reviewers said, I noticed it gave my face and neck a hot feeling. Everything seems to have this glycerin now and I hate it!!! I'd give anything to have the original formula back.
HapeePupee
Allergen ingredients; smelly; drying
I admit I'm surprised that this product works for so many people. I ordered it to try for myself (not a child), in the hopes that I could save money on a product that presumably would be suitable for those sensitive to common allergenic ingredients (since it's marketed for use on babies). My review will be based upon the fact that I have mostly used natural type products in my life. First, I was very put off by the strong chemical smell. It's highly unpleasant and I nearly threw the product out based just upon that. However, I convinced myself that, despite the stench, and the ingredients list which shows several known common allergenic ingredients in the product, maybe it really would be okay. I tried it both as a shower body wash and shampoo. Yikes it smells like bathing in the worse chemically soap you ever had the displeasure of encountering in some isolated gas station on a road trip. My scalp and hair after using this product was horribly dry, such that I had to apply something to relief the discomfort. It did not do a decent job of cleaning my hair, basically leaving me with a very dry, peeling scalp and straw-like hair that easily matted and got oily very fast (presumably the body's attempt to deal with the dryness this product caused). That is why I decided to come back and leave this review. If you can use it, great; however, I would caution parents to be sure this product isn't causing their infants discomfort. For adults considering this under the assumption that it will be mild for those with sensitive skin, I'd say give it a miss.