Equate Mini Nicotine Lozenges, Mint Flavor, 2 mg, 108 Ct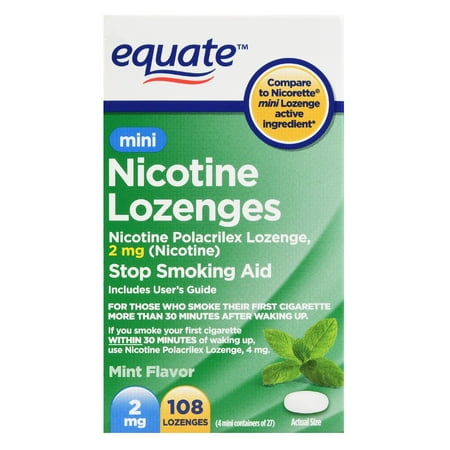 Sale :

$30.98

Sold & shipped by Walmart
Product Description

Additional Information

Reviews
Product Description
Improve your chances of quitting smoking with Equate Nicotine Lozenge Stop Smoking Aid. It is designed for users who require a cigarette within 30 minutes of getting out of bed, and it slowly removes the desire to smoke. These mini nicotine lozenges are gluten-free and come with an instruction guide for proper use.
Additional Information
Equate Mini Nicotine Lozenges, Mint Flavor, 2 mg, 108 Count:
For those who smoke their first cigarette more than 30 minutes after waking up
Mint flavor
Nicotine Polacrilex Lozenge, 2 mg
108 lozenges
Using Mini Nicotine Polacrilex Lozenges Properly
Remember,
mini Nicotine Polacrilex Lozenges aren't like ordinary lozenges such as cough drops.
This lozenge is designed to deliver nicotine into your system through the lining of your mouth, not in your stomach like most other medicines. It is important to minimize swallowing the dissolved medicine in these lozenges so that it can be properly absorbed in your mouth. Do not use more than one lozenge at a time, or many lozenges one after another since this can cause hiccups, heartburn, nausea or other side effects.
Reviews
Redhatmari
Nicotine Mini Lozenges
These are affordably priced lozenges to,quit smoking. They work very well for me and are less expensive than the name brand.
Morgan
Huge Help
These make smoking cessation so much easier. Love the small size of the lozenges and easy-to-carry containers.
Mike
It works
Good unit price, and definitely works like a 'port in the storm' if you're trying to quit. After a while you forget and use less and less until it's time.
riverrat119
Sure worked for me!
They really worked for me 'tho at first the taste might not be great they do grow on you. Really like the mini size best
murracle
Excellent Value, Much Less than Nicorettes
Haven't smoked in 16 months and no desire. The 4 mg are too strong for me, but the Equate 2 mg Mini's are perfect for those craving moments and small enough to discreetly pop one in your mouth most anytime. Only down side is that they have recently been MIA in the stores, though plenty of Nicorettes on the shelves if one wishes to pay the price. Previously, the Equate Mini's were only sold in the stores, not online. Now, the marketing seems to have done a 180. All in all, a great experience. FYI - I had previously tried the full-size Lozenges (any brand) but they didn't work for me and were too large to hide. Like the gum, it felt like I was constantly eating and/or explaining, especially at work. With the Mini's, no explanation is necessary.