Equate Beauty Refreshing Apricot Scrub, 6 Oz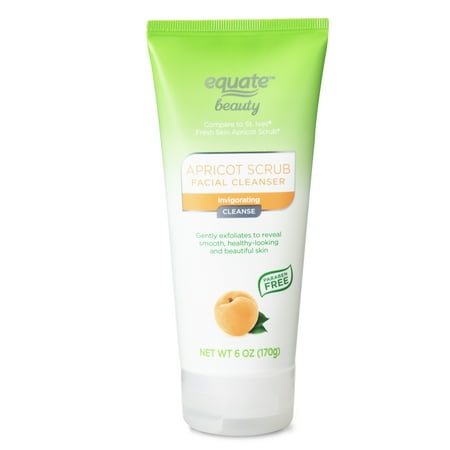 MSRP :

$2.78





Sale :

$1.97

Sold & shipped by Walmart
Product Description

Additional Information

Reviews
Product Description
Equate Beauty Refreshing Apricot Scrub helps you reveal soft, healthy, more-radiant skin. It gently removes dull, dead skin cells with the aid of natural exfoliants. It is soothing and invigorating to skin. This natural exfoliating scrub is non-comedogenic and free of oil, sulfates and parabens. It is dermatologist tested for safety.

Additional Information
Equate Beauty Refreshing Apricot Scrub, 6 oz:
Apricot face scrub is soothing and invigorating to skin
Contains natural exfoliants
Non-comedogenic
Sulfate- and paraben-free
Dermatologist tested
Oil-free
Cleanses away dirt, grime and oil
Reveals radiant, healthy glowing skin
For all skin types
For best results: use 3 to 4Xs each week
Compare to St. Ives Apricot Fresh Skin Apricot Scrub
Reviews
Disappointed
Change in formula
I always buy two tubes as I hate to run out. I suffer from acne and this scrub worked perfectly to exfoliate my dry but sensitive skin. The store had been out of stock for some time so I purchased a dupe from another chain store. It was awful, it smelled odd and made me break out. My Wal mart finally restocked and so I purchased 2 tubes. As soon as I used the equate brand again it reminded me of the other chain stores formula. I still had an old tube from equate and I noticed the packaging is different and the ingredients are different. It smells very chemical and leaves residue that clogs my pores unlike the prior formula. I will no longer be purchasing this and will start purchasing the St. Ives again but from a different chain store.
Farreyes
excellent scrub RJ
paid $1.97 cents for this scrub. its the best price ever. it looks just as good as St Ives. I would definitely recommend this product
PTZack
Good Stuff
Having a skin condition that has no medical treatment, this product does an amazing job of managing my symptoms. It's more coarse than its competitors, which I rely on, and being un-scented really cuts back on itritation!
EdjuCat
Formula has changed!
I have been a faithful fan of the Equate Facial Scrub for more years than I care to remember. To me, it was pretty much spot-on to St. Ive's stuff. However, the tube I just bought a few days ago is noticeably different. It's not nearly as creamy and it has a really off-putting smell. Also, it leaves a slightly greasy film on my face when rinsing it off. It works okay, I guess, but the difference is significant enough to make me not want to buy it anymore. I'm quite disappointed in whatever changes they made. It shouldn't be called "Equate" because it is not anywhere NEAR equal to St. Ive's. Two thumbs down.
alrack
Best Value
No need to spend a fortune on a face scrub. This product is as good or better than the expensive brands. Leaves the skin as smooth as silk.