Equate Cocoa Butter Conditioning Body Lotion, 24.5 Oz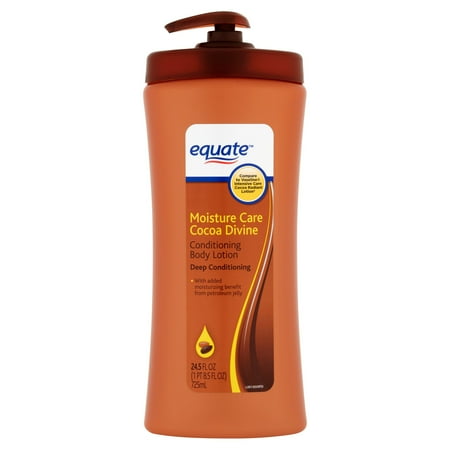 Sale :

$3.42

Sold & shipped by Walmart
Product Description

Additional Information

Reviews
Product Description
This Equate Cocoa Butter Body Lotion helps to prevent dry skin with a dull appearance to give your skin a healthy glow. Its formula penetrates deeply to smooth rough skin and bring back its natural glow. This lotion contains a triple-moisture complex and cocoa butter that combine to hydrate and soften the skin. The Equate cocoa butter lotion gives your skin the essential moisture it needs to leave it feeling healthy and smooth. This ultra-rich formula gives you intense hydration that will last throughout the day.
Additional Information

Equate Cocoa Butter Conditioning Body Lotion, 24.5 fl oz:
Combines cocoa butter with a triple soft moisture complex
3 different moisturizing ingredients to help relieve, hydrate and soften dry skin
Ultra-rich formula
Deep penetrating
This Equate body lotion helps to prevent rough skin
Smooths rough skin to bring back a healthy glow
With petroleum jelly
Helps even your skin tone
Use daily as needed
Apply all over your body or target problem areas
Will last throughout the day
Non-greasy formula won't leave residue on skin
Reviews
bigsink
This lotion is great
Every bit as good as Vaseline Cocoa Butter Deep Conditioning lotion. Silky smooth , non greasy, absorbs into the skin easily, lasts a long time even after hand washings. I have to wonder if it's the Vaseline Cocoa Butter lotion in disguise. I use it for my dry, calloused winter dry hands moisturizing and find it works as well or better than many other products costing several times over more expensive. Puts my wife's many varied and different ridiculously more expensive lotions to shame.
nilliesmamma
A good lotion
I bought this lotion and expected it to work,but it went beyond what I'd hoped for.It smells great and for an off brand it works every bit as good as any name brand could.I would recommend it to anyone who has dry skin.
Queenie185
Awesome Product for pregnant belly!
Third time mom and I've learned moisturizing with cocoa butter and then trapping it in with baby oil (mineral oil) is a very cost efficient way to minimize new stretch marks! This lotion was perfect and leaves skin feeling great. Love it! Definitely a good buy!
qteeq4u
EXCELLENT PRICING, AND EXCELLENT QUALITY--
EXCELLENT PRICING, AND EXCELLENT QUALITY--GOOD, THICK, CREAMY LOTION,,LEAVES SKIN SOFT,DRY, AND, NOT OILY,, SMELLS GOOD,WITH A DELICATE LIGHT FRAGRANCE. THIS COMPARES TO VASELINE COCOA BUTTER LOTION, THAT I HAVE PAID TWICE THIS AMOUNT FOR..I WILL DEFINITELY BE ORDERING MORE OF THIS LOTION... HAVING HAD EXCEMA ALL MY LIFE, AND DRIER THAN NORMAL SKIN, I USE MORE LOTIONS THAN MOST IN THE WINTER,...WITH NEARLY 75 YEARS OF EXCEMA GOING ON,,I HAVE TRIED MOST EVERY LOTION AND CREAM **I HAVE SPENT SOO MUCH MONEY,,,WITH LITTLE RESULTS--"GLAD I DECIDED TO TRY THIS LOTION,,IT IS AWESOME,,,AND I THINK I'VE FINALLY FOUND ONE THAT MAKES MY DRYER THAN NORMAL SKIN FEEL VERY GOOD. ,,AT HALF THE PRICE..(BEING COMFORTABLE IN YOUR OWN SKIN IS 'FEELS WONDERFUL'-,,.(THANK YOU WALMART)
slc86
CHEAPER AND IT WORKS EXCELLENT!!
I HAVE BEEN USING THIS LOTION FOR YEARS AND I LOVE IT!!I NOT ONLY DOES IT MOISTURIZE, BUT IT ALSO HELPS FADE STRETCH MARKS, LIGHT SCARRING ,AND SPOTS DUE TO SCARS OR BODY ACNE.I AM AFRICAN AMERICAN AND SOME LOTIONS CAN LEAVE OUR SKIN LOOKING ASHY BUT THIS DOES NOT.3 OF THESE BOTTLES COST THE SAME AS ONE BOTTLE OF THE OTHER BRAND COCOA BUTTER LOTIONS.YOU CAN NOT BEAT THAT!!!